Leviticus 260/84: Weather Forecasters + Coffee, Flowers, Waitrose and Fishy Paella
Coffee, Waitrose and Fish Supper. Sounds a busy day and it will involve an excursion; I've got shirt, tie and blazer of course to honour the earlier ZOOM ridicule from Scotland. Coffee a good start; heated the cup via Quooker and then had time, in sunshine at the bay window in the sitting room, to finish Mavis Cheek's Truth to Tell. Great value .. thoroughly recommend if you're often tempted to tell half truths and white lies. They come recommended by the end of course as well as getting others to fib for you! On to more Alison Lurie now ….The Last Resort. Next event was flower shopping at Marks & Spencer in BP @ Towcester as seen below; last week's tulips made the green bin this morning.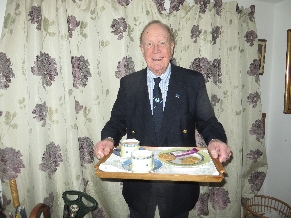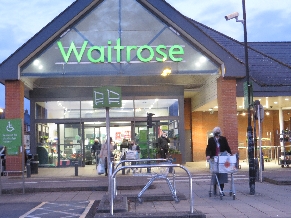 I declined more Leek & Potato Soup at lunch today in favour of egg and bacon all in preparation later still for the Waitrose Click & Collect by Avril [pictured] which has got to see us through an ominous forecast for the weather for Sunday and beyond until Tesco Click & Collect on Wednesday 10th … the BBC/ itv forecasters are convinced there's going to be 50cms of snow in Scotland and a wee portion here in Milton. The forecaster shown is none other than Sarah Keith-Lucan, surely must be a descendant of Professor David Keith-Lucas CBE, Head of Aeronautics at Cranfield in 1972 and on my Appointing Committee as Professor of Customer Policy & Logistics with Lord Chilver, Vice Chancellor. Will she be correct?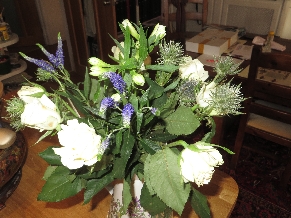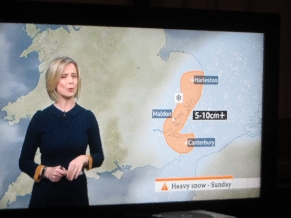 Today is Weatherperson-forecaster's Day. There's a history of mis-forecasts based on the pseudoscience of broadcast meteorology. They get little credit for getting it right which is the normal outcome. It falls on the birthday of Dr. John Jeffries born in 1744. A scientist and surgeon he is considered to be one of the earliest weather observers and forecasters. He kept records from 1774 to 1816. En passant, he also pioneered ballooning in the USA making his first balloon observation in 1784. Despite all the technological advances in our lifetimes it remains a daunting task. But even with its approximations and occasional disasters we are inclined to keep an ear open and a weather eye on what our pundit meteorologists have to say. We often look at the forecast to plan our activities for the upcoming days affecting what we do, how we dress, where we go or even if we go at all. Being prepared for upcoming storms, hurricanes or tornadoes saves lives. Rain forecasts mean we can avoid the worst impacts of flooding. Michael Fish probably holds the record for getting it most horribly wrong in the UK. A few hours before the Great Storm of 1987 broke on 15 October he said during a broadcast: "Earlier on today, apparently, a woman rang the BBC and said she heard there was a hurricane on the way. Well, if you're watching, don't worry, there isn't!".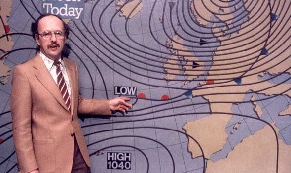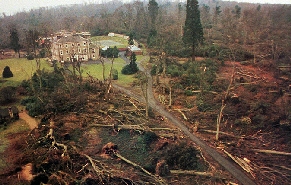 That Storm was the worst to hit South East England for three centuries causing record property damage, uprooting 15 million trees including six of the seven oaks at Sevenoaks, and killing 19 people. His monumental mis-forecast has now entered folklore as a Michael Fish moment most recently used as an excuse in the public admission by the Bank of England that its forecast of an Economic Hurricane if Brexit Leave Won had not come to pass. [Reverse Fish? The Bank got that wrong too!] P.S. Got the paella wrong at supper by adding anchovies! Lesson learnt.
Weather forecasts and choice of D-Day in 1944. For the successful invasion on the Normandy Beaches the planning team had to consider the weather, the moon and tides when assigning a date. Air operations required clear skies and a full moon for good visibility; Naval operations required low winds and calm seas to safely transport troops ashore; Ground troops needed to land at low tide, when German beach obstacles were exposed and easier to deal with. D-Day required the best combination of these factors with meteorologists and other specialists advising somewhere between 5 and 7 June. It was set for 5 June with General Eisenhower knowing the weather would be critical in determining whether the invasion could happen as planned. Group Captain [later Sir] James Stagg, Chief Meteorologist, and his team of experts used a number of tools to measure temperature, humidity, precipitation and cloud cover but collecting and interpreting accurate data was difficult and the weather remained hard to predict.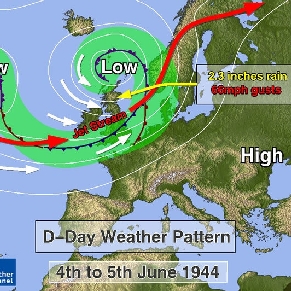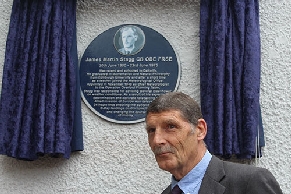 Stagg, a terse Scot from Dalkeith with a long, thin, pale face, closely cropped hair, and a severe moustache argued by telephone that the weather for June 5 would be bad, very bad. Winds were likely to be Force 5 on the Beaufort Scale, not yet a gale but enough to set up a swell that would trouble ordinary ships never mind landing craft. Worse, the sky would be overcast with the cloud base at five hundred feet making the launching of paratroopers impossible, rendering precision bombing of the defences out of the question, and making it too difficult for naval gunners to judge the accuracy of their salvos. Eisenhower postponed. The weather on June 6th was scarcely ideal. Still strong winds and rough seas caused problems for the landing craft and brought the tide in more quickly than anticipated making the beach obstacles harder to navigate. There was too much cloud cover for Eisenhower's greatest strategic asset, the Allied air forces, to effectively protect the landings from German armour, artillery and infantry reserves. Winds were too strong for the effective deployment of paratroopers to secure bridges and crossroads inland from the beaches that would prevent German reinforcement of coastal positions. The rough seas caused landing craft to capsize and mortar shells to land off the mark. By noon, however, the weather had cleared and Stagg's forecast was validated. Further postponement would have meant a two-week delay and on 19 June a severe storm hit the Channel which destroyed one of the two Mulberry harbours, damaged the other and temporarily disrupted the crucial build-up of Allied men and equipment. [The plaque for Sir James is being unveiled by his son Peter, a former international rugby player capped twenty-eight times as a lock for Scotland and selected for the 1968 British Lions tour to South Africa. Whilst living in Zambia he played in their first ever international on 31 August 1975 at Kitwe!]
German forecasters also predicted the stormy conditions. The Luftwaffe's chief meteorologist went further reporting that rough seas and gale-force winds were unlikely to weaken until mid-June. Armed with that forecast Nazi commanders thought it impossible that the invasion was imminent and many left the coast to participate in nearby war games. Field Marshal Erwin Rommel even returned home to personally give a pair of Parisian shoes to his wife as a birthday present!
Published Date: February 5th 2021