Leviticus 249/84: Rabbie Burns a' Nicht
How the whole nation honours him! It's extraordinary how much wisdom that great imaginarian, Robert Burns, was able to capture in his short life. Even though Shakespeare magnificently outshines him the English managed to make understanding his works a chore whereas Scots relish their Burns. Last year, with our 275th Commemorations of the Battle in Prestonpans, inevitably led me back to his Ode To a Mouse. He totally captures one reality but ends with a post-pandemic perspective I cannot share.

But Mousie, thou art no thy-lane.
In proving foresight may be vain:
The best laid schemes o' Mice an' Men
Gang aft agley,
An' lea'e us nought but grief an' pain
For promised joy!

Still, thou art blest, compar'd wi' me!
The present only toucheth thee:
But Och! I backward cast my e'e,
On prospects drear!
An' forward tho' I canna see,
I guess an' fear! .... the pandemic?

2020 began with an agreed £200,000 budget to commemorate the 275th Anniversary of the Battle at Prestonpans and to build on that a a hi-vis platform for our £10m Appeal for the Living History Centre. Then Covid19 brought everything to a shuddering halt except for digital interaction on the internet. Gang agley! But we avoided pain and crafted new joy from the challenges with live streaming and webinars and Jacobits and Zooming. We kept alive our ambition "an' forward we can see our wee-bit housie, with'na fear!"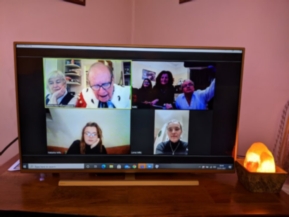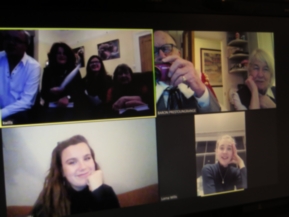 Mathew resolved we should celebrate! He was first up looking to ZOOM a Family Burns Night and had a scheme! Avril and I and Maureen were quick to enrol; we're for ever eating haggis from Morrisons [although tonight it's Tesco's] as we did turkey for Canadian and US 2020 Thanksgivings before Christmas arrived. The design was Toasts including the Address to the Haggis at 7.30pm; Dine discretely; and reconvene for Poetry Recitations from 8.30pm. It worked like clockwork/ it was! There are two screens above, the first streamed to Ilkley's tv set the second as, be-robed, I captured the family via my camera. The first omits Maureen and the both omit Elliot but he was there safe and sound in Richmond with Natasha. The pictures below tell the tale … but be sure to click to enlarge!

ZOOMed Address to the Haggis … edited

Fair fa' your honest, sonsie face,
Great chieftain o' the puddin'-race!
Aboon them a' ye tak your place,
Painch, tripe, or thairm:
Weel are ye wordy o' a grace
As lang's my arm …

His knife see rustic Labour dight,
An' cut you up wi' ready slight,
Trenching your gushing entrails bright,
Like onie ditch;
And then, O what a glorious sight,
Warm-reekin', rich! …

Is there that owre his French ragout
Or olio that wad staw a sow,
Or fricassee wad make her spew
Wi' perfect sconner,
Looks down wi' sneering, scornfu' view
On sic a dinner? …

But mark the Rustic, haggis-fed,
The trembling earth resounds his tread.
Clap in his walie nieve a blade,
He'll make it whissle;
An' legs an' arms, an' heads will sned,
Like taps o' thrissle.

Ye Pow'rs, wha mak mankind your care,
And dish them out their bill o' fare,
Auld Scotland wants nae skinking ware
That jaups in luggies;
But, if ye wish her gratefu' prayer,
Gie her a Haggis!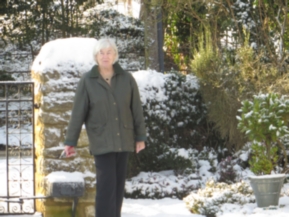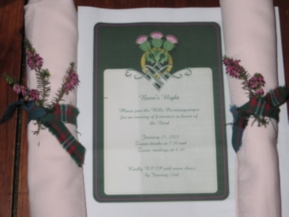 Lady Avril of Lochnaw was out in the snow collecting heather - seen growing to her left if you've clicked to enlarge; it nestles next to Baron Mathew's invitation for a Burn … [punctuation please]. Below Lorna, Maid of Prestoungrange, seems delighted with haggis veggie burgers?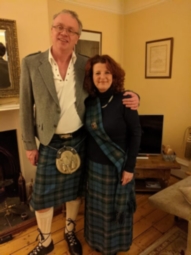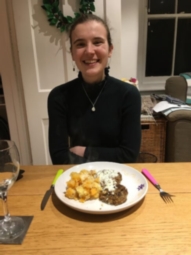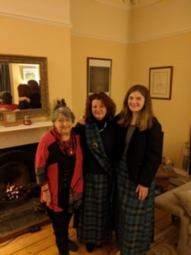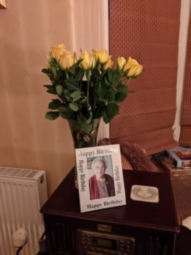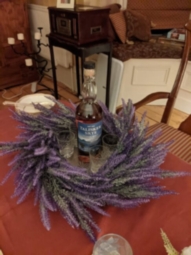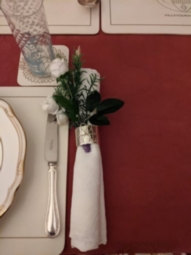 Above it's Great Grandma Kaye's Birthday, some Talisker Skye whisky [not Glenkinchie?] and below a banquet for veggies and not. Lady Avril sports the Lochnaw tartan whilst Lady Kathryn and Francesca are of course in line with The Much Honoured Mathew, 15th Baron of Prestoungrange.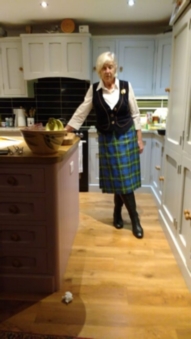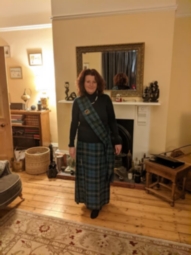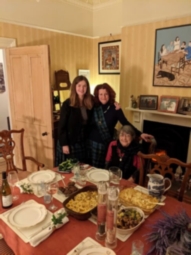 Below The Much Honoured Baron and Lady of Lochnaw dine from Crab on Celery Leaves, Haggis/ neaps and tatties, and finishing with Cranachan chased with Bladnoch Malt, local to the baronial lands at Wigtownshire in Galloway. The wines were West Australian Sauvignon Blanc Sémillon and Chianti Classico.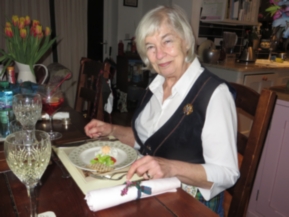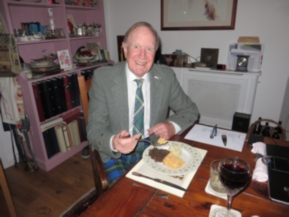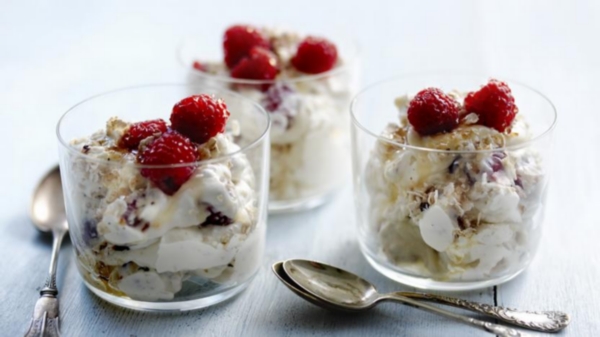 Published Date: January 25th 2021