Leviticus 246/84: Fish & Coffee .... XC .... and alleviation of our SAD syndrome?
Rose early for coffee. Even laid the cups and saucers out before heading to the Dovecot. I'm still on a Guilt Trip since we 'forgot' to take coffee two weeks back. It has been one of our shared institutionalised structures since March 23rd 2020; Fish Night and just recently Dining In Saturday Nights were later additions. Only itv's Tipping Point at 4pm or 5pm can lay any claim to a similarly august pedigree as Lockdown Coffee at 11.30am every Friday. That has run since September 1979 ….. 41 years of them. I didn't start blogging until the mid 1990s …. As the picture shows, coffee was taken outdoors in the brightest sunshine … and Après Café a stroll along the Jitty to the Village Green to mail off Cousin Joan's 90th Home-crafted birthday card and our HMRC Danegeld for 2021/2022 in advance ….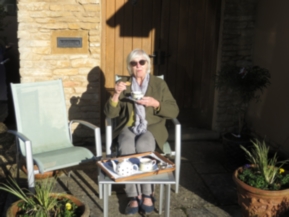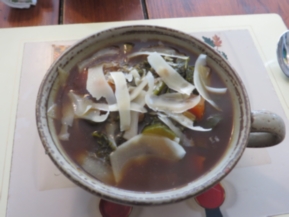 Parmigiano-Reggiano with that Minestrone. There were no bacon traces in Avril's lunchtime minestrone that was greatly enhanced with mildewed parmigiano earlier this week … and we've had so many enquiries that the second picture above shows just how tasteful it truly was …
Adapt and Thrive steps in to follow NLHF. Last night I pressed SEND to NLHF asking for the 2nd Tranche of support for our 275th Anniversary Commemorations - Path to Victory. As soon as that was out of sight I perforce picked up the Adapt & Thrive Application details. It offers grants of up the £25,000 and matching loans at 0% too and we're contemplating such a request if Prestonpans Town Hall 5 year lease comes through for just a peppercorn rental. It's tortuous. It starts with SCVO which advised me to attend a Webinar with JustEnterprise's Brian MacMillan and once completed SCVO has cross-referred it to Fraser Millar at ForthSector. He's Director of Operations there and his advice came by phone at noon today. He reiterated the objects of the fund and highlighted our missing 12 month cash flow required. Otherwise no contrary thoughts. His organisation seemingly offers a very wide range of assistance in circumstances such as ours - not just the Town Hall but Fund Raising and more besides. We're certainly ready to be assisted ….. and we are still awaiting word from our request for support from EventScotland's Covid19 Recovery Fund - due any day now.
All too SAD winter days. Has to be said neither I nor most folk I meet relish a winter day with grey skies from dawn till dusk. Snow, as family in Edmonton and even Ilkley tell me, helps greatly. Once fallen there's often a sequence of cold sunny days reflected off the white blanket. It was my few months in Helsinki, teaching there at the School of Economics almost 50 years ago, that convinced me however that snow was not enough if, as with Greg's family in the Yukon, the days were short as well. The Finns and Swedes and Norwegians are well recognised as the major tourist groups in Spain and Portugal in the long winter months. It's been dubbed the SAD syndrome - Seasonal Affective Disorder - when it goes beyond just general disappointment at another gloomy day. Great news is that today there's very bright sunshine; have to pull the curtain across in the Dovecot to keep it off the laptop screen as these words are penned.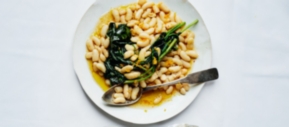 Squirrel syndrome. Avril has confessed to stock piles of canned foods and too many vegetables. It seems to arise from online order placing for Click & Collect … you scroll down and think those two cans of cannellini beans will come in handy or an extra tube of Corsodyl toothpaste. The Tesco's template nudges you along from last week's order list of course - just trying to be helpful. The purchase of the additional black freezer cabinet in the garage enabled the stock piling to gather momentum late last year … problem is because we are trying to control/ reduce weight during lockdown, simply eating more can't resolve the problem. Maybe skip a week and live off the cupboard's contents … that's what we used to do on Wednesdays and Thursdays before payday Fridays [so I read!]. I hadn't realised that squirrels tend to chase shiny objects to hide away. Whatever the rationale if your squirrel syndrome is grey [and Avril is pictured above in grey], as it will be if combined with SAD above, beware. There are plans from the Save Red Squirrels Campaign, led by no less an authority that HRH Prince Charles, for culling. There's nothing formal about culling the online list submitted each week however, rather substituting. It's cause for annoyance because the realisation comes too late as Avril is standing at the boot of the car [trunk if you like!] transferring the 'Picked' items into our own bags. This week for example not only was Smooth Peanut Butter substituted for Crunchy/ No Sugar Added but, wait for it, Packaged Letters not Numbers were substituted. That was truly frustrating because Cousin Joan's 90th Birthday Card was to be hand created and mailed today, Friday, to arrive on the big day itself Tuesday January 26th, the day after the wee irisis and tulips and balloons we'd shipped Interflora are delivered on 25th. The card was as a consequence written with the 'Ninety' word rather than Arabic numerals - and my too late suggestion to use Roman Numerals XC was dismissed. [Had to look that one up of course.] It looked well howsoever and, as they say, it's the thought and the remembering that counts!

Published Date: January 22nd 2021