Leviticus 240/84: Dining In Lunch & Supper ... and out with the Royal Mail
Digital world meets and defeats letterbox on Village Green. Currently my PC, like many others, has all manner of blinks going along … wifi wont reach the printer so it's back to cable; scanner wont scan so it's a drive to Silverstone if necessary so Sylvia can oblige. And Tim who takes control at a distance has a baby due this very week so he's AWL. So to carry the discussion forward at Blindwells with Hargreaves CEO there, Iain Slater, I printed on the letterheaded paper but sent just the wordfile along to him plus Mathew's compressed Prospectus from Martha for light reading. Avril and I set out for the letterbox in the village to post the hard copy letter to him in Durham arriving Tuesday earliest. It was a worthwhile walk for exercise, just half a mile, because our VCT dividend had arrived and the cheques had to be mailed off as well to Coutts & Co.. The irony is that on my return to the laptop at 2pm Iain had responded by email that he'd already received and digested the contents of my letter and attached file. Talking of finding 'new' solutions to problems … I can make a copy of a printed letter if I print it out and then photograph on portrait setting because yes, the laptop is still content to catch images from my SanDisk64 Extreme. She'll be right!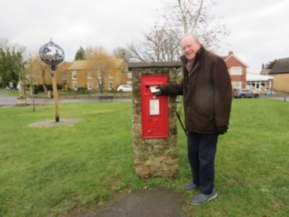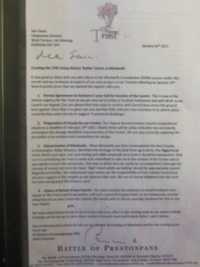 Good fish news at Lunching In today. After yestereve's forgotten fish saga it was a pleasure to find lunch was Smoked Haddock resting on a bed of kale and topped with a poached egg. And there's a whole kipper still in the fridge and Avril purchased kipper fillets as well on Click & Collect. Restored our faith in fish and readied us for tonight's 2nd Dining In Night of the current season. [Early morning WhatsApp suggestion circulating today following a Daily Telegraph magazine article is our own Family Burns' Zoomed Supper. That's going to need Henry with the Address to The Haggis if we can persuade him …..]
January 15th, yesterday, was Bagel Day. Can't afford to miss that …. the word means ring or bracelet in Polish and they originated in Kraków in Poland amongst the Jews first recorded in 1610 as a gift for mothers in childbirth. Bagel is also a slang term for sleeping 12 hours straight - supposedly either a reference to bagel dough resting for at least 12 hours between mixing and baking or simply to the fact that the hour hand on a clock traces a bagel shape over the course of 12 hours! In tennis a bagel refers to a player winning a set 6–0; winning a match 6–0, 6–0, 6–0 is a triple bagel. The slang term bageling refers to a Jew using a Jewish word or phrase in the vicinity of a stranger who is also clearly Jewish to inform them that they are Jewish too. The bagel came into more general international use in the last quarter of the 20th century with automation. In the US Daniel Thompson started work on the first commercially viable bagel machine in 1958 and bagel baker Harry Lender with his son Murray and Florence Sender leased this technology pioneering automated production and distribution of frozen bagels in the 1960s; Murray himself also invented pre-slicing the bagel. In Europe the bagel and similar breads have followed their own paths across nations. In Finland vesirinkeli [pictured] are small rings of yeast-leavened wheat bread placed in salted boiling water before being baked. They are often eaten for breakfast toasted and buttered and available sweet or savoury. German pretzels which are soft and formed into rings or long rectangular shapes are somewhat similar to bagels in texture, the main exceptions being the shape and the alkaline water bath that makes the surface dark and glossy. We're not sure when our own family started eating them but they are ever popular in Milton and Ilkley - currently my own preference is Fitzgerald's from Waitrose … thinner than Originals and seeded.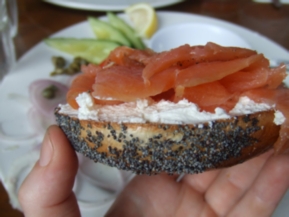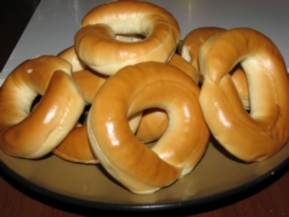 Dining In Night 2. Once again it was a dress occasion, smart casual that elicited from me the Veere tartan tie and fine pale blue Dorchester jacket pictured with my own cocktail and starter served on a plain biscuit base - spinach leaf, fetta cheese, tomato and pesto. Main as we say in Australia was Chicken Parmigiana with Spinach and Broccoli addressed by Avril with Martini Cocktail and Russchian wearing gifted necklace from Maureen Sharp in Ilkley. Dessert was excellent Profiteroles.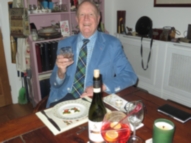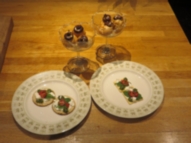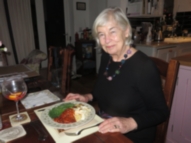 It's a tradition for Saturday nights come to stay … and after was able to view double instalment on BBC4 of The Spiral.






Published Date: January 16th 2021