Leviticus 232/84: Jab Day arrives for the over eighties ... and Coffee
Snow arrives, just, but coffee not forgotten this week! Avril calls it a dusting but it's already gone as I type, as has the coffee and her Brexit Leaf Tea. But both events have happened on this auspicious day … as pictured. We know they'll all be laughing in the Yukon, Edmonton and Seattle .. but hey, we did our best. It's climate change …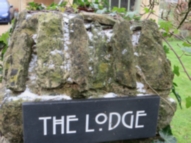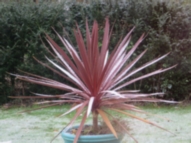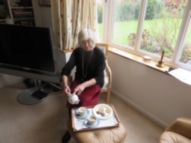 So the jab arrives at 16.10hrs at Grange Park Surgery. We made our way to the surgery with Avril popping into shop at the Co-op close by. As requested I arrived on time at 16.10 to find some earlier appointments still adrift and later ones already queueing. We stood outdoors at 0 degree centigrade for 5/10 minutes. I assume that was to acclimatize us to the vaccine at minus 70 degrees? No hot drinks offered. No sign of the Army even though it was a German vaccine we were to get … as pictured below!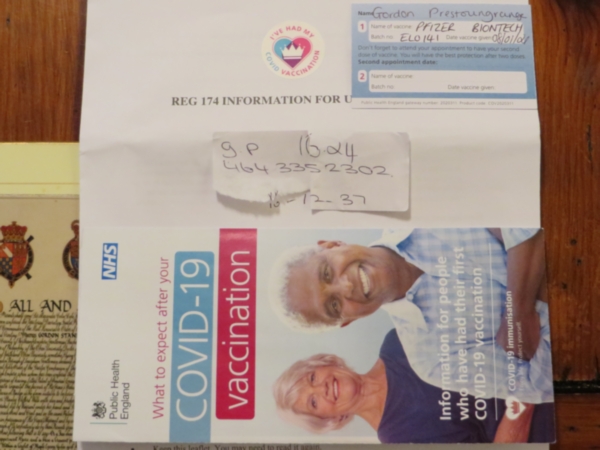 Got a good set of notes on the vaccine and possible side effects then a two person team gave me a pep talk and the jab whilst the admin lady entered my details on screen. However the personal touch was there because the Passport details are entered by hand with no second jab appointment. 'Don't call us; we'll call you!' Managerially speaking the place was awash with helpful assistants; probably 4 per nurse and their job was to shepherd us around and give us dockets as shown - white slip for me GP. That was a significant piece of bumph because onto it the nurse wrote the time of my vaccination so that when I was escorted to a specially erected marquee on the car park the steward there could tell me when I could leave - after 15 minutes. The entire process could be at least twice as fast IF the Briefing given ad hominem was given to a group or via video whilst six of us sat in the waiting area for 10 minutes and the nurse just did the jabbing. We were of course all over 80 so a few wonkies amongst us including one lady we were enjoined to applaud as she was the day's oldest patient at 100. No sign of a GP [myself excepted] or any retired volunteers but staff morale was obviously high, all looking forward to weekend working! Final thoughts … the arrangements made at the GP's surgery were ad hoc; with so much spare capacity available in hotels and conference venues it is misconceived that such ad hoc-ery should be perpetrated. The use of a facility that necessitates queue of over 80s outdoors in winter and then 15 minute sojourn in a hastily erected marquee is totally unnecessary; a decent facility could have served a hot drink both ion the way in and on the way out. All Three Wise Men have obviously left by another route ….
Gill and John parked next to us. Avril's great pal, coffee drinking Gill with husband John were parked next to us at the Co-op; he was due in at 16.40hrs.
Home for cuppa and cake ..then blogging with fish supper! All very peaceful. And tonight of course the tv has good viewing for us all … Not sure why I got the expensive jab but evidently they'll soon be running with the Oxford AstraZeneca vaccine … prefer the ICI/ Royal Air Force connection really, with the ad astra element …. but no complaints. Now, after 21 days I'll be better prepared to venture forth and in the meantime of course keep masks/ hand washing and social distance. Need to get focussed now for next week's Plough Thursday … when the Battle Trust has its 118th meeting on ZOOM at 15.30hrs.


Published Date: January 8th 2021