Leviticus 223/84: We're back .. Leviticus vindicated ..Tier 4 for Milton Malsor.
Vindication! Not that we wanted it really but it was always going to arrive. Here's the vindication for resuming the daily blog as Leviticus. We've been placed in Tier 4 for the indefinite future as reported cases across England top 50,000 per day and deaths reached over 900 in a single day. No haircuts, no inessential shops, no indoor gatherings … But relative good news for West Yorkshire including Ilkley is that they are in but Tier 3 having reduced infections during a strong lockdown. Mathew has vowed to get the authorised haircut. Nevertheless the very very good news is well worth mentioning not least because it's coming from Per Ardua ad AstraZeneca. [Just spotted that in a headline in the Daily Telegraph.] It led me to wonder who AstraZeneca are and it transpires that it is a direct descendant of my workplace colleagues from 1961-1963 at ICI - ICI's Pharmaceuticals Division which was demerged as Zeneca in 1993 and went on to merge with Swedish Astra in 1999. We did the marketing research in Slough in particular for their antiseptic Savlon creams and liquids. Intriguingly Oxbridge rides again since although the team which has just launched the new vaccine is based in Oxford AstraZeneca has its HQ in Cambridge! CEO is Frenchman, Pascal Soriot.
The active ingredients in Savlon are two antiseptics, cetrimide and chlorhexidine gluconate. These agents were discovered and first developed by ICI which eventually sold the rights to Johnson & Johnson in 1992.
Julian and Elliot set The Manor driveway alight. Couldn't really help noticing, more the noise than the conflagration. The latest 'toy' is a modest sized incinerator seen here and purchased new. In our time we just punched holes in an old dustbin which was made not of plastic but some seriously appropriate metal! But can't complain of the result … all they needed was chestnuts and/or fireworks to celebrate! ELIZABETH II - European Union (Future Relationship) Act 2020 CHAPTER 29: An Act to make provision to implement, and make other provision in connection with, the Trade and Cooperation Agreement; to make further provision in connection with the United Kingdom's future relationship with the EU and its member States; to make related provision about passenger name record data, customs and privileges and immunities; and for connected purposes. "BE IT ENACTED by The Queen's most Excellent Majesty, by and with the advice and consent of the Lords Spiritual and Temporal, and Commons, in this present Parliament assembled, and by the authority of the same ….. et alia. That was cause for celebration. Meala-naidheachd, Congratulations Boris!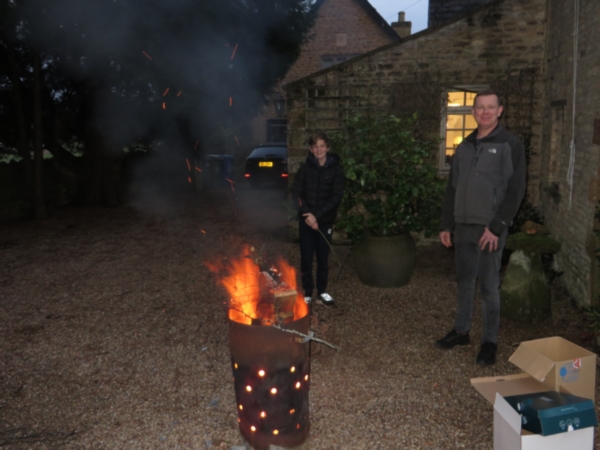 Published Date: December 30th 2020