Leviticus 201/84: Cards done and taste of sharon fruit .... and VDay Proclaimed!
We decided the weather was excellent so our Mystery Excursion could begin …. after coffee. We headed to West Bay @ Bridport and then wound our way up to 800 feet across the Dorset Downs back to Dorchester and then along the Came Down Golf Course route to Osmington. Lunch was egged pork pie with salad but that was the prelude to Avril's deliberate but saddening shopping visit to Debenham's [Clearance/ Closing Down] sale here in Weymouth .. but there was no discount to be had on Christmas chocolates or biscuits. It's the town's only decent department store next to TKMax and has been a favourite of Avril's. I went back to Somerset House mandated to pen our cards for Christmas and later to track that Dorset Vinny Blue Cheese online - successfully achieved although the local 'retail stockists' in Weymouth itself were few and far between. Our address book rather than last year's cards are always our guide to the challenge but the biggest mystery is always how much it'll cost to mail <10grms or >10grms to Australia, Canada and the EU. Our normal mailing is 50 or so and it was consistent again this year. All ready for the newsagent's mail box tomorrow as I head out for the Daily Telegraph.
Good news for Christmas dinner on 25th is that the full 'Boris permitted family complement' will be with us at The Lodge. Laura phoned whilst we were driving from West Bay with latest update that her parents Gerry and Audrey would be with them over Christmas Eve/ Boxing Day and able to join in with the turkey too.
Sharon fruit or persimmon. Avril had finally given in to temptation and bought three Sharon fruits/ persimmon at Morrisons and now checked out a recipe on how to serve it. Attempting to eat as an apple, as we did initially, was a gross error. It needs to be cooked/ stewed and served perhaps in a salad or with pork. We eventually enjoyed it with our chicken in its second incarnation … but it was a disappointment. It added nothing to our dinner. It's pictured as it comes and in a salad with walnuts which probably works.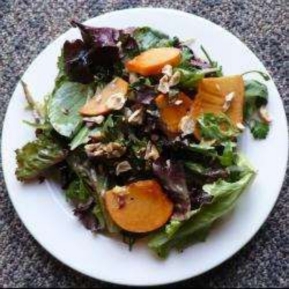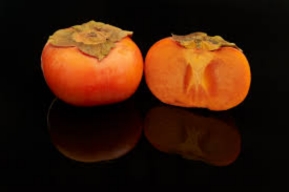 The name Sharon is from an Israeli specialist producer on Sharon Plain there with the rest of the globe calling the fruit persimmon. Apart from Israel it's mainly grown in Asia - China, Vietnam, Korea and Japan in particular. Persimmon trees are typically dioecious meaning male and female flowers are produced on separate trees although some trees have both male and female flowers and in rare cases may bear a perfect flower which contains both male and female in a single flower. Male flowers are pink and in groups of three. Female flowers are creamy-white and appear singly. For centuries Japanese have consumed persimmon leaf tea [Kaki-No-Ha Cha] made from the dried leaves of kaki persimmons as they also do in some areas of Manchuria and Korea. The Korean name for this tea is Ghamnip Cha.
Much British Bravado about Vaccinations against Covid19 - VDay was proclaimed. The media and politicians went wild as the first vaccinations at -70 degrees were administered - they seemed to be going to the older folk and NHS staff readily to hand rather than manifestly arranging anything alphabetically. Had all the resonance of a PR stunt! One Willian Shakespeare was found ready and able to be the first man in line although pipped to first of all humans by a shortly to be 91 year old lady in Coventry. Whilst the UK is clearly the first country to begin such a programme having got regulatory approvals sorted first, the bravado seems to overlook that it was invented in Germany and manufactured in Belgium. The UK's main initiative from Oxford University clearly has some limitations thus far and further tests will be needed to get that alternative, much cheaper, vaccine into circulation perhaps starting with under 50s where the original test samples were mainly based.


Published Date: December 8th 2020