Leviticus 182/84: Sainsbury versus Waitrose for mixed peel ...
Headed to indispensable Sainsbury's this morning. It's great for Blue Badge parking and I had a unique mission - to locate and acquire crystallised mixed peel to go into the impending Christmas pudding; we had to have it before Stir-Up Sunday or the show could not get on the road. Fortunately they are the only stockists we can find for Avril's cocktail tipple - Zero Martini. Both in stock as was an intriguing selection of flowers that included my favourite Michaelmas Daisies [shown left/ last week's to right].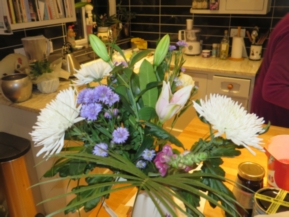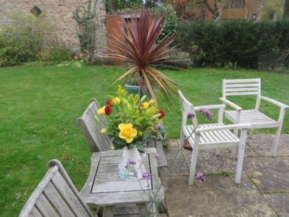 There and back in 40 minutes was a good result; further improved when I had a cuppa tea delivered to the Dovecote, a rare event at 4.45pm. That excursion to Sainsbury's was made necessary because the Waitrose Delivery offers included neither of these required items. That arrived safely at supper time which meant we had delicious fast food corned beef hash and green veggies!
Canadian Amazon to deliver batteries to Bryan … I packed up my spare Specsavers hearing aids for shipping to Canada today but the Royal Mail says batteries are not allowed overseas so … as we did before, online to amazon.ca to order 60 for him to be delivered directly in Edmonton.
Great American Smoke Out Day. Here's an unusual national day for the Thursday prior to American Thanksgiving Day. The notion is to discourage more and more to give up smoking. Of course we agree with that because of the now well documented downside of smoking not least the damage to lungs but also to the dent in family household income. I've still not persuaded my GP that giving up smoking has been one of the greatest causes of obesity in middle age …. and I have to confess I stay countercyclical with my dalliance these last weeks with wee La Paz cigars for which I got the habit long ago in The Netherlands.
News narratives have switched to Home for Christmas. Apparently the 4 nations in the UK are planning a shared approach to family gatherings at Christmas. And it certainly seems as if our modest plans to provide the Dinner including the above mentioned pudding at The Lodge will be OK for the Dolphinstouns to join with us; ditto all the Ilkley crew together there. Frankie has mastered her Covid19 and expects to be home from Uni in Nottingham by her birthday on December 4th. Meantime the Prime Minister is doing Virtual PMs Question Time, Jeremy Corbyn has the Parliamentary Whip withheld from him and the Royal Navy gets a 4 year spending programme on frigates and support ships for the two aircraft carriers. No mention of planes for them yet …. But even more momentous is the new 10 year strategy to ban the sale of all diesel and petrol cars by 2030 and to build mini nuclear power stations as part of the green energy drive; and yet more than that, plans to convert 600,000 homes per annum to underground thermal energy heating in place of gas. And applications for up to 9 Freeport Zones have been invited …. In normal times any of these could have captured the headlines for weeks as could the final days discussions for the Trade Agreement on leaving the EU but not so.
Lunches look back to 1980 … Turning out the cupboard at The Manor House in 'Anne's Bedroom' there Laura came across some old files and magazines from 1980 which included 'Milton House For Sale at £150,000' - it was The Lunches that bought it then. So Avril popped round with the ancient magazine and like all good conversations was able to bring back news of Nepal and Northern India where Anthony has beavered away for many a year and where we gave a little support 20 years ago. Evidently all goes well, better than can be expected.
Encouraging response from ELC on Town Hall lease. Our ambitious proposal to take Prestonpans Town Hall for 5 years on a peppercorn rent to act as our Interregnum base hasn't been thrown out yet. We have 'permission' to explore the possibility and so we shall. The challenge is to demonstrate how it is in the best interests of the community to let us so do and that at the end of our lease that we'll be returning a well functioning facility. All this whilst having overall control of the facility whilst there! I think we can certainly start with a good shot at the history of the Hall and to this end we are fortunate that the MP who opened it went on to greatness as Lord Haldane; and his successor hereabouts for many a year, John Home-Robertson, is one of our Trustees. As we have at Bankton Doocot we'd certainly make a thing of it and of the Burgh of Prestonpans that saw it built by public subscription led inter alia by Lady Susan, Baroness of Prestoungrange!

Published Date: November 19th 2020