Leviticus 177/84: HMS Fox founders off Dunbar 1745
HMS Fox, a 6th Rate frigate, had escorted Johnnie Cope's barges from Aberdeen to Dunbar in September but was never much in contention at Prestonpans. Just 5 years from launch at Rotherhithe it ran aground and sank off Dunbar in a fierce storm in the Forth under the command of Capt. Edmund Beavor this very date. More than 170 sailors and marines were lost according to newspaper reports in England with just 9 possible survivors. 8/24 guns and some rigging were recovered. A few of those guns and gunners had come ashore to provide Johnnie Cope with some artillery at the battle in Prestonpans although the gunners had fled after the Highland Charge. Re-enactors Capt. Beavor and Capt. Brett Fletcher [Edinburgh City Guard/ Alan Brecks] gave live feed to the Battle Trust's Facebook page at 1pm as the story was related and a wreath in remembrance was cast on the sea. This is the latest example of the Trust optimising its digital services during the pandemic - pictures from our tv screen so click to enlarge.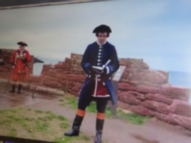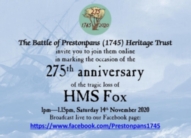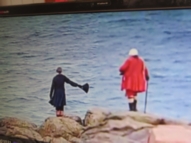 Mince pies for breakfast and 8 boxes of water biscuits. An unusual start to the day when I've got a wide choice to celebrate - National Pickle Day, Spicy Guacamole Day, Loosen up, Lighten up Day or American Teddy Bear Day. First my explanation then of the mince pies and water biscuits. The pies were a special offer of 6 for £1 of Morrison's finest that had to be eaten within 48 hours for optimum freshness. I doused the last two with coconut milk and blueberry Benecol yoghurt with excellent results alongside Vitam D tablet and Vitamin C orange juice with bits and requisite freshly ground coffee. For supper Avril has planned spicily sauced meat balls, mixed mash and steamed leeks; it's to be New Zealand flagged lamb on Sunday. The water biscuits are my online attempt to fill the yawning gap left by the discontinuation of Bath Olivers and Bath Ovals … took three with my lunch with some Yorkshire Blue I found again at Morrisons.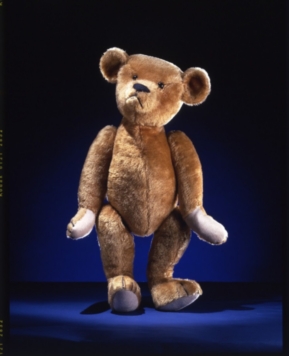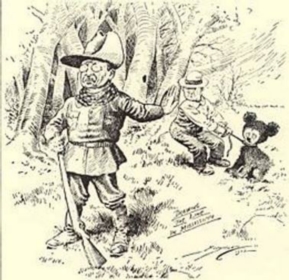 Teddy Roosevelt's Bear Hunt. The history of the Teddy Bear is based on President Teddy Roosevelt's aborted bear hunt which he took in 1902. He enjoyed nature [buddy of John Muir/ he became Presidential founder of US National Parks even] and being out in the woods where animals lived. Because he was the President those organizing the hunt clearly wanted to make sure the hunt was successful. But after 3 days of walking and climbing and riding no bears were found. Now what? The next day the hunt guide and his hunting dogs finally found an old bear which they followed for quite a distance until the bear was very, very tired when the dogs attacked and injured the old bear. The guides tied the bear to a tree and called for the President to come along and shoot! The President looked at the poor old bear and said "No!" Nobody would shoot this old bear for sport. However, the bear was injured and suffering so he ordered that the bear be put down to end its pain. After this event famous political cartoonist, Clifford Berryman created an art to reflect the story published on November 16th 1902. Furthermore, a local shopkeeper Morris Michtom received approval from the President to make a small named bear to symbolize this event as well and so we learnt to love Teddy's Bears. His son Benjamin said that although Roosevelt agreed to lend his name to the new invention he doubted it would ever amount to much in the toy business. In 1903, the Ideal Toy Company was born soon to become a multimillion-dollar business such that by 1908 the bear had become such a popular toy that a Michigan minister warned that replacing dolls with toy bears would destroy the maternal instincts in little girls.
Pickle Day leaves me in a quandary. I can readily support Spicy Guacamole Day and Loosen / Lighten Up Day but Avril's been making Apple Chutney with picks from The Manor House which means chutney takes precedent over pickle methinks. Research was necessary to arrive at the culinary distinction: pickle usually contains pieces of vegetables that need to be chewed whereas chutneys are usually fruity that can easily melt in your mouth with a sweet and a little sour taste, Indian chutneys are famous in the UK and tend to be spicy as well. Avril's chutney, eaten lately with pork pie certainly conforms to a non-Indian specification. Talking India however, where Hindus have always been in the ascendancy …
… it's the Hindu celebration of Diwali starting today … which sees their festival of lights. Even BBC News gave this festival prominence. It usually lasts five days and is celebrated during their lunisolar month Kartika. Diwali symbolizes the spiritual victory of light over darkness, good over evil, and knowledge over ignorance. Our memories of the festival are from Malaysia where Indian managers on our MBA programme initiated us into the festival at one of their homes. 2020's a particularly appropriate time to celebrate Diwali for the world with the arrival of covid19 vaccines and the hope that our national leaders will eventually discern what is good in our lives and what might be evil.

Published Date: November 14th 2020