Leviticus 174/84: Centenary of Tomb of Unknown Warrior - 11-11-11
100 Years since the Cenotaph & Unknown Warrior epitomised Remembrance. These two symbols of Remembrance of all who died in WWI and WWII have been etched on our lives, with Big Ben striking at 11 am even when undergoing repair just recently followed by two minutes silence. But this centenary occasion has been an unusual sequence of events culminating today as I visited the Milton Malsor village War Memorial at 11 am. I was the only one there although there was evidence that proper ceremony had taken place previously with wreaths and wee poppies in the grass around. John Brice as ever had seen the Village Malsoures flag replaced with the Union flag and as I walked home along High Street a terraced cottage had the Union flag from its bedroom window and a lady my own age stood at the open door quietly.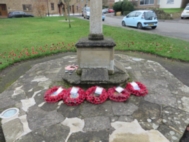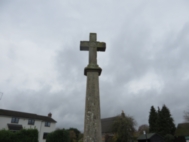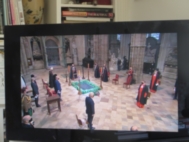 Back at The Lodge BT's tv box had been timeously fixed so that the Centenary service from Westminster Abbey could be seen. HM The Queen was not present but TRHs Prince Charles and Camilla, Duchess of Cornwall and of Rothesay, were along with Prime Minister Boris and winners of the VC and GC and a goodly few more. The 100 year old flag that covered the Unknown Warrior's coffin was carried to the altar. The Queen had made her personal visit to the Abbey last Wednesday and she stood on the Balcony on Sunday at the Cenotaph but did not attend at the Albert Hall for the Royal British Legion Commemoration on Friday. This blogger now believes it is time for The Queen to step down as has HRH The Prince Phillip, to permit the Prince of Wales, who's doing the heavy lifting these days, to take up his long apprenticed role. He is demonstrably equal to the task. Agreed there's no precedent for such and both Queens Elizabeth I and Victoria stayed until their demise but across Europe with more of us living well into old age the precedents are there.
November 11th is also Duncan's birthday, celebrated in locked down York. Many happy returns to him as he surges further past pension drawn-down age to Mathew's envy.
BTtv's new box has been wrongly blamed. We apologise. The challenge was to re-enter mystery codes for the Bang & Olufsen tv set itself which only a bell to them was able to resolve. It's a heavy device with excellent sound of course but it's getting old too. It was a vast extravagance a decade ago when we moved to The Lodge in the expectation, correct, that we'd be spending more time watching it. In Weymouth we've already replaced, or rather Julian did in disgust at our Generation 1 there.
Final proofs of Existential Normal signed off. After more than six months of writing blogs #1- #168 and John Unwin's professional transcription of them to eBook format, the final proofs are ready for the printers back here in England. We've signed them off …. It's just a matter of weeks now till fifty copies of this colourful 382pp extravaganza will be with us and then into the mail to surprise and delight family and friends internationally - we hope!
Zooming for Scottish Battlefields at 3.30pm. Herbert Coutts has been determined that this Trust makes the case for 'better protection' of Scotland's battlefields to the political parties as they penned their 2021 manifestoes. My ambition is that [i] they should be declared 'sacred ground' and that no development may ever take place without a Public Inquiry and a Ministerial Decision on behalf of the nation. Further, [ii] there must be a requirement that Detectorists working on Battlefields [with landowners consents] must register their activities with HES and Local Authorities and record the precise location and nature of all finds. These debates are timely with the present nationwide focus on Remembrances since battlefields are almost always the site of burials. It also transpires that in June 2020 President Trump signed into law the Great American Outdoors Act which has many instances of approaches we should seek to commend and adopt. It makes provision for annual funding within the framework of National Parks such that purchases can be made. There are 384 identified battle sites in the USA from the Revolution, 1812 and the Civil War. And the 2007 SNP Manifesto that set in train the National Inventory of Scottish Battlefields promised a Heritage Act which has not yet materialised.
.. and for the morrow, more ZOOM for 1745. Today I added Draft Resolutions to the ZOOM Agenda for 3.30pm tomorrow when the specific 1745 Battle Trust meets as well as holding its AGM digitally.

Published Date: November 11th 2020