Leviticus 169/84: Rules to be followed .... as you were then...
After Exodus comes Leviticus*. 'Rules' are promulgated prior to marching further and Chapter 13 introduces 7 day isolation if any infections are found. Those not recovered after isolation must wear unkempt hair and torn clothing - sounds like Boris and holed jeans. I've selected Leviticus for this sequel to the original lockdown and the Exeats after devoting, as was and is now again customary, several hours to research on the topic. The English are now formally back in 28 days lockdown to seek to flatten the sombrero once again and ambitiously give us a break of 20 days for Christmas shopping and family reunion. The cartoon below unkindly captures Boris and the rest of us …. just as The Donald struggles to make the numbers come right for him. I suggest a word with the statisticians the NHS employs here in the UK for the pandemic … they make the numbers sing just whatsoever tune they wish to justify outcomes - as Theresa May pointed out to Boris only yesterday in the Commons debate!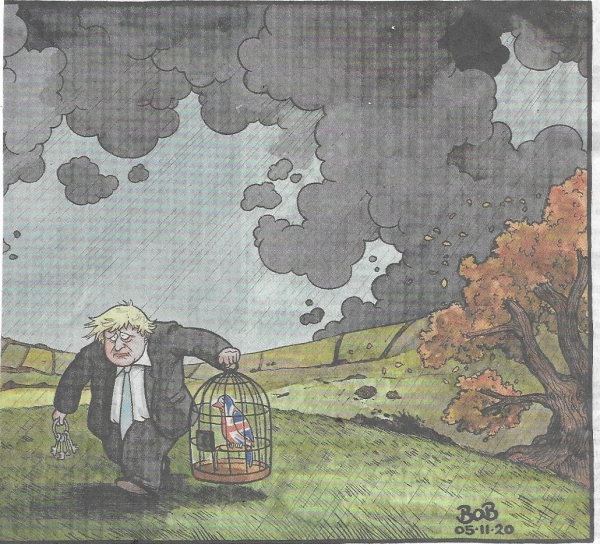 But … these mackerel skies at Milton today give cause to wonder ….mackerel sky is the common term for rows of cirrocumulus or altocumulus clouds displaying an undulating, rippling pattern similar in appearance to fish scales - caused by high altitude atmospheric waves.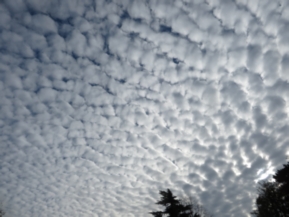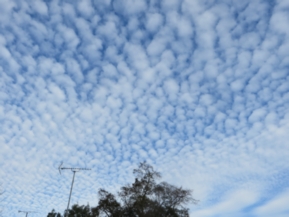 … yet meanwhile there's cause to celebrate however! Amongst several National Days on offer there's Bittersweet Chocolate with Almonds as illustrated. It sits elegantly next to our first Japanese anemones to appear at the foot of my palindromic fence this autumn.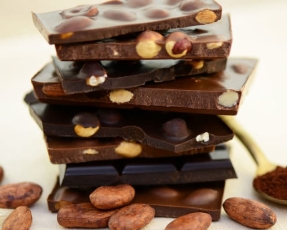 It's also Cash Back Day, Bison Day and Men Make Dinner Day. I'm not sure I can find bison at the butchers here [yet] but I will be Making Dinner tomorrow Saturday as Avril heads for her monthly Eye Checks. And Yes, today I got 15% Cash Back on my third set of hearing aids from my beloved Hidden Hearing. They cost an arm and a leg but we decided four years back it was a great investment so we could talk to oneanother without having first to attract attention and then shout! Not only 15% off the Genie2 but a gratis bottle [normally £4.99] to dewax the right ear. Today saw yet more medical engagement with Tesco coming up trumps with a flu inoculation whilst the GP was out of stock … all very efficiently achieved in a wee room at the Pharmacy.
Friday is Coffee Morning of course. We are banned from taking coffee anywhere in England except as a take-out which could be achieved at a Starbucks/ MacDonalds Drive Thru no doubt. However we have resolved to do it at home and thus it began today with the statutory chocolate coated rice biscuits. We are in the final stages of proof reading and correcting for our forthcoming eBook Existential Normal with Avril choosing the 24 floral images to grace the ORC - outside rear cover. Little did we realise or expect when the blogs began on March 23rd that we'd still be at it from 169/84 to 197/84 with our 7 week Exodus elements now complete.... or might we be back there on December 3rd?
_______________________________________________________________
*In Leviticus we learn how to make Guilt Offerings … and how to conduct ourselves while camped around Mount Sinai ….. it recounts what takes place during the month or more between the completion of the Tabernacle in Exodus and our onward departure in Numbers. The instructions emphasise ritual, legal and moral practices rather than beliefs. They reflect the world view of humanity and teach that faithful performance can ensure survival so long as people avoid sin and impurity whenever possible. The Offerings provide the means to gain forgiveness and purification from impurities.

Published Date: November 6th 2020