Exeat: Day 91/84: Fathers' Day UK, Ireland, USA & Canada ..and @ The Manor House
This should be an easy blog? … and Amazon delivered well from Ilkley's Mathew although the contents of my Father's Box were shouted down as I presented them at the Manor House. Julian was back from his own unique Father's celebration of biking for 54 miles! Maybe that had a side effect but would you believe there's now to be a Ban on Donald Memorabilia and Brexit? Don't they know Donald's mother was Scottish and spoke Gaelic all her life … agus mar sin tha Dòmhnall/ and so does Donald!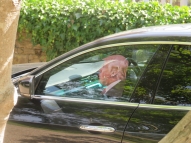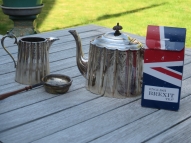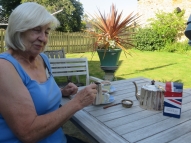 Out of courtesy to daughter-in-law Laura whose father Gerry is of pronouncedly alternative leanings I of course said no more but greatly enjoyed the Tea Party the Dolphinstouns had conjured up. Not just Laura doing it all for Julian but Henry taking charge of cooking sausage rolls with a mustard option and Elliot the scones with no sultanas choice! There were cucumber and smoked salmon sandwiches and Laura's Bakewell Tart was particularly appreciated as was the Victorious Sponge. Later in the afternoon Julian demonstrated his lawn cutting robot on the front lawns and Avril modelled her tartan facemask gift from Sylvia's sister Pat!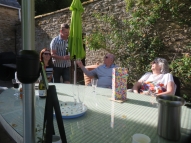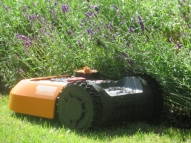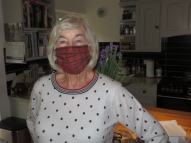 To conclude a glass of Crusted Port served in a Glenkinchie whisky sampler glass and a bunch of freshly bulled Take Home radishes - very nice touch Julian. Avril brought her own gluten free rolls and scones - for the first she cannibalised two cucumber and smoked salmon sandwiches and for the scones she ate them Devonish, cream first/ strawberry jam on top to prevent crumbling; I ate Cornish style of course.The sun had shone in and out all day but it was getting at tad chilly by 6.30pm when we wound our way back to The Lodge. The Donald did join us however and Julian kindly took him back to his copter at Sywell in his Maserati Quattroporte - which Elliot describes as larger than my blue Ghia but I just describe it as black …. All Cars Matter …!
Keeping Mathew fit in Ilkley … … seems to be the order for his Father's Day with Kathryn and daughters Frankie and Lorna taking him to see a memorial plaque at the top of a hill and climbing about underneath a railway viaduct as pictured below. The Feast Menu reads: Homemade Focaccia with tomato and mozzarella, Tagliatelle carbonara, Rhubarb tart prepared by the aforementioned daughters. Kathryn's Dad, Duncan, was well remembered too by Maureen's family. [Spot of precipitation …. as in Edmonton later!]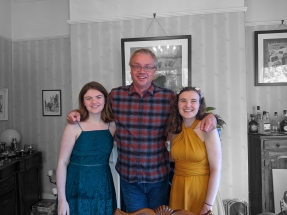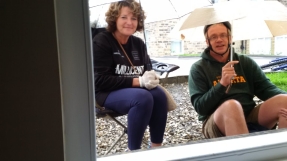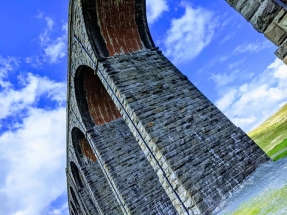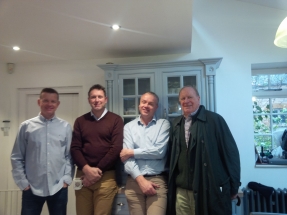 To the right all three sons Julian, Duncan and Mathew!
Celebrating Bryan and Stephen and Christopher and Greg … as Canada and USA go for brunch … …. they do have the same date as us in UK and Ireland. It's Australia and NZ that deviate to 1st Sunday in September and around the globe there are 17 variants all for their own idiosyncratic reasons. So in Edmonton it was all systems go with Messenger/ Skype links from Whitehorse in the Yukon and Seattle to a gathering in the garden [until they retreated indoors as it rained!] of Christopher and Stephen with granddaughters + daughter-in-law Wendy in charge of catering. Anne reported with delight of the chocolate cake for dessert but up front there was proper Canadian [York Hotel Toronto standard by the sound of it!] brunch of eggs, bacon, pancakes, strawberries and apple fritters etc.. "We all tucked in …. and thought of you all and wondered what you were up to 7 hours ahead." Must have been at the crusted port by then … or Country File/ Antiques Road Show from Cromer.[Went there for a Wedding Anniversary-Valentine's Day several years ago … cold in February mind you!]
Tradition of [All] Forefathers' Day. Since medieval time there's been a day of honouring fatherhood and paternal bonds, as well as the influence of fathers in society. In Catholic countries of Europe it has been celebrated on March 19 as Saint Joseph's Day, father to Jesus. In America, Father's Day was founded by Sonora Smart Dodd and has been celebrated on the third Sunday of June since 1910. It's gathered pace in the UK over the last half century and Hallmark Cards has promulgated that the rose is the official gift although the most frequent was until lately a tie. Julian got himself more helpfully two pairs of sports socks and from the Dolphinstouns I garnered a fine Chianti Classico and Gerry a McGuigan's Aussie Red.
Prestoungrange Gothenburg makes its offer … Time is fast approaching when the Goth will be welcoming back some customers indoors once Scottish Lockdown catches up with England and Wales. We're going to be down to one metre/ one yard + 3.39" distancing by July 4th. That's a day Prime Minister Boris, born a US citizen, will know well enough. Meantime there's a Take Out/ Delivery Option for a fine Fathers' Day lunch a pictured. Well done Calum and Michelle and all their staff there. Hard to know what help we'll be able to give but we'll do our best!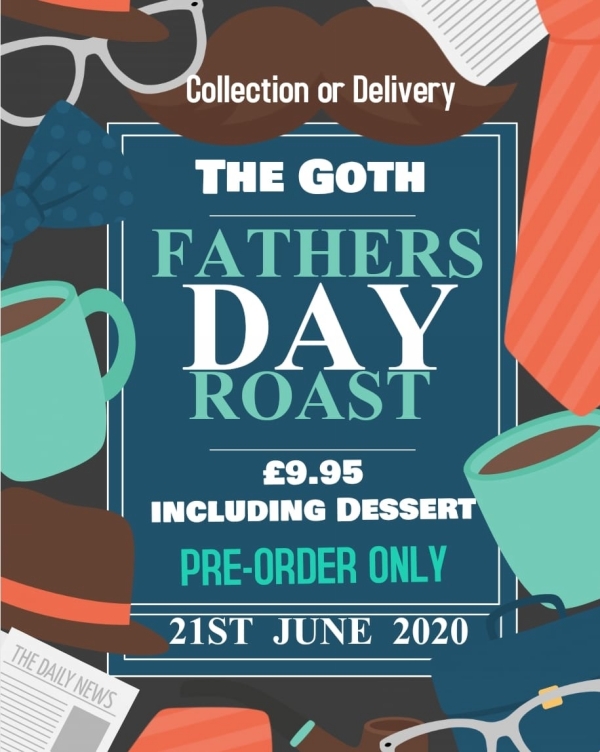 Published Date: June 21st 2020