Boarding @ Home: Day 79/84: Our D Day - Landings at Daventry with Donald Duck .... clicked/ now collect!
Our D Day: off shopping for ourselves first time since March 23rd! … and whose National Day is it but Donald Duck. A man with 225 film credits and never caught the Covid19 virus. It's not quite standing-in-the-queue shopping, just Avril clicked online and off to collect at 6/8pm. Why Daventry you may ask? That was where the slot was available. It's also home to our local MP - our village was Northampton South Constituency in the days of Michael Morris/ Lord Naseby but we were reorganised. The big county reorganisation is on Avril's 76th birthday when we become West Northamptonshire as a unitary authority and the rest of them become North.


Donald Fauntleroy Duck … has serial significant others! Daisy Duck was first wife but Reginella in 1970s comics, Hernae - Maui Mallard in Cold Shadow - and Donna Duck. His relatives are Uncles Scrooge McDuck [not very friendly for Scottish fans!] and Ludwig Von Drake; sister Della Duck, nephews Huey, Dewey, and Louie. The first mention of Donald Duck was in 1931 in The Adventures of Mickey Mouse as a barnyard friend. The character featured in the book is much different from our modern Donald however more like a normal duck and sporting a green hat and pants.
The origins of Disney's Donald Duck's is often thought to have been inspired by Australian cricket legend Donald Bradman who toured North America in 1932 and made big news after being dismissed for a duck against New York's West Indians. Donald Fauntleroy Duck was created as an anthropomorphic white duck with a yellow-orange bill, legs, and feet, typically wearing a sailor shirt and cap with a bow tie. Donald is renowned for his semi-intelligible speech and his mischievous and temperamental personality.
His first appearance was in The Wise Little Hen (1934) but it was his second appearance in Orphan's Benefit that introduced him as a temperamental comic foil to Mickey Mouse. In the 1930s, he typically appeared as part of a comic trio with Mickey and Goofy but was given his own film series starting with Don Donald in 1937. These introduced his love interest Daisy and his nephews. After Chips Ahoy in 1956 he appeared primarily in educational films before eventually returning to theatrical animation in Mickey's Christmas Carol in 1983. More recently he's appeared in video games such as QuackShot. His characterisation and ridiculing of Hitler played a significant part in WWII in bringing the US with the Allies. In Der Fuehrer's Face [illustrated below] Donald Duck experiences a day in a Nazi country where he has to make do with eating ridiculous Nazi food rations (smell of bacon and eggs, coffee made with one bean, and a slice of wood-like stale bread), experiences a day at a Nazi artillery factory and breaks down. He wakes up realizing that the experience was a nightmare, embraces a model of the Statue of Liberty and exclaims Am I glad to be a citizen of the United States of America!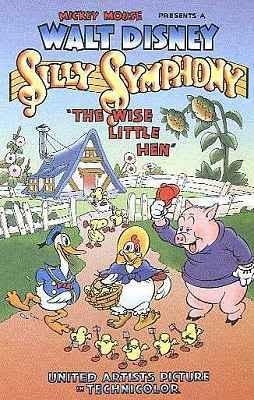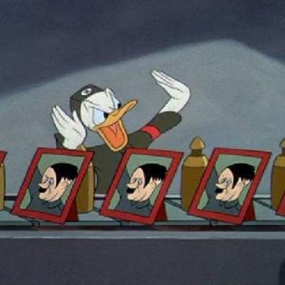 Donald was most famously drawn by Al Taliaferro, Carl Barks, and Don Rosa. Barks is credited for greatly expanding the world in which Donald lives and creating many additional characters such as Donald's rich Uncle Scrooge McDuck.
Got missed yesterday in the flower display! Left it's philadelphus virginal and right it's cordyline australis …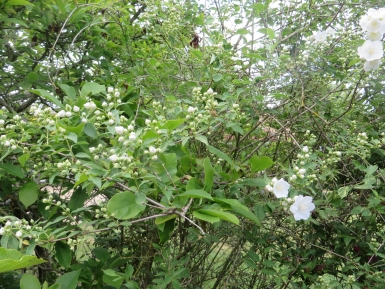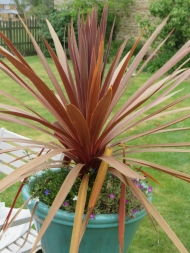 … and it's Rhubarb and Strawberry pie Day too. Rhubarb is a rich and healthful source of oleic acid and benefits of enjoying rhubarb include helping reduce blood pressure, increasing your body's ability to burn fat and to generate brain myelin. No brainer!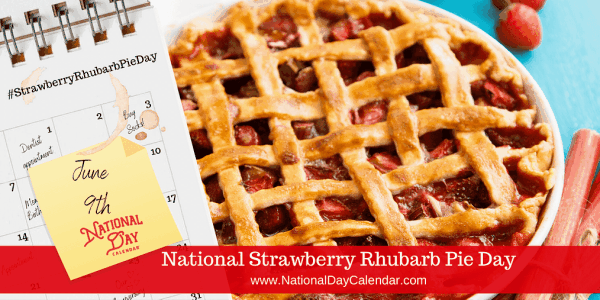 Published Date: June 9th 2020