Boarding @ Home: Day 77/84: National Fish & Chips Day .. enfin
Proudly Honoured at The Manor House. The good weather had left us and rain not only threatened but delivered modestly. But the Manor's two new Sunshades had arrived and the Dolphinstoun's were determined to create the Fish & Chips necessary for the National Day. The large picture depicts star footballer Henry Yr. of Dolphinstoun tucking in - having just left the field behind £50 richer for having hit the crossbar at first attempt from a full lawn's length. He had wisely as it transpired declined Double to £100 or Quits to £0 if he could repeat the feat at his next kick. On the table in front of him is a bottle of the now legendary Bacchus Fumé from Dorset's Furleigh Wine Estate and another of Avril's 4% Binary Beer tasting like wine. Below left a wider display of Fish & Chips is shown and on the right Laura's excellent lemon meringue dessert and at her side Elliot Yr. of Lochnaw.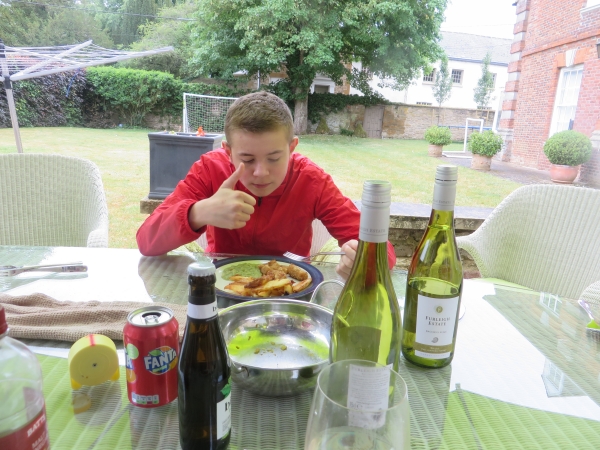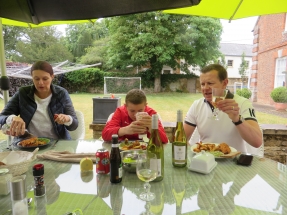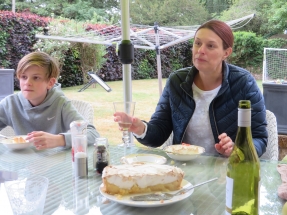 All this was consumed well before 3pm and rendered all most relaxed ready for a one hour update from Edmonton led by Bryan with further details of the New Refrigerator Saga there - wouldn't get through the door into the house. More news of Christopher's eye operation to eliminate double vision: one done the second soon needed. The Edmontonians, as in Ilkley, reported their traditional Fish & Chips on Friday … it turns out they were all right and I had led the Dolphinstouns up their gravel driveway. It's officially the first Friday in June which last year was June 7th and because 2020 is a leap year that meant 7th this year was a Sunday. But worse is to come … [as with English Wine Week which does now take place on June 20th/ 28th after its postponement] National Fish & Chips Day which is a Friday has been officially postponed till the first Friday in September i.e. 4th. It's in the diary and then it'll be up to the Lochnaws to entertain the Dolphinstouns at The Lodge methinks.
Archbishop of York lays down his crosier on the High Altar. "The death of George Floyd in America and the subsequent civil unrest has witnessed thousands of people taking to the streets demanding change, demanding justice. So it is right that, this morning, we hold this situation in our prayers and our hearts. Let us be clear: racism is an affront to God. It is born out of ignorance, and must be eradicated …". Sentamu was a High Court Judge in Uganda and opponent of the regime of Idi Amin. He refused to overlook the crimes of one of Amin's family, defying an order to deliver a not guilty verdict, being arrested and badly beaten in a prison cell. "I was kicked around like human football". He suffered severe internal injuries and received the last rites from Keith Sutton, an English priest later Bishop of Lichfield, who arranged to smuggle Sentamu and his wife, Margaret, out of Uganda upon his release from prison in 1973. I have always been mesmerised to watch his ministry and especially in York where Duncan lives with his family and sings at The Minster.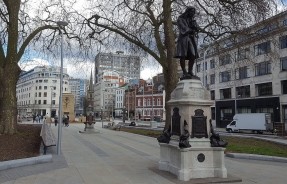 Alas whilst he was concluding his final duties in York an unruly mob in Bristol, which now has Britain's first elected Black Mayor, was seeking to place the blame for today's injustices in society to many more than the protesting Black community on historical figures who had participated under Royal Charter in the slave trade in the 17th/18th century including the Wills family. They proceeded with total disregard for present social distancing and gatherings in open and tolerated breaches of the law. Their especial focus today was Edward Colston whose extensive philanthropy merited a fine statue in the City which, whilst police looked on, they first vandalised, tore down, rolled along the street and finally threw over the quayside. History records it is impossible to know how much of Colston's wealth was derived from the slave trade.
The Royal African Company of which Colston was a member was an English mercantile company set up in 1660 on the Restoration by the Royal Stuart family together with City of London Merchants to trade along the west coast of Africa. It was led by non less than HRH Duke of York, Viceroy in Scotland, brother of HRH King Charles II and later briefly on the throne as HRH King James II & VII. His overthrow as monarch in 1688 created the Jacobite Cause, the Battle of Prestonpans, and ran till the death of Jacobite King Henry IX in 1807.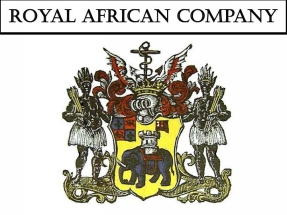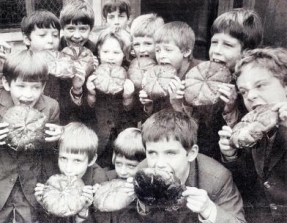 Edward Colston's philanthropy was widespread ….. remembered not least through his creation and gifting of the Colston Bun. It's a sweet bun made of a yeast dough flavoured with dried fruit such as currants, candied peel, streusel and sweet spices. There are two sizes - "dinner plate" with eight wedge marks on the surface and "ha'penny staver". The Colston Bun is traditionally distributed to children on Colston Day - 13 November, which celebrates the granting of a Royal Charter to the Society of Merchant Venturers by HRH King Charles I in 1639. The custom originated from the Colston's School which was established for poor children in the early 18th century. Each child would receive a dinner plate bun with eight wedge marks so that individual portions could be broken off and shared with their family plus a staver which could be eaten immediately to stave off hunger along with a gift of 2 shillings from the wives of the Merchant Venturers to which he belonged. These gifts of buns and money are still distributed to some school children in Bristol on Colston Day by the Colston Society. He died in 1721 having supported and endowed schools, almshouses, hospitals and churches in Bristol, London and elsewhere. In Bristol he founded almshouses in King Street and on St Michael's Hill, endowed Queen Elizabeth's Hospital School and helped found Colston's Hospital, a boarding school which opened in 1710 leaving an endowment to be managed by the Society of Merchant Venturers for its upkeep. He gave money to schools in Temple and other parts of Bristol, to several churches and to the Cathedral. He was a strong Tory and high-churchman, and was returned as Member of Parliament for Bristol in 1710 for just one Parliament.
Published Date: June 7th 2020