Boarding @ Home: Day 73/84: UN World Bicycle Day since 2018
Discountenacers, no persiflage and no scrouging! Cycling is the future, no eyebrow raising, banter or encroachment on their dedicated lanes.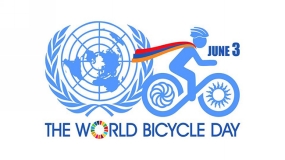 First memories were apparently with flat tires at Manor Road in Worthing delivering newspapers with Patricia Dent as my assistant. I do know I more or less retired when I was 18 after a long journey from Worthing, up the A5 to Whittlebury, met the Kingstons family at Old Farm … and then I got a lift home on a truck. We didn't wear helmets then and I'd earlier been over the handlebars on the A24 when I went into the back of a car over the brow of a hill south of Southwater. Slept in a telephone kiosk/ later police cell in Pinner when Uncle Albert and Auntie Winnie were not home. Wish I could remember the brand which was my pride and joy riding back to school at Cobham from Worthing, luggage gone In Advance by British Rail for 2/6d per case. No more for me except for exercise indoors for the last 65 years … but it's not so for the Barons of Prestoungrange and Dolphinstoun and their families. Julian is perhaps the very most serious participant from triathlon days. Don't even mention the cost of the several styles of cycle you need these days. Elliot's the only serious follower so far. [See three in a row below.]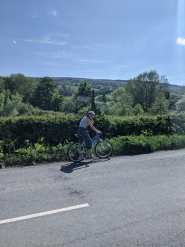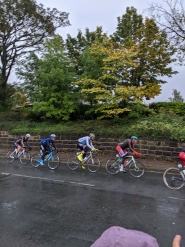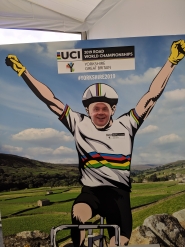 Mathew and family are strictly recreational regularly taking five bikes to French campsites but also patrons of Tour de Yorkshire where Mathew poses as factitious Champion! [And Yes, that family completed the surprise image at the end of this blog.] Julian's the only one who's had one fall off the roof of his car on a motorway but I understand and Lorna has a record - her nice new foolhardy bike was stolen promptly at Cambridge. Duncan from York is partial to bicycles although I suspect he prefers to take Eleanor and Florence sailing off the Cornish coast!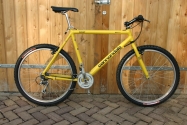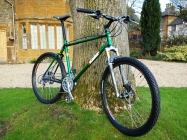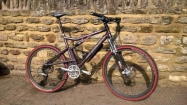 Bicycles galore The name evidently first came into use for the Penny Farthing Bicycle. These two together make Tuppence ha'penny of course although it's spoilt by the helmets.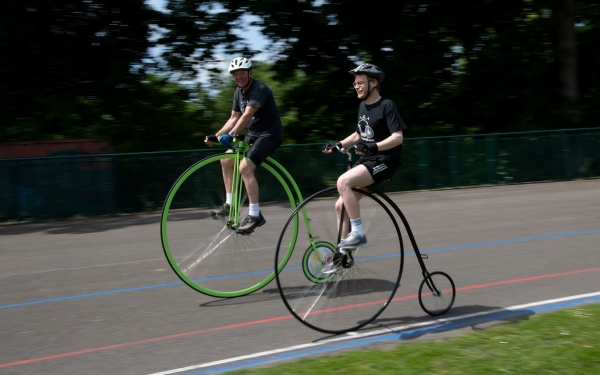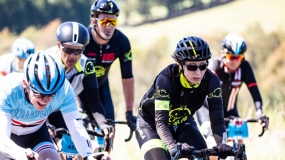 An idea from Turkmenistan + the 56 … The UN Resolution honours "the uniqueness, longevity and versatility of the Bicycle, which has been in use for two centuries, and that it is a simple, affordable, reliable, clean and environmentally fit sustainable means of transport." Professor Leszek Sibilski from the United States led a grassroots campaign with his Sociology class to promote World Bicycle Day eventually gaining the support of Turkmenistan and 56 other countries. The main message from the logo is that the bicycle belongs to and serves all of humanity. The Day is a global holiday meant to be enjoyed by all people regardless of any characteristic with the bicycle a symbol of human progress … a "symbol of sustainable transport that conveys a positive message to foster sustainable consumption and production, and has a positive impact on climate." The Day is now also being associated with promoting a healthy lifestyle for those with Type 1 and Type 2 diabetes.
A large-scale bicycle ride in Ashgabat with participation of President of Turkmenistan Gurbanguly Berdimuhamedov was the main event the celebration.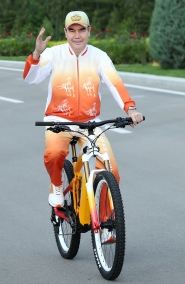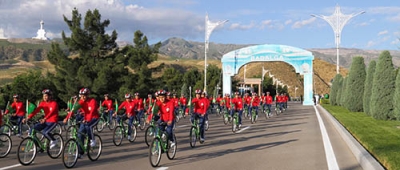 The head of state addressed thousands of cycling fans before the start of the ride. Then the floor was given to the official representative of Guinness World Records Subashi Sheyda, who announced that a new record – the longest cycling parade along one line – was set during a cycling awareness lesson on 1 June 2019 at the Olympic Village in Ashgabat. Participants lined up at a given distance from each other and cycled around the Olympic Village covering a distance of 3300 metres. It surpassed the record set on 3 March 2019 in India. The nation's President then kick started a large-scale bicycle ride in the front line of a column of cyclists that covered a distance of 15 thousand metres along the streets of the Turkmen capital finishing on the main square near the Presidential Palace. Large-scale bicycle rides and exhibition sports performances were held in all regional centers of Turkmenistan.
It's never to be confused with 'Bicycle Day' on April 19th. In 1943 on this date Hofmann performed a self-experiment to determine the true effects of LSD intentionally ingesting 0.25 milligrams an amount he predicted to be a threshold dose. Less than an hour later, Hofmann experienced sudden and intense changes in perception and he asked his laboratory assistant to escort him home and as was customary in Basel they made the journey by 'bicycle'. On the way Hofmann's condition rapidly deteriorated as he struggled with feelings of anxiety alternating in his beliefs that the next-door neighbour was a malevolent witch, that he was going insane, and that the LSD had poisoned him. When the house doctor arrived, however, he could detect no physical abnormalities, save for a pair of incredibly dilated pupils.
____________________________________________________________________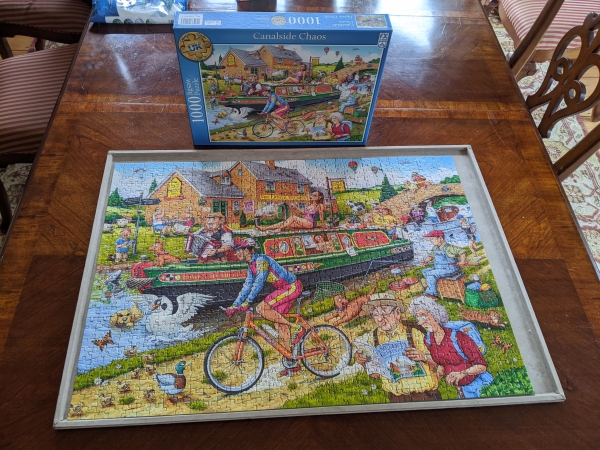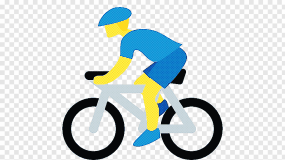 Published Date: June 3rd 2020