Boarding @ Home: Day 55/84: Baron of Dolphinstoun's Birthday Celebrations at The Manor House
Time for socially distanced celebrations then … We're just over the hedge so to speak with a secret door when circumstances require cake and a celebratory drink whilst keeping the distance; and we did. All Julian wanted for his birthday was a fine new set of hand shears for his lawn; as soon as they were unwrapped Elliot of course, attired as a dinosaur, was off trying them out hither and thither. Henry kicked his inevitable football and told how few of their 2.5 kilos of chocolates had been eaten so far. What we didn't know till research began was that his birthday [as well as that of Laura's mother Audrey over in Buckingham] had been declared National Mimosa Day. Outside Australia/ New Zealand and the US it's typically called Bucks Fizz but no worries, it gave Avril and I an opportunity to create a wee occasion - and we did. Laura brought a beautiful sponge cake, and left an extra slice. The ballooned chairs are for greeting the one permitted 'other' calling whilst out for exercise in Milton and quite a few were passing for exercise. "Happy Birthday" was rendered by Mathew and family from Ilkley at 3pm on their phones.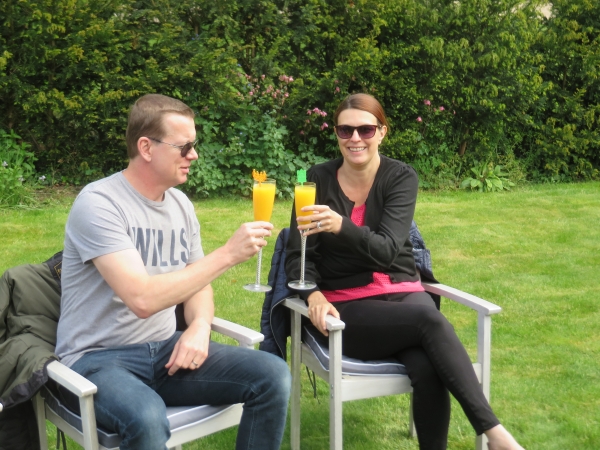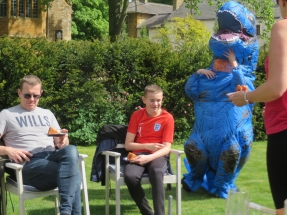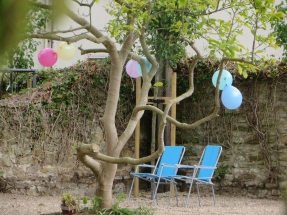 Talking of Bucks Fizz, the pop group that won the Eurovision Song Contest for Britain in 1981 with Making Your Mind Up .. are going head to head tonight on BBC's Covid19's Virtual Eurovision Song Contest between all the best songs over the decades. Maybe tonight they'll be lucky again; it is 'their' day after all!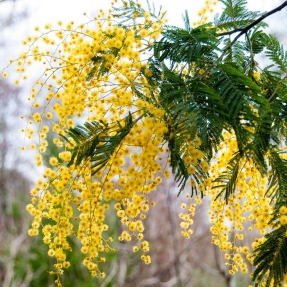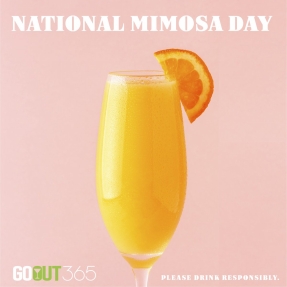 The cocktail's Recipe online seems straightforward. 'Mimosas are perfect for brunch, birthdays, holidays or weddings. For the best mimosa, use a dry sparkling wine, not sweet. Your best bet is to look for Cava, [knew that!] or an American or English sparkling wine. A dry Prosecco is the final option!'
To make 6 Servings you will need 1 (750 ml) bottle well chilled dry sparkling wine; 2 cups (750 ml) well chilled orange juice - freshly squeezed [be sure to squeeze early to chill] is best; and a soupçon of Grand Marnier [deemed by some to be optional]. Pour the sparling wine first then the juice and finally stir in the Grand Marnier. Serve only in champagne flutes. Alas, no GM in stock so we went up market to my reliable bottle of Yellow Curacao - always takes me back there to a Diamond Merchants Seminar I was speaking at in Spring 1976. It was my first ever visit. I'd flow from Tulsa to Miami and then to Curacao, checked into my hotel. After dinner I hit the beach, ordered my virgin curacao, sat beneath a beguiling palm tree and soon fell asleep after my first delicious sip. When I awoke I reached immediately for the glass and took my second sip only to find that my mouth full of ants that also rather liked curacao. Subsequently we often visited as IMC Partners Dick and Yvonne Gerdzen established BSN Caribbean there and we held a delightful Annual Professional Congresses there.
Mimosa or Golden Wattle is the National Flower of Australia. Botanical Acacia pycnantha blooms in spring - beginning September - with large fluffy, yellow, sweet smelling flower heads. Each Golden Wattle flowerhead is a bunch of many tiny flowers. Acacias are popularly called Wattle. It's been seen in the nation's coat of arms since 1912. [Last day for the Union/ USA flags also seen here in full glory; tomorrow the Lochnaw Baronial Banner returns.]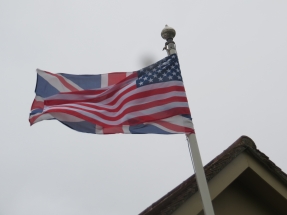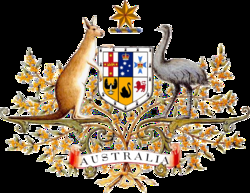 The first day of September is Australia's National Wattle Day. [We should be out of lockdown by then!] It builds on a long unofficial tradition of wearing the wattle blossom on 1 September. The day was introduced in 1913 by an association called the Wattle Day League and formally recognised on 23 June 1992. Indigenous peoples of Australia soaked the gum of the golden wattle in water and honey to produce a sweet, toffee-like substance. The tannin from the bark was known for its antiseptic properties. Colonial settlers cultivated the golden wattle using the bark in the tanning industry, the gum for glues and the blossom for its honey.


Published Date: May 16th 2020