Boarding @ Home: Day 54/84: Friday's Coffee Morning remember?
Happy Birthday Maureen Sharp in Ilkley! Yes indeed, 80 today and as expected, after What's APP and Facebook messages the family choir arrived for their car ark picnic outside Maureen's cell! The cake looked excellent and under the new rules Maureen could receive the presents and blow out the candles. It's Julian's turn tomorrow, only 51 of course, and Audrey Hine's over in Buckingham … birthday's have to be recrafted.
Busy schedule today with fish pie heating for supper as I write. The first well attended session of ZOOM with the Trustees yesterday meant we needed a summary for today and the opportunity for extra issues to be raised - to be notified by 2pm. Herbert came aboard with renewed enthusiasm for the Jacobite Trail wanting to create one virtually now with the opportunity as visitors came back to use it as a guide to where to go and even how to self design a programme - as VisitScotland has already done for Outlander with Sony. Only 'The Few', Arran, Sharons Beck and Dabell and Sylvia joined the second session with me which was much more workmanlike. Sharon Dabell's perspective was exceptionally helpful and motivational for the contractors bringing her experience from Lincolnshire and now the Forestry Commission. Truth to tell she's been lobbying for Skype links to Trustees' Meetings for years since she can seldom make her way down from Inverness. All in all a useful exercise for the Battle Trust but not a patch on face to face meetings! Tomorrow it's iterated Resolutions and Minutes by the end of the week. Talking of birthdays, Arran reminded us it's Archer's too in Dunbar this weekend.
Coffee was indeed taken with rice biscuits … coated in chocolate and Avril's new beverage, mocca. The mission today was to send a phone pic of Avril to Gill to reassure her that Coffee Mornings continue. We dress for coffee; today Avril's fashion note was Grandma Turner's green and metal bead necklace, the Taylor's mustard top, white three quarter length trews and yellow/ white striped footwear. For me it was a magenta day.
Fence painting cont'd. Paint supplies remaining were just sufficient for one more panel so, job done before Ginster's Beef and Pepper pasty lunch with a potato and leek soup dunked carrot - that sounds a mouthful! Now we've done 4/13 so far but that fourth one today was, by special request, out of synch. It will enable some planting to go on whilst we await the delivery of the fresh supplies of paint. Talking of which, a modicum of trouble brewed as I got Amazon to deliver 2.5 kilos of chocolates bites to The Manor House for the grandsons as an incentive to help with the balance of Cuprinol Ducks' Back when it arrives. [Elliot also rewarded for playing his vuvuzela last night to honour the NHS. We gave him our last of two.] Henry reckons it'll take a long time to eat all the chocolates … but what he didn't know is that May 15th is also National Chocolate Chip Day too.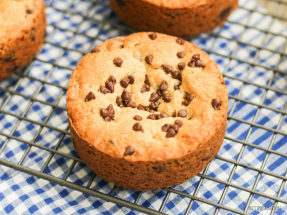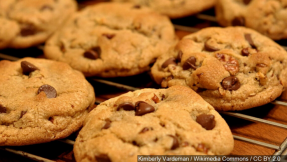 We have to thank Ruth Graves Wakefield of Whitman, Massachusetts who in the year of Gordon's birth first created the chocolate chip. While working at the Toll House Inn, Ruth Wakefield added cut-up chunks of a semi-sweet Nestle chocolate bar to cookies. She then sold the recipe to Nestle in exchange for a lifetime supply of chocolate. Today as we know, chocolate chips are added to treats like ice cream, brownies and cake.
Today is also Paraguay Independence Day - a country with its own unique culture and language, called Guaraní. It's a two-day celebration in honour of the country's independence from Spanish Argentina and Portuguese Brazil in 1811. Paraguay celebrates both its National Day and Mother's Day on May 15 in honour of Juana María de Lara, who played a key role in the movement for independence. Her home is now a Visitor Centre of course. According to legend she celebrated the victory by greeting revolutionary forces with a bouquet of red roses, blue jasmine, and white lilies, inspiring the colors of the nation's tricolor flag, which uniquely sports a different design on each side as shown below. On the front is the National Coat of Arms with the yellow Star of May - the month of Independence in 1811; on the reverse is the Coat of Arms of the Treasury - a lion facing east holding a staff on which a Phrygian, Liberty, Cap is placed.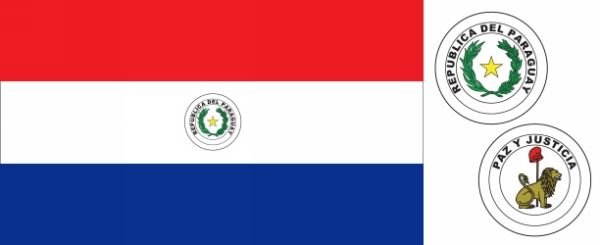 Published Date: May 15th 2020