Boarding @ Home: Day 37/84: World Health and Safety Day @ Work
World Helf 'n Safety Day? It couldn't be more timely now could it, as we start returning to work. None of us would expect the facinorous, most wicked behaviour imaginable, from even the most determined employer. Supermarkets took it upon themselves to introduce their own measures to protect staff and keep customers flowing at a suitable distance apart. Will our Phase 2 Pandemicised Government now kindly let shop owners and business managers at large work it through with their own staffs on each and every actual shop floor and every working business space to arrive at their mutually acceptable unique outcomes? Agreed none of us want a second peak so invite us to wise up and make sure we don't act so it will be visited upon us. The case for endless SAGE modelling based on their rightly zetetic approach, ever investigating in search of the truth, has been made once too often; may they now proceed quietly and, as was the case with Vietnam mortalities for the US, can we now stop the daily liturgy where the media search for the worst news and feature that as supposed to the green shoots. In Parliament yesterday Michael Gove who is actually i/c the EU Trade Deal by December 31st this year nicely argued against an 'extension' observing in that context that if you extend deadlines then you simply extend the tunnel and the light at the end comes no closer! Once more …. Work Again - Save the Economy - Plan a Vacation.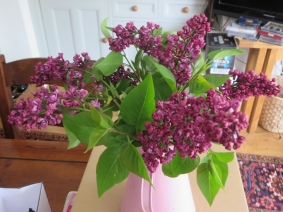 [Click to enlarge images]
RHS National Gardening Week strikes lucky! Good rainfall last night just as Boris was cheering us up with promises of public debate on the steady dismantling of lockdown. It was Laura at Family Check-Up Chat prior to this week's groceries order who marvelled at the good weather that had blessed lockdown [best of all if you have a garden to enjoy.] She was followed today in the usual newspaper [thanks continue to go to Judith as she keeps up our 6.30am deliveries which with a pixilated tv is even more appreciated!] by none other than Lord David Blunkett in praise of April's record sunshine which he can only have perceived and enjoyed through the heat it provides. It meant that with the government's dispensation that 30 minutes daily exercise outdoors was to be encouraged during lockdown we could all get our Vitamin D and not fall victims to SAD syndrome. The indoor garden, the Christmas poinsettia still thriving on our hall window ledge [with visible penguins from Main Beach this time] is joined by deep lilac lilacs from our main entrance gates; but beware, the peonies are about to flower and that always means a heavy downpour. This year Avril has introduced stakes to hold the stems but it wont protect the flowers.
Catalysing Clan Chiefs for September 20th. Time to start emails to the Clans that joined us in 2018 to mobilise the support we want on September 20th. We want them to be represented with banners and to link to their websites etc with live feeds if that's possible. We'll see but if you don't ask you certainly don't get. And I'm as keen as ever on reaching Clan eponymous streets in The Pans!
Good News from the Chancellor for the Gothenburg too! The £25,000 Grant to Hospitality and Entertainment venues, such as we are, arrived today and created great joy with Calum and Michelle Wilson in Prestonpans. We asked them to show how the will sensibly deploy a budget of £20,000 in the first instance to September 30th. Thus far the only help we've be able to give is to cancel their monthly rent/ rates contribution. Some of the Grant will go to our microbrewers and some to the Battle Trust but it's certainly a great help - arriving just as they launch their TakeOut/ Delivered Menu Thursdays / Sundays starting on April 30th. Afraid we're too far off to take advantage but it'll be well appreciated locally and in the best spirit of Gothenburg Principles. Whether they take the Chancellor's 25% of Turnover Guaranteed Loan Scheme [capped @ £50,000] for the coming 12 months is their call. It will be interest and charges free for the first 12 months but of course has to be repaid one day. It was a cause for celebration that emptied the Canadian Club Whisky into a cut glass tumbler with my lunchtime apple, cheese and Ryvitas. Tip top. Mullach tip.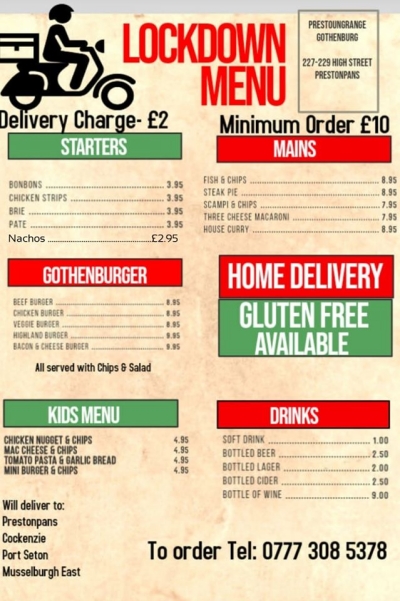 Published Date: April 28th 2020