Boarding @ Home: Day 34/84: ANZAC Day
This time last year we were in Weymouth and watched the ANZAC Day Parade. Why an Anzac [Australia & New Zealand Army Corps] Parade in Weymouth .. well we all know now about the Mount Felix Tapestry from Walton-on-Thames and how the Kiwis as well as the Aussies came, were injured, were hospitalised and then returned to the Western Front. Grandson descendant of one such Kiwi who was treated twice at Mount Felix showed up from close by when we exhibited that tapestry in The Gothenburg just before lockdown. Weymouth also had a Kiwi WWI hospital and many of the Anzac troops came and went from Weymouth Harbour. As an adopted-Aussie, or at least a Queenslander, I needed to be chrestomathic, devoted to gaining a better understanding of Gallipoli, of why the military landings occurred on what is known now as Anzac Cove on April 25th 1915 in response to the request of the Russians - after the Ottoman Empire joined the Central Powers fighting us in the west. Winston Churchill then 1st Lord of the Admiralty was deeply involved and much blamed and they were forced to withdraw by January 1916 defeated by implacable Ottoman forces led by one Colonel Kemal who after the victory in 1918 created modern Turkey from the ruins of the Ottoman Empire. The Anzacs never got off the beach where they came ashore shown below and were one of the few regiments to make any impression at all. Its abiding national significance in Australia and New Zealand lies not only in exemplifying mateship in an impossible battle but in coming just as each had achieved independent nationhood in 1900 and reinforcing a unique sense of identity. And it created the deepest national and international admiration and respect for the 'diggers' and as they became known in a way the Royal Air Force did in the Battle of Britain in 1940.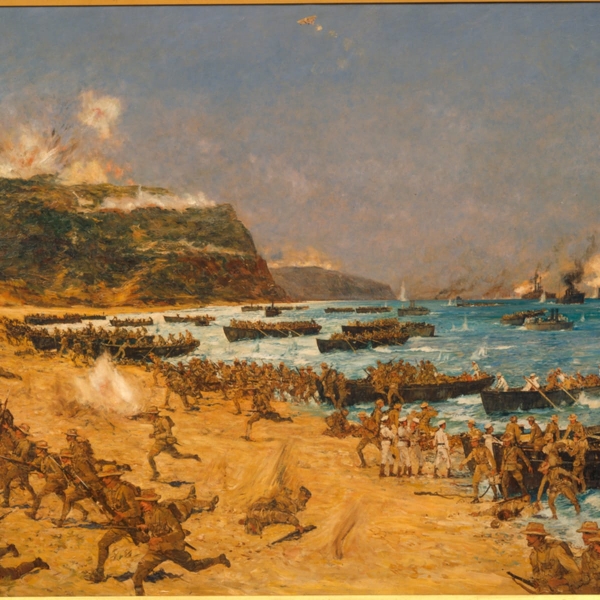 Benedicience, kindness in speech is today's slogan! And here I'll use it to capture mateship too, a unique Aussie/ Kiwi word certainly found in Macquarie's Dictionary. I feel it's been re-engendered here in the UK through the lockdown; neighbours necessarily more neighbourly/ helpful than usual; friends expressing and feeling more concern than usual. From my very first contact with Australia in the 1970s I felt it was a London, almost cockney society with a predilection for chopping down tall poppies whilst loving the likes of Hammersmith born Alan Bond whose greatest achievement was perhaps not his WA Swan Lager or establishing Bond University on the Gold Coast but taking the Americas' Cup home to the Royal Perth Yacht Club in 1983. The first time it had ever left America since the original Royal Yacht Squadron's losing offer of its £100 Challenge around the Isle of Wight in 1851. Since Bond's victory it has of course also been won by New Zealand most recently in 2017 - but never by Britain.
Tha gaol agam air mo ad Akubra Astràilia: I love my Australian Akubra hat! I certainly do and it's yet another treasured souvenir here from Australia - you can't see the Burke & Wills seat just to my right but that's here too. Behind me it's cordyline australis of course. In my hand you will however see a small lunch time glass of Marlborough Sauvignon Blanc to accompany the salad, Aussie beetroot included along with an avo. On Anzac Day there's never going to be space for minimifidians, who have the least necessary belief to get by. And any POMs need to festinate, to mend their ways at pace.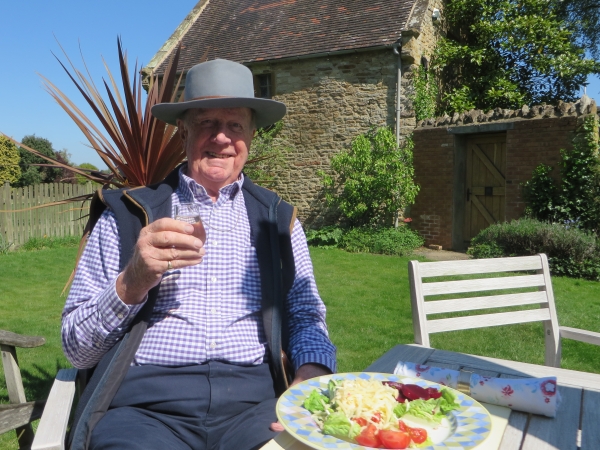 Published Date: April 25th 2020