3. Battle of Reading December 9th 1688
3. The Battle of Broad Street in Reading

This was the only fighting during the Revolution of 1688.

From 1685 to 1688 James II and VII was King. His government proved so hateful to the English because of its Roman Catholic policy, that in 1688 some in England conspired to invite William, Prince of Orange, who had married Mary, older Protestant daughter of King James, to come over to England to deliver the country. When he landed On 5th November 1688 at Torbay, in Devon, he brought with him a large army, and as soon as the soldiers were disembarked he began to march through the west of England towards London.

James at first tried to resist him, but his army defected and melted away; and William marched steadily forward. The appearance of his army excited great interest. At the head of it rode a body of gentlemen upon Flemish war-horses. These gentlemen wore brass armour and were attended by black men. Then came Swedish horsemen in black armour and fur cloaks. After them came Swiss infantry with fierce-looking whiskers, and finally Dutch soldiers, and heavy brass cannon. William himself rode in armour upon a white horse, and wore a white plume. The banner which was carried with the army bore upon it this inscription: The Protestant religion and the liberties of England.

On Thursday, December 6th, the Prince of Orange and a strong body of troops reached Hungerford, on the borders of Berkshire and Wiltshire. There it had been agreed that Commissioners, representing James, should hold conference with the Prince. This conference took place on December 8th, in a large room at the Bear Inn. The Prince himself lodged at Littlecote Hall, an ancient manor house two miles away across the border in Wiltshire. It was during this period that there took place at Reading the only fighting which marked the course of the famous and successful effort to usurp the throne of England from King James.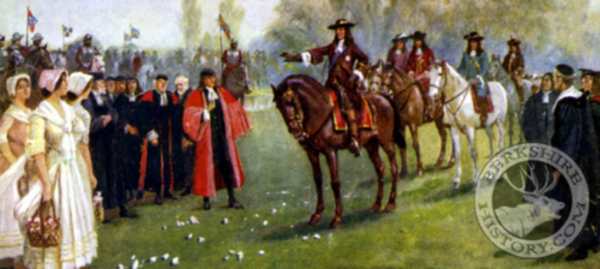 The army of King James was encamped on Hounslow Heath, and an advance guard of six hundred soldiers, horse and foot, belonging to this army, was posted in Reading. These men were Irishmen and Roman Catholics, and at that time no person was more unpopular in England than one who was both an Irishman and a Papist. The people of Reading beheld the arrival of this force with mingled hatred and terror. It was even believed that the Irish soldiers had received secret orders to massacre the inhabitants and to plunder the town on Sunday during service. It is said that, so great was the alarm, that many of the inhabitants ran away, and that, in order to put a stop to this, the commander of the Irish force posted sentries at all the chief entrances to the town.

Meanwhile, the people of Reading managed to send a message to the Prince at Hungerford, begging for deliverance from the hands of the Irishmen. Two hundred and fifty of William's soldiers were thereupon sent forward to clear the Irishmen out of Reading.

The Irish were warned of the approach of their enemy and they took measures to defeat its purpose. At the corner of Castle Street a troop of horse was drawn up in the yard of the Bear Inn. The walls of St. Mary's churchyard were lined with musketeers. A force was posted in Broad Street and a sentinel was stationed on the top of St. Mary's Tower in order that he might give warning of the approach of the enemy. The main body of the Irish force was drawn up in the Market Place. These plans were made in the belief that the Dutchmen would enter the town by the western road.

But the Dutchmen were warned by the friendly inhabitants to approach from another direction. When still some distance from Reading, they turned to the left and marched along what was then called Pangbourne Lane (now Oxford Road), taking cover under the hedges. Thus they entered the town unperceived, and at once fell upon the Irish soldiers.

So sudden an onslaught threw the defenders into confusion. Those in Broad Street and those in Castle Street were driven pell-mell into the Market Place. Their stampede spread panic among their comrades. The whole force took to its heels and fled towards Twyford. As they fled through the streets, the inhabitants fired upon them from the windows.

The Irish lost their colours and fifty men. Only five of the Dutch soldiers were slain. Several of the dead were buried in St. Giles's churchyard.

Such was the Battle of Reading. It was a skirmish with some 55 casualties in all. Slight as it was, it was the principal fighting in connection with William's expedition. It was long celebrated in Reading; every year the bells of the churches rang out in honour of the deliverance of the town. An old ballad told the story in these lines:

Five hundred Papishes came there
To make a final end
Of all the town in time of prayer;
But God did them defend.

Edited from W.M. Childs' "The Story of the Town of Reading" (1905)

Published Date: December 7th 2018