Who Did What with Prestonpans' Marbles?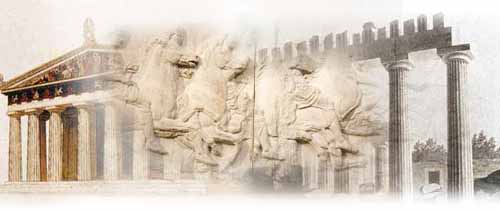 The suggestion by East Lothian Council earlier this year that Murals are advertisements and as such our work painting and hanging them can only be done with their Planning Consent looks like being just a small part of a dastardly plot to cover their own embarrasment and their traces! (Murals in East Lothian, marbles purchased cheaply by Lord Elgin in Athens to bring home to Scotland... all a lot of fuss about nothing very much...)

Museum staff at Prestongrange Heritage Museum have this week conceded (or should one say confessed) that they have no idea where the original three murals so lovingly painted in 1984 at the grand Opening of the Scottish Mining Museum there by a member of the Council's own Planning Department have gone. Enquiries at Newtongrange (www.scottishminingmuseum.com) indicate they never went there.

The best guess of the Museum staff at Prestongrange is that they were 'painted directly onto the walls as part of the set dressing when the Museum opened and that they have since been painted over!' What an art scandal that would be if it proves to be true.

Not only is the Cultural Services management against new murals, opposing their own Plannning Department's written agreement that a mural should be painted on the BathHouse Wall by world acclaimed muralist Andrew Crummy, but they have seemingly vandalised what was there already.

Is this a conflict based on artistic values or care for the environment or what? Planning makes a positive running and Cultural Services applies whitewash....

...and There's a Cover Up of the Coal Heritage Trail as Well!

And as if that was not a sufficient insult to arts and tourism in Prestonpans... let us pose another tricky cultural question, and invoke the name of the veteran Planning Guru of East Lothian, the late and greatly respected Frank Tindall OBE. In his excellent Memoirs and Confessions of a County Planning Officer, published in 1998, the year of his death, actually on sale today at Newtongrange Mining Museum, he clearly and unequivocally states that part of the deal for taking much of the good mining things at Prestongrange to Newtongrange and twinning the status of Scottish Mining Museum at Prestongrange with Newtongrange as well... part of that deal was a Coal Heritage Trail linking the two sites (see pages 180-185). That was what David Spence was promised just before he died in 1985, that other great hero of Prestongrange in the 60s and 70s. What Coal Heritage Trail, you may well ask! And what twinning? Take a look today at Newtongrange and you'd be forgiven for thinking it was the Scottish Mining Museum all on its own. Massive National Lottery Funding has seemingly made Prestongrange an unwanted twin even if it was the elder of the two.

Well, the good news is that a 'leaflet' has been found after an exhaustive search... at Newtongrange. And some folks can remember seeing some plaques up somewhere out and about. And Provost Pat O'Brien will remembver it all well, and he himself wrote a Foreword to Frank's book as recently as February 1998.

We shall overcome, as they say...

Naysayers are sent to motivate folk who want to do something! Thank you for being so unhelpful in what we are seeking to accomplish. Its a pretty subtle approach by East Lothian's Cultural Services management but it works wonders.

The Elgin Murals will be found and brought to light; and the Coal Heritage Trail will be walked again and widely publicised. The campaign has just begun. In Prestonpans we need old photographs of the Opening Day in 1984 from any who can find them and soon we shall be asking experts in to clean off the layers of paint to see what great masterpieces lie behind. P.S. Good news already... one mural is clearly to be seen in the pictures of the event in the East Lothian Courier.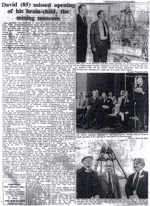 To view the text, click here
To view the images, click here

Beware the Ideas of /that March!
Published Date: October 4th 2002