Radio Forth 'Best Local Pub' Award Goes to The Prestoungrange Gothenburg
Talented Staff Once Again Gain Public Recognition

There seems to be no end to the occasions at which award givers wish to accord credit to The Prestoungrange Gothenburg. East Lothian declared The Goth 'New Enterprise of the Year' early in 2005 and was swiftly followed by CAMRA and English Heritage with the UK national accolade as the 'Best UK Pub Conservation' . Then followed a series of awards from CAMRA as 'Best Pub in East Lothian', Best Pub in Edinburgh and SE Scotland' and most recently as 'Runner Up for Best Pub in Scotland and Northern Island' - the Failford Inn took top spot!

This week it was the turn of Radio Forth listeners to vote The Prestoungrange Gothenburg as 'Best Local Pub 2006'. And that vote comes from a much wider constituency than our treasured Real Ale enthusiasts who rightly applaud Craig Allan's outstanding Prestonpans and Fowler's Ales. Steven Cross [centre] had the honour of collecting it on our behalves.

click on photo to enlarge




As we understand it, Radio Forth's listeners asked that credit be given for our community hubbing not least through the arts in myriad ways, our renaissant Gothenburg Principles, the excellent reputation for food earned by Andrew Laurie and his team, the unique ambience for weddings, anniversaries and meetings of all descriptions ... and of course the staff enthusiasm and friendly attitude all the while.

Indeed on this latter point Anne Taylor and Steven Cross, CEO and Events Supremo respectively, were envious of the award won by the staff [pictured in the press cutting below] at Big Mouth Media as The Best Place to Work. Maybe next year, they dreamt! Resting briefly on their laurels for 2006 [as they gear up for the Chistmas season] they have the certain knowledge that they were in comptition with hundreds of other venues and came out Best!

click on all images to enlarge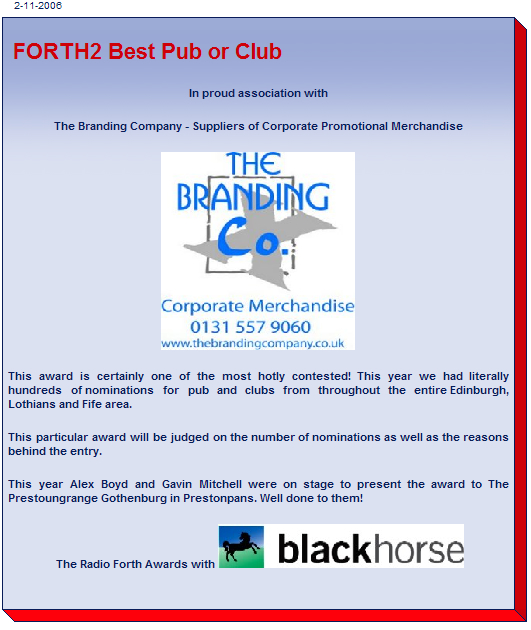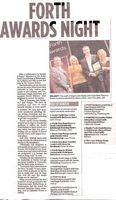 Tranent Belters and Karen Watson Also Recognised

The Radio Forth Awards also embraced the Tranent Belters led by Dougie Robertson and David Whitson who have raised more than £100,000 for charities over 40 years; and Karen Watson, our home town Preston Lodge High teacher, who got the Best Teacher accolade and expressed great pleasure but amazement at her pupils' determination in getting her recognised since she has been away on maternity leave!

Altogether an impressive treble for Prestonpans 'and Vicinity' as they say.
________________________________________________________________

What Radio Forth Had To Say ...

The Prestoungrange Gothenburg has won the Best Local Pub category at the prestigious Radio Forth/Black Horse Awards. The Prestonpans pub beat off stiff competition from Edinburgh's Three Sisters and Barony Bar to pick up the FORTH2 Best Local Pub or Club Award.

The "Goth" has proved a runaway success since it was relaunched two years ago. It includes a microbrewery, brewing local Fowler ales, and is the base for a variety of arts, crafts, social and sporting clubs.

Employing more than 30 local people, the Goth follows the "Gothenburg Principles" and ploughs profits above 5% back in to the community through its public arts programme.

Events Manager Steven Cross was presented with the award by Scotland's most infamous bar tender, Gavin Mitchell, aka Bobby from The Clansman in BBC's hit comedy Still Game. And Steven revealed he may have a new member of staff to add to the 30 strong payroll at the Goth. He said: "Bobby was a great laugh. He asked me for a job and he starts next week.

"We knew we had been short listed but we got the shock of our lives when they announced us as winners. It was an excellent day and it finished with a huge party back at the pub with staff and customers celebrating our win.

"I think our success is down to being a real part of the community. Because we put part of our profits back in to the community through various art projects the locals have really taken us to their hearts. Most of our staff live locally too and that helps foster good relationships. "We are grateful to all those who nominated us and it's a wonderful tribute to all the hardworking staff, and customers, who make the Goth what it is."

The Radio Forth/Black Horse Awards honour a wide range of local heroes, from community workers, teachers and employers to some of the biggest successes in the British music industry.

Steven and Prestoungrange chief executive, Ann Taylor rubbed shoulders with fellow award winners and performers including Deacon Blue, Girls Aloud, Katie Melua, Lucy Silvas and G4.

Radio Forth managing director, Adam Findlay, said: "The standard of entries was very high indeed but The Prestoungrange Gothenburg stood out as an outstanding example of how a good 'local' can offer something for everyone.

"It's only been reopened two years but in that time it has made a huge impression in Prestonpans and much further afield. It gets behind the people who eat and drink in the place by supporting their sports teams, art projects and many other initiatives which add colour to the local community.

"The Goth is a worthy winner of our Best Pub award and is a blueprint for how to run a successful local."



.





Published Date: November 1st 2006