Johnny Moat must stand again .. or we all know the consequences!
Activists determined to get Johnny Moat standing again

There's no doubt in anyone's mind that Johnny Moat must be stood up again asap! But it has been mooted that he might come ashore at Morrison's Haven where he was Harbourmaster or maybe elsewhere that's highly appropriate rather than continuing to brave the waves.

Regardless of where there's no room for doubt. He will and must continue as a focus for Community Storytelling hereabouts as Tim Porteus has long campaigned.

And never forget, our own outstanding musician, Davy Steele immortalised him in song ..

Developments are to be expected soon!




_______________________________________________________________


The late Davy Steele wrote and recorded many folk songs in his life and a particular collection is entitled Summerlee after the coal mining company that ran Prestongrange until nationalisation in 1947.

The tape and CD are available from his distributors by mail order from CM Distribution ( all you have to do is phone +44 (0)1423 888979 or write to them at 2-4 High Street, Starbeck, Harrogate, North Yorkshire. UK HG2 7AY. The current cost including postage and packaging for the CD is £13.

They are also available from Anne Taylor at the Arts Festival office - phone: +44 (0)1875 819922 - at the same price including postage and packaging

You can hear two of the songs here as a foretaste but be sure to order the full recordings - Johnny Moat being the tale of the inexplicable rock on the foreshore at Morison's
Haven named after a colliery manager; and The Rose O' Summerlee

When you click on the link for the song, you can either open the file directly to listen to it, or you can download it to your computer & listen to it using your 'Windows Media Player'.

JOHNNY MOAT

ON THE GIRDLE ROCKS AHINT AULDHAMMER HOUSE
STANDS A STANE NEARLY NINE FOOT HIGH
NAMED EFTER A MAN THAT LIVED HERE LONG AGO
SOME SAY HE WIS BUILT THE SAME WAY
WHY IT'S STANDING'S A MYSTERY THAT'S NEVER BEEN SOLVED
THOUGH IT'S BEEN STUDIED BY MEN OF GREAT NOTE
BUT THERE'S NONE CAN BE SURE HOW IT COMES TO BE THERE
THAT GREAT ROCK THEY CALL JOHNNY MOAT

CHORUS
KEEP STANDING, KEEP STANDING, THE TOON FOLK A' CRIED
KEEP STANDING ALONG THE FORTH SHORE
FOR WHILE YOU ARE STANDING THE TOON 'LL NO DIE
WE'LL PRAISE JOHNNY MOAT EVERMORE

IF YOU START AT THE EAST WHERE THE BLACK ROCKS ARE NAMED
TRAVEL WEST 'TIL YOU COME TAE THE CUTHILL
YOU'LL PASS BY THE HUMLICKS THE HATTLES THE HAYS
THE DOOS RINGANS HOLE AND THE GIRDLE
THEN IT'S ON TAE THE CANTY THE MATHIES THE OX
ALL NAMED EFTER SOME WEEL KENT FOLK
BUT THERE'S NONE O' THESE CRAGS O' BLUE WHINSTON ARE MADE
LIKE THE GREAT ROCK THEY CALL JOHHNY MOAT

(CHORUS)

SOME SAID IT WIS PLACED BY THE HAND O' GOD
SOME SAID TWAS THE ICE AGE THAT BROUGHT IT
FROM WHEREVER IT CAME IT WAS SEEN AS A SIGN
OF GOOD FORTUNE BY THOSE THAT LIVED ROUND IT
SO LONG AS IT'S STANDING THE TOON'LL SURVIVE
THE PEOPLE WOULD OFTEN SPEAK O'T
A BUT IF IT SHOULD FA' THEN THE PANS WIN AN A'
SO THEY A' SAID ABOOT JOHNNY MOAT

(CHORUS)
SO JOHNNY STOOD OWER THE TOON THROUGH THE YEARS
WATCHING IT PROSPER AND GROWING
IT HAD OYSTER BEDS THE BEST IN THE LAND
WEEL KENT FOR IT'S POTTERY AND BREWING
IT HAD SALT WORKS OF WORLD WIDE FAME
THE GRANGE AND LINKS PITS FOR IT'S MINING
ALL THESE THINGS AND MORE GREW ALONG THE FORTH SHORE
WHILE JOHNNY MOAT WAS STILL STANDING

(CHORUS)
THEN ON ONE DARK NIGHT THE GREAT ROCK FELL
AND NOBODY KNEW TILL THE MORNING
AND SOME FOLK RETOLD THOSE STORIES OF OLD
WHILE OTHERS JUST LAUGHED AT THEIR WARNING
BUT THE OYSTER BEDS DRIED AND THE SALT MINES SHUT DOON
THE POTTERY AND BREWERIES SOON FOLLOWED
THEN BOTH THE MINES CLOSED THAT CRUELLEST OF BLOWS
WHEN JOHNNY NO MORE CAST HIS SHADOW
THE ROSE O' SUMMERLEE

THE TINY SNOWDROP SLOWLY RISES PUSHING THROUGH THE FROZEN
GROUND HER SLENDER BODY PASTEL GREEN, HER YOUNG GIRL'S HEAD
COYLY BOWED HER PETALS WITH THEIR PALE COMPLEXION MOISTENED
BY THE MORNING MIST THE SNOWDROP IS THE MAID O' SPRING, I MIND
WHEN MAGGIE WIS LIKE THIS

CHORUS
O' A' THE FLOWERS THAT GROW AROUND HOWEVER COLOURFUL THEY
BE THEY'RE PUT TO SHAME WHEN MA MAGGIE BLOOMS
SHE'S THE ROSE O' SUMMERLEE

THOUGH SHE WIS JUST A WORKIN' LASSIE WI' NEITHER FRILLS OR
PAMPERED AIRS HER BEAUTY WIS A NATURAL THING NO PREENED WI'
JEWELS OR FANCY CLAES AND WHEN WE WALKED WILD SUMMER
PLACES WHERE BROOM AND IRIS GREW SAE BRAW
THEIR BRIGHTNESS IN HER PRESENCE DIED, MA MAGGIE SHONE ABUNE THEM A'

(CHORUS)




CHASING SHADOWS

This is the cover of another one of Davy Steele's quite different collection of songs. It is available from:
Temple Records,
Shillinghill,
Temple,
Midlothian,
Scotland EH 23 4SH
Phone (44) (0) 1875 830328
(In Canada or USA Phone (617) 354 0700).


P.S. There's a result arrived. The campaign is going to succeed. Johnnie Moat will Stand Again ...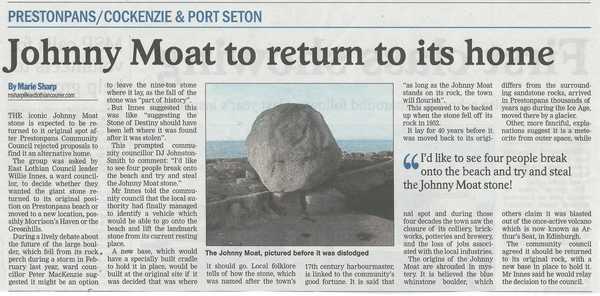 Published Date: October 20th 2015