Missing Alien Cow and The Red Vanees...
HAVE YOU SEEN OUR COW?
OUR "ALIEN" COW HAS BEEN GONE MISSING FROM THE GOTH!

Click on images to enlarge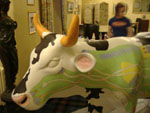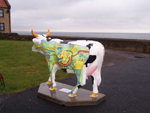 We are asking anyone who has any information on the whereabouts of our Alien Cow to get in touch with us as soon as possible.

She was last seen grazing at 22.50 in her usual meadow next to our Car Park at The Prestoungrange Gothenburg on Tuesday night 06.06.06. It was an ominous date we know, and so did she, and she had been warned not to talk to non Panners in red vans.

click on press cutting to enlarge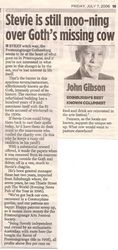 But you know what temptation is when offered a ride in a van. By 23.15 our Alien Cow had disappeared in company of three fellahs in a large red van. We have great images of them from our camera unit reversing into our cow, loosening her from her plinth and loading her into their red van. These men seem to have an obsession with cows, and have already kidnapped relatives in Edinburgh.

'Alien' cow is life size and painted with an alien driving the cow on one side of her whilst the other opposite side is painted in a normal black and white cow hide. She is of course part of the Edinburgh Cow Parade and needs to be returned to her rightful spot outside the Goth.

We all miss her dearly and want her home! She must be homesick by now and milk supplies for coffees and teas at The Gothenburg are running low.

If you know where the Red Vanees are or where they might have taken our cow ...... or have any information, please contact us at The Prestoungrange Gothenburg on 01875 819922. Rewards await in heaven for those who trace her and bring her back.

Published Date: June 7th 2006