Powering The Lighter Side of Life!
Chimneys Alight. Is this Art?

And for something iconically different - The Twin Chimneys of The Cockenzie Power Station, already the logo for the Three Harbours Festival linking The Pans, Cockenzie and Port Seton, now have their own claim to membership of the Festival. The are to be illluminated as a work of Art themslves.

Six Nights from June 1st - 6th 10pm till 1.30am

The best place to view is the grassy slope between The Pans and Cockenzie ... 11.15 pm onwards till 1.30 am. The full artistic sequence lasts some 8 minutes. The pictures below show the chimneys on June 1st at 11.30 pm.

click on all images throughout to enlarge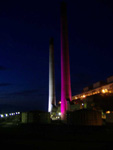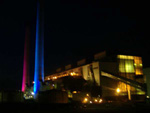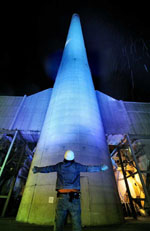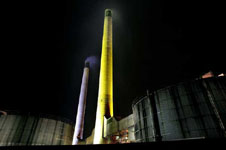 The rationale behind the initiative

Lighting up the chimneys of Cockenzie Power station is a truly successful attempt to transform an iconic image of East Lothian into a gigantic work of Art that can be seen for many miles. It is a monumental work of Art that is a beacon, seen [on a clear night] from up and across the Firth of Forth, Edinburgh, the Forth bridges and over at Pittenweem in The Kingdom of Fife. It is also be visible from the major transport links to London and Edinburgh by rail and A1.

The chimneys, elegant and stunning, stand 450 feet above the Firth of Forth and for many are one of the enduring images of East Lothian. Historically, serving a coal burning plant, they are a direct link to the mining traditions of Prestonpans and Cockenzie. To this day The Cockenzie Power station has always maintained the strongest links with the community where it has resided since the mid sixties when it was built on the former site of Preston Links Colliery.

Today, lighting up of the chimneys is the symbolic beacon and the starting point for The 3 Harbours Arts Festival which takes place for a week in Prestonpans, Cockenzie and neighbouring Port Seton. The canteen of the Power Station will house an exhibition of professional and local artistic talent.

The two chimneys are lit in a manner that is an honest reflection of the natural landscape that surrounds the Power Station, in particular the Firth of Forth.

The artists involved in this 'off-the- stack' art project are Eddie Anderson, Tom Ewing, Adele Conn and Andrew Crummy, in collaboration with Phil Haldane of Black Light and Craig Yorkston of Cockenzie Powerstation.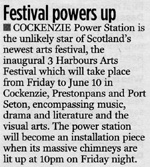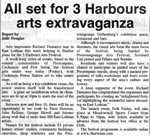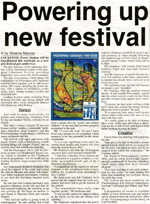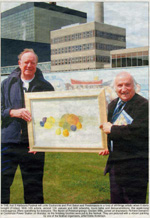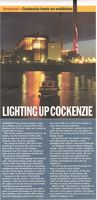 Published Date: June 1st 2006