Golden Girls drive Bergen to Veere - Tapestry in safe hands!
Great Farewell after Bergen Exhibition success - and The Golden Girls are now driving the white van down to Veere in The Netherlands

The Golden Girls is their 'international touring' monika. They are volunteers from the Friends of The Tapestries in Prestonpans who agreed to fly across to Bergen, meet, present to and discuss with the Bergen Scottish Society's members and guests; and then get packed up and drive the 800 miles to Veere in The Netherlands. They are Margaret Bellany, Greta Anderson and Christina Moffat.

Margaret is here below with Bergen Scottish Society Chairman Stephen Erskine [right] and Committee Member Jim Fulton.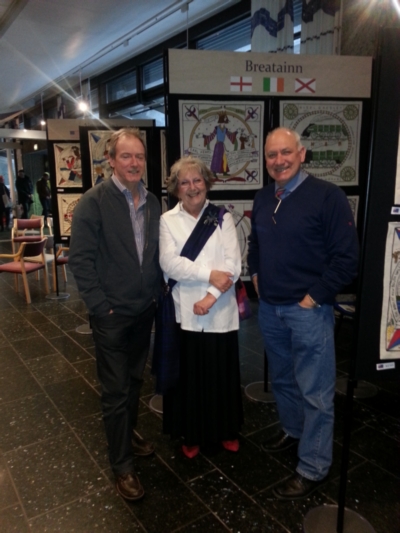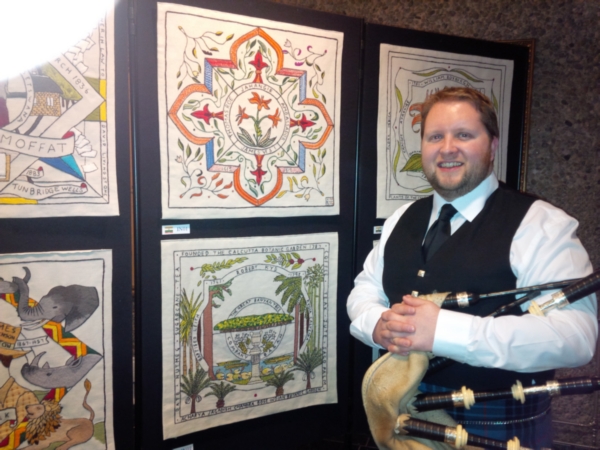 Piper Gregor Campbell was responsible for the music, of course, playing a medley of Scottish tunes; and below Society Member Willie Dawson was the one to dismantle stands and load the van whilst The Golden Girls [Christina left/ Greta right] ensured the panels were correctly stowed in their boxes for the journey to Veere.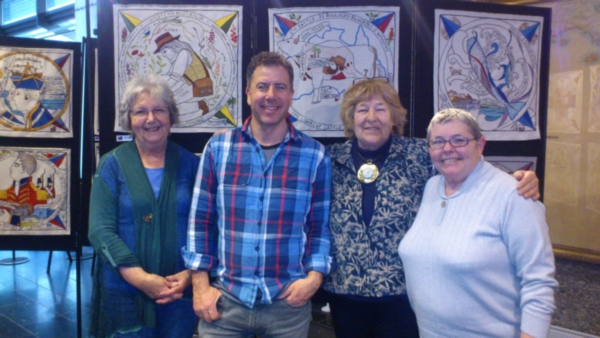 ... and what the Visitors' Book had to say ...

It was great news to learn from the written words that once again the craftsmanship present in the artwork was greatly admired and appreciated. Here's a selection of the Comments forwarded by Margaret Torbjørnsen, our Organising Host there:

"What a wonderful exhibition. I'm proud to be a Scot; Fascinating and beautiful exhibition. So glad to have seen it; A joy to bring it here and meet so many Scottish people who have connections; Great to see an exhibition of my homeland arrive in Bergen.

"Great effort by Bergen Scottish Society. Best of luck - here's my design for a new panel!

"This is the best exhibition we have had at the Town Hall [seen below] so far! Very exciting!




"Came from Oslo to see this fantastic exhibition! We have embroidered the panel about Edvard Grieg!

"I had the honour of meeting the two ladies who embroidered the Grieg panel! What a treat! Lovely exhibition. Proud to be a member of the Bergen Scottish Society; Great exhibition! Absolutely wonderful! Came from Kongsberg and looked forward to this. Huge inspiration; Interesting! We have family in Scotland and have visited the country many times. Beautiful embroidery!

"Fantastic work; Thoroughly enjoyed it, excellent work;
Breathtaking work that ought to be united in one long piece and then shown in a more appropriate space with lighting.

"Fantastic idea and beautifully done. So many stories from all these places; Amazing stuff, such great colours and work. Thank you so much for bringing this to Bergen; Fantastic and beautiful exhibition. I am impressed; What a fascinating way to learn the history of the Scottish diaspora. Excellent!; An interesting exhibition. Lovely work."


Words like these make the 3400 mile drive in the snow-tyred white van by our five Friends of The Tapestries so very very worthwhile - sincerest thanks to Jenny and Ros who drove to Bergen and Margaret, Christina and Greta who are bringing it back P.S. .. and to Arran Johnston and Gordon Prestoungrange who helped arrange the exhibition and luckily had the opportunity to visit in Bergen!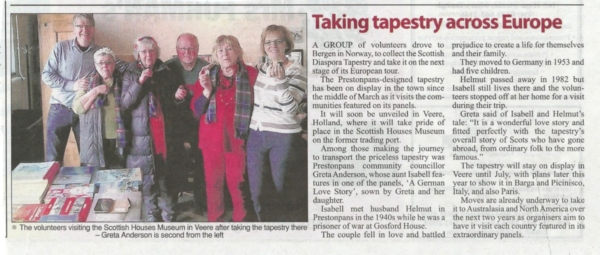 Published Date: April 14th 2015