Gaelic [Inch] Cape News from The Scotsman September 27th 2014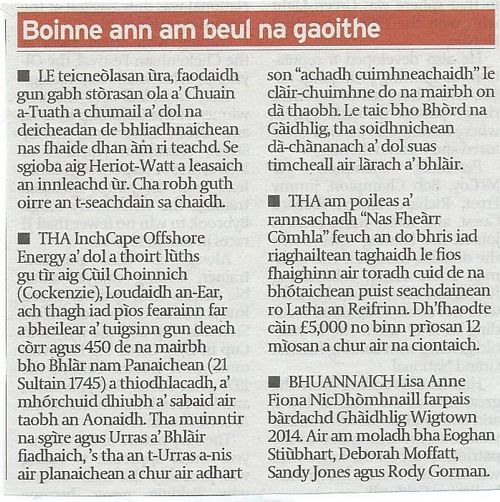 ... which in translation, paragraph 2 reads:

"InchCape Offshore Energy is going to bring energy ashore at Cockenzie, East Lothian, but have chosen a piece of land where it is understood that more than 450 of the dead from the Battle of Prestonpans (21 September 1745) were buried, most of them fighting on the side of the Union. The people of the district and the Battlefield Trust are furious, and the Trust has now put forward plans for a "field of remembrance" with memorial plaques to the dead on both sides.

With support from Bòrd na Gàidhlig, bilingual signs are going up around the battlefield site."


Published Date: October 1st 2014