Yes! We've won the Lottery ... How are we going to Celebrate?
Celebrate? Yes, that's the point of it all

What's it all about? From 23 July – 3 August 2014 Glasgow will host the XX Commonwealth Games one of the world's most significant multi sports events. The Big Lottery has set aside £4 million to support groups nationwide to celebrate appropriately and ..

... since Prestoungrange Arts Festival is already at work with a host of Commonwealth countries, stitching the Scottish Diaspora Tapestry for launch in 2014, it seemed appropriate to apply and join the fun. Gratifyingly, the application for £10,000 was successful. So we're all set to celebrate.





What's the focus going to be then and when does it start?

Seriously, this is what's involved - as we wrote it down in our successful application:

'During 2012/ 2013 we have been creating a tapestry around the world with volunteer stitchers in each of 25 countries. In 2014 it will be completed and we wish to share it with the young people and school children of Prestonpans in two ways:

[1] they will see and learn the embroidered stories of the Scots who emigrated around the Commonwealth from the actual artwork itself; and

[2] they will find out what life is like today in those countries. They will achieve [2] by doing research on their own account and by meeting visitors who are coming to Prestonpans from the countries bringing their tapestry panels for exhibition.

The young people including school children will be encouraged to 'celebrate' what they discover through story telling, theatre, music or painting in a 'Commonwealth Diaspora Celebration' immediately prior to the Games during our local 9th 3Harbours Festival.

They will capture written and photographic records of their Celebration for their own satisfaction but also for future use.

They will watch the Games with heightened awareness and reconvene to share how well the athletes from the several Diaspora countries have fared.

N.B. The Diaspora Tapestry will be exhibited for many years after 2014 and the best outcomes will be incorporated in its displays across Scotland and at the website.

The young people and school children involved will attend workshops at our arts hub, the Prestoungrange Gothenburg, led by sessional staff who have been involved in the creation of the tapestry as well as by local story tellers and artists. They will meet the embroidery visitors from across the Commonwealth's Scottish Diaspora at our arts hub and prepare their contributions there and in our Arts Festivals' workshops for the eventual Celebration. As may be possible we also plan to meet with some of the athletes at the Games.'





Diary Note then: Commonwealth Diaspora Celebration @ 2014 3 Harbours Festival

This Celebration is all set to be one of the highlights of the 2014 3 Harbours Festival, with young people from across the harbour-lands telling 'howsoever' just the way it is across the Commonwealth today and what they've learnt from their 'diaspora studies'.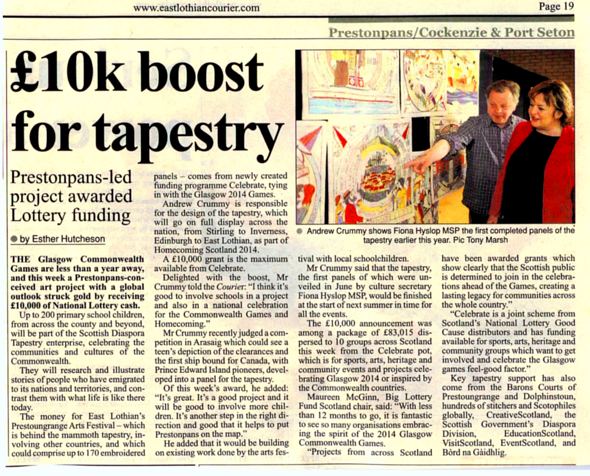 P.S. And in case you've not noticed yet, the entire Diaspora Tapestry, all 150+ panels, will have its World Premiere Launch at our 2014 3 Harbours Festival in Prestonpans Community Centre May 31st/ June 8th.




Published Date: August 19th 2013