MBE Honour to Gordon Prestoungrange for Service to the Community in Prestonpans
"I'm proud to be honoured but I'm very much aware it's an award for the entire arts community in Prestonpans," said Gordon.

This year's Birthday Honours from HM The Queen on June 15th included an MBE for Gordon Prestoungrange. The citation reads: 'for services to the Community in Prestonpans.'

Well there's not much doubt Gordon's been active since he was infeft the baronial lands of Prestoungrange & of Dolphinstoun in 1997. And a great deal has been accomplished. But Gordon was always determined that the Baron should not be the media story. The story was and is the renaissance of Prestonpans in its post-industrial era. He's seen himself as a catalyst, and the barony as giving him a golden opportunity to undertake that role.

None of us knew what to expect of a feudal baron in the late 20th/ early 21st century, least of all Gordon. But together we worked it out. Researching and telling out our community's history through the arts became the theme. And it could be done through murals, theatre, poetry, Fowler's real ales, arts and craft architecture, totem poles, song, story telling, embroidery, re-enactments and how ever else might seem fun. The story thus far was recently documented by East Lothian Antiquarian & Field Naturalists - linked @ Transactions: May 2013.

What next then?

Already the 150 panel Scottish Diaspora Tapestry is very much on Gordon's agenda, with major grants received to stitch and present the stories, not least in Gaelic, for the 2014 Homecoming. But there's also an ambitious plan afoot to compete once again for Creative Scotland's coveted Creative Place Award in 2014. In 2012 The Pans was short listed but didn't win. And the Battle of Prestonpans campaign for a Living History Centre and permanent home for the Prestonpans Tapestry is far from completed - not to mention the Prestoungrange Gothenburg's next decade.....

So Gordon's MBE honour is not a signal for his withdrawal from his catalytic role around The Pans. He might have passed on his baronial responsibilities in Prestoungrange and Dolphinstoun to his sons Mathew and Julian but he's still in action as Baron Bailie.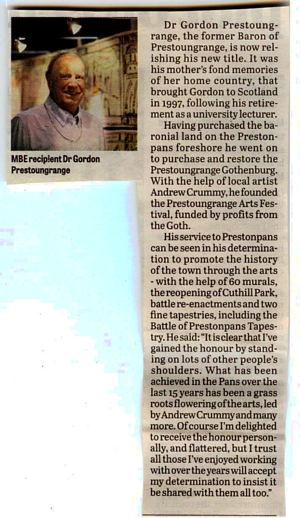 _______________________________________________________________

Ed. The Most Excellent Order of the British Empire is an Order in which Gordon joins two fellow trustees for the Battle of Prestonpans [1745] Heritage Trust - former East Lothian Provost Pat O'Brien who is an Officer [OBE] and Herbert Coutts who is a fellow Ordinary Member [MBE].


Published Date: June 30th 2013