As if Matisse et Fauvism, Tapistry Art and Cathedral Stained Glass were not enough Pas de Calais et Normandie were in Bloom
France as an often un-noticed centre of Public Art

So many travellers go to France to enjoy the way of life, cafe-cognac in the pavement cafes [fast declining from 150,000 to 70,000 in the last decade], or the beaches in the south, that 'we' can easily overlook their magnificent public art.

Recent travels from Le Shuttle through Normandy and the Massif Central via Sir Norman Foster's outstanding [no wobbles here!] new suspension bridge, presented a fine opportunity to see Normandy and Pas de Calais in bloom with their most incredible street decorations quite eclipsing the normal attractions of fields of sunflowers;.

.... and the chance to visit Aubusson and Felletin to see the world renowned tapistry centre there since 1457, which was lately charged with restoring the six works of perhaps the most famous suite of all La Dame et La Licorne prior to its display at the Cluny in Paris in 1993. It was that work which inspired Tracy Chevalier's best selling novel The Lady and the Unicorn 2002;

.... and the opportunity to see some of the world's finest stained glass from the 12th century and later in Chartes cathedral.

Click on all images to enlarge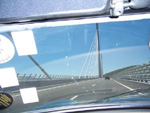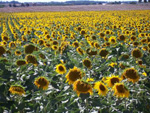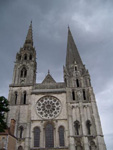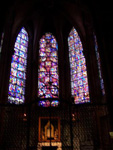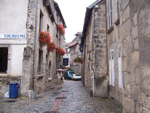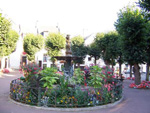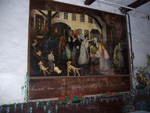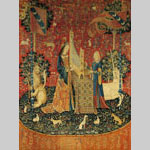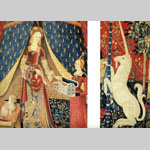 Centenary of Matisse and the 'Fauvists' / son amis ... in Collioure 1905-2005

The centenary of Matisse's summer sojurn with Andre Derain and friends in Collioure was naturally celebrated with a fine Exhibition but there was also a bizarre attempt to engage the interest of the milling crowds by placing some of the paintings of 1905/ 1906 on the walls nearby the scenes they depicted. Distressingly perhaps, nobody seemed much interested [except this latterday muralist] as they took their ice creams or cool drinks, dined al fresco or sunbathed on the beaches.

It must be a grand challenge in such a lively modern township as Collioure ... to tell the Fauvist story .... and the Tourism/ Exhibition Shop was determined not to take credit cards to those purchasing the artefacts [including the Catalogue which is now available in the Courts' Library at the Gothenburg].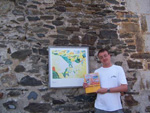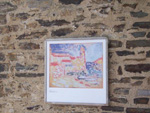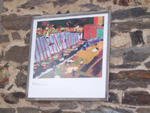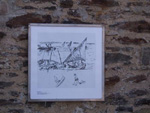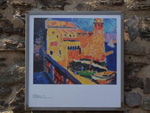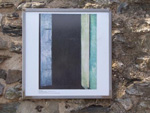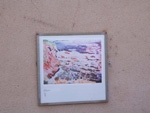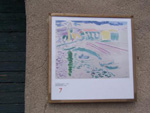 Published Date: August 25th 2005