Paxton House Easter Exhibition off to a great start ... and much more to come!
Fog but still the Animated DVD enjoyed its 'unofficial' premiere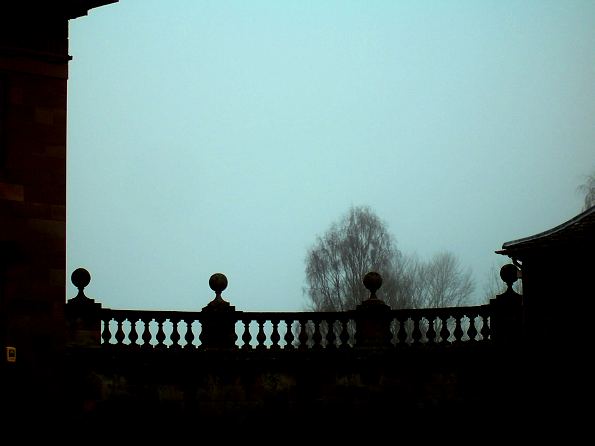 Maybe it's best called a Preview but Shona MacManus and many a stitcher was pleased to see and mightily impressed with the new animated DVD of the Tapestry. It comes in French as well as English [made in Bayeux for the Battle Trust and very much intended to show in Pornichet at the end of April. [Copies can be purchased here on the website at Boutique/ Sales button to the left @ The Gothenburg [closed Mondays] / or by phone 01875 819922.]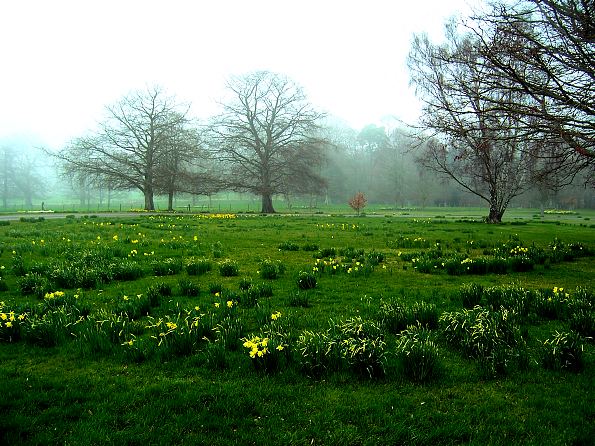 There was more than the DVD to see of course. The Tapestry looked magnificent once again using its snaked presentation in Paxton's Picture Gallery, where Martha Andrews, one of the curators, is seen below with Trustee Arran Johnston [ - picture with thanks to GIS Photographic].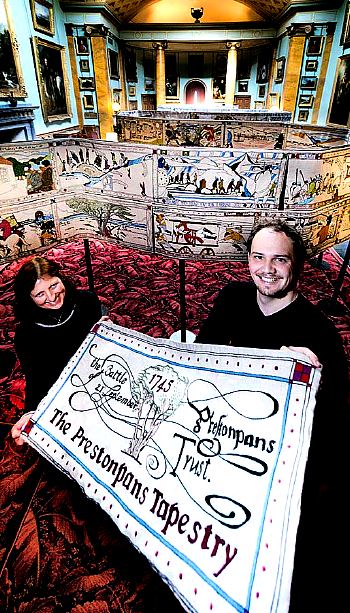 Gordon Veitch's BattleBoard proved a perennial attraction and the Stables Cafe serves fine food including an early breakfast ... which next weekend's re-enactors plan to enjoy!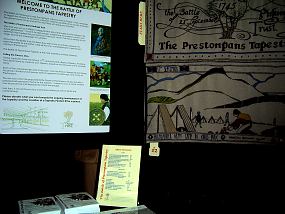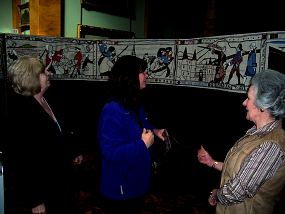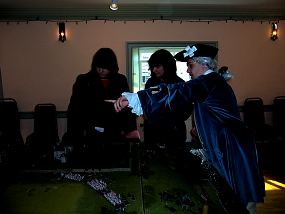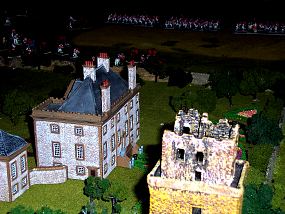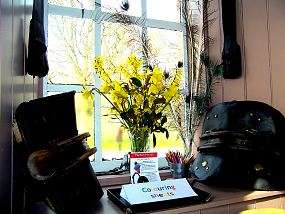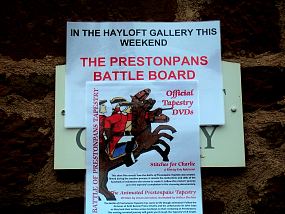 Two more hi activity weekends to come at Paxton House ...

If it's a re-enactment you want, then next weekend, Saturday 31 March & Sunday 1 April sees the Jacobites attacking Paxton! It's taken a rich imagination to see the Home-Robertson home under attack by Jacobites since the family were well known as stalwarts for King James VIII and III in 1715. But by 1745 redcoat soldiers from Berwick-on-Tweed are camped at Paxton House and the Alan Breck's Prestonpans Volunteer Regiment have every intention to displodge them. Them and 40 others it must be said in what will be the largest re-enactment at a Tapestry Exhibition since St Mary's Cathedral Green in Edinburgh during the 2011 Fringe. Swords will surely be drawn as the sentries collide.

There's more than that. It will be an exciting living history weekend featuring encampments, skirmishes and fun cameos. Meet the soldiers, examine the weaponry, and perhaps even learn some drill!

Sunday 15 April also sees hi activity but of a different ilk. There's Family Storytelling and a Comic Book Workshop on the initiative of the Prestoungrange Players.

Workshops begin @ 12 noon, 1.30 pm and 2.30 pm. You're called upon to be inspired by the Tapestry and its stories to create a modern day telling, learning some comic book techniques. Comic book workshops for kids. Not to be missed.



Published Date: March 28th 2012