Strokes with Talent - Burriss Bursary Duo for 2005/ 2006
'Double' Award for Local Artists in RunUp to Global Conference

It was not the deliberate intention of the Trustees of the Prestoungrange Arts Festival Charity to award 2 x £2000 Burriss Bursaries for 2005/ 2006, but there was no room for choice. The two winning applicants who received their award certificates from the Baron of Dolphinstoun on Tuesday July 12th were inseparable. Examples of their original submissions are shown below.

Click to enlarge all images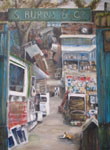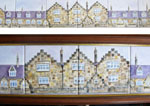 So Adele Robertson and Margaret Fraser now take over the Burriss baton together for the coming 12 months from June Coull, who was the inaugural Burriss Bursary winner for 2004/ 2005. During their tenure they are required to "develop their artistic talent with works of art that reflect Prestonpans and Vicinity in the 21st Century". In July 2006 they will give personal exhibitions at The Prestoungrange Gothenburg, and offer their works for sale as June Coull is currently doing at her own Exhibition. [She immediately sold nine of her thirteen works, one third of which proceeds return to help fund future arts activities in Prestonpans.]

The Reason for a 'Burriss' Bursary

Jeanette Cowan [nee Burriss] grew up in Prestonpans and was a student at Preston Lodge School where her final year project was an elegant historical record of the town's old buildings [since reprinted by the Arts Festival]. After going to art college on a bursary herself, she became a teacher here for many years and in 2004 an Exhibition of her work was arranged at The Prestoungrange Gothenburg in association with her family.

As always, we were delighted that the East Lothian press covered the story, as shown below: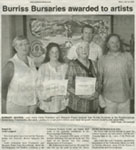 Burriss Bursaries are not a 'Painters' Monopoly

Whilst next Spring, and the third application cycle, may seem far off, the Trustees were determined to point out that the Bursaries are open to all-comers in the arts. Poets, music makers, movie/ DVD makers, photographers, dancers, thespians, writers for any and all media or any other 'artists' - all are very welcome to apply tabling their past work as a portfolio, and crisply indicating how they would hope to develop well over 12 months as the Bursary winner. All interested people can phone Adele Conn anytime at the Prestoungrange Arts Festival [01875 819922]; and application details are available HERE to download. N.B. All proposals have to plan to reflect 'life in Prestonpans and Vicinity in the 21st Century' but artistic licence is welcomed indeed expected!
Published Date: July 12th 2005