Athelstaneford & the Saltire: Our County Celebrates ...
County's first major battle sets the pace ...

For the third year running, Athelstaneford and East Lothian at large are set to celebrate the vision in the sky reputed to have given the nation the Saltire in the 9th century.

Not long ago East Lothian Council resolved to promote our county as the home of that flag, and Athelstaneford itself had already well interpreted the moment in its own Doocot Museum. Its church also honours the life and most considerable works of Nigel Tranter.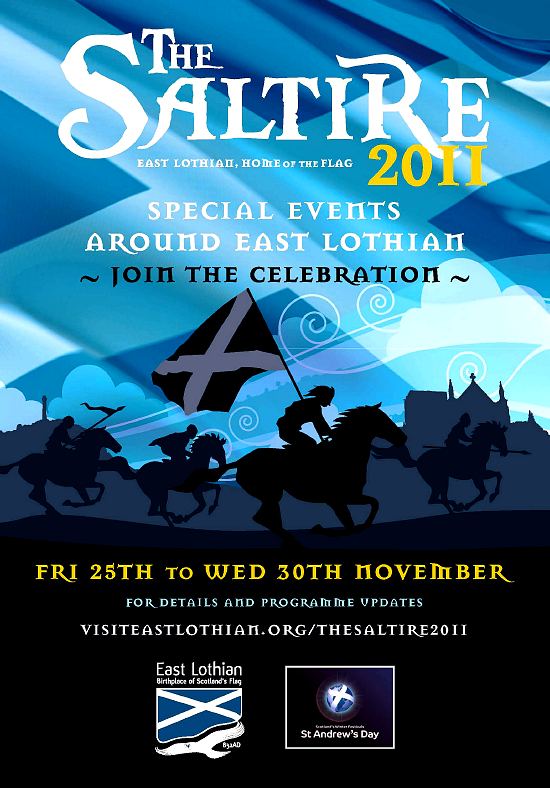 The programme includes a celebration of the flag at its home in Athelstaneford, a foodies' paradise at Haddington Farmers' Market, all the fun of the races at Musselburgh Racecourse, a Scottish Music & Literature Ceremony in Haddington, and on St Andrew's Day itself great food and music at a selection East Lothian's top restaurants and bars - including our own Prestoungrange Gothenburg in The Pans.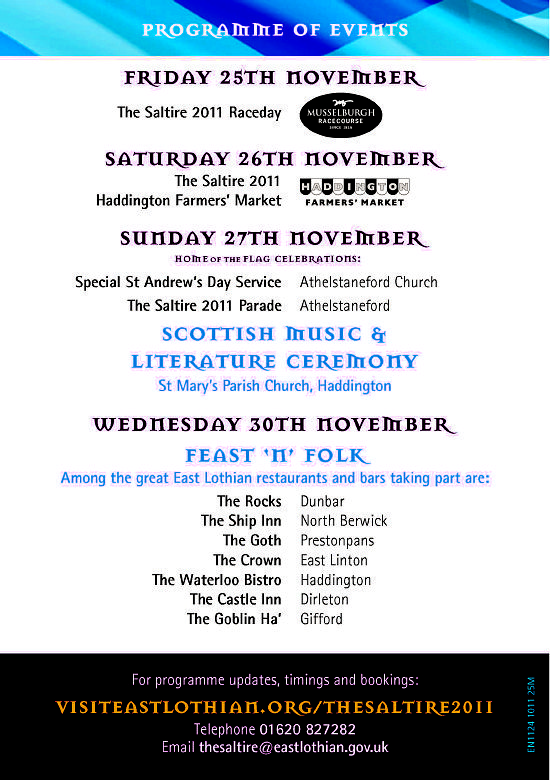 1. Friday 25th November is Saltire 2011 Raceday

Musselburgh Racecourse offers fun and excitement of the horse races at East Lothian's 5 star sporting venue. With top-rate facilities, services and staff, everything is geared towards providing a great day out for all at the races. Doors open 10.30am, last race 3.30pm. 
For more information and to book tickets visit www.musselburgh-racecourse.co.uk

Saturday 26th November is The Saltire 2011 Haddington Farmers' Market

Your chance to sample and buy great Scottish products all produced locally. And to celebrate St Andrew's Day they'll be giving away samples of a Scottish favourite, Cullen Skink, which features on many a Saint Andrew's Day Menu.  Special entertainment includes music from Haddington Pipe Band and dancing! Court Street, Haddington 9am - 1pm.

Sunday 27th November is Home of the Flag Celebrations
Flag Ceremony & Parade

A special Saint Andrew's Day Service at Athelstaneford Parish Church will be followed by the symbolic handing of the flag to the people. Come and watch the ceremony as a huge flag is paraded through the village. Athelstaneford Village, Flag Ceremony and Parade is at 12 noon.

Also on Sunday 27th November is the Scottish Music & Literature Ceremony @ St Mary's Parish Church

St Mary's is venue for a celebration of Scottish Music & Literature, hosted by broadcaster and writer Alison Craig. Enjoy music from Mairi Campbell and Dave Francis - The Cast, Sangstream and Ada Francis plus readings of well known Scottish literature from famous authors Roddy Martine and Debi Gliori and from Provost Sheena Richardson.

To round off the Celebrations there will be a ceremonial Raising of the Flag.  This event is free however tickets are required.  Tickets are available on a first come first served basis from:

The Brunton Theatre, Musselburgh, in person or telephone
0131 665 2240; Kesley's Bookshop, Haddington, in person;
Tippecanoe, Dunbar, in person; and Greens and Blues, North Berwick, in person.

Wednesday 30th November it's Feast 'n' Folk across the county ...

Some of East Lothian's top restaurants and bars invite you to celebrate St Andrew's Day and enjoy special menus accompanied by musical entertainment.

The Rocks, Dunbar with music from AP Blues Council. East Lothian's Alan Pratt heads up one of Scotland's best blues bands. Telephone 01368 862287

The Ship, North Berwick with music from The Public House Orchestra. Entertaining Scottish take on bluegrass and beyond! Telephone 01620 890676

The Crown, East Linton with music from Homecoming String Band. Appalachian tunes played with Celtic spirit. Telephone 01620 860335

The Waterloo Bistro, Haddington with music from Jim Wilson and Stuart Davie. Local favourites with a wealth of tunes on guitar and box. Telephone 01620 822100

The Castle Inn, Dirleton with music from Ada Francis and Michael Ferri.  Clarsach and guitar from two talented youngsters. Telephone 01620 850221

Garvald Inn, Garvald with music from Yard of Ale. Great 3 piece folk band. Telephone 01620 830311

Goblin Ha', Gifford with music from Fiona and Kirsty Johnson. Fiddle and accordion, playing and singing from 2 of Scotland's brightest young stars. Telephone 01620 810244

Ducks, Aberlady with music from Delta Folk.  Acoustic folk and acapela songs in the great Scottish tradition.
Telephone 01875 870682

Hopetoun Arms, Ormiston with music from George Duff, Tim O'Leary and Tom Napper. Sterling quality from these well known folkies! Telephone 01875 610298

The Goth, Prestonpans with music from Tim Porteous and David Gibb. Storytelling and a great range of songs from the folk repertoire. Telephone 01875 819922

Wednesday November 30th also sees a Saint Andrew's Day Saltire Concert

It's at Saint Andrew's High Church, Musselburgh, with music from Kris Drever and Bella Hardy. Kris Drever is one of Scotland's most sought after performers. This is a rare opportunity to see him in an intimate environment, ably supported by Derbyshire's finest folk export, Bella Hardy.
7.30pm. Tickets £10.00.  The Brunton Theatre, Musselburgh, in person or telephone 0131 665 2240; Kesley's Bookshop, Haddington, in person; Tippecanoe, Dunbar, in person;
Greens and Blues, North Berwick, in person



Published Date: November 11th 2011