Thousands upon thousands see the Tapestry at Alexandra Palace ....
A Quite Different Experience Altogether ...

Well it's true that the Tapestry had come face to face with highly profesional embroiderers and stitchers before, at The Dovecote in Edinburgh. But at Alexandra Palace last week, from Thursday to Sunday, it was an un-announced star attraction at the 2011 Knitting and Stitching 'Trade' Fair. Everyone who came along knew a thing or two or had a friend who knew. What would so many thousand critical eyes make of it all?

The Palace is as many will know a vast 'peoples' arena dating from 1873, which has twice gone up in flames! So not surprisingly the Fire Chief has strong views about how the exit routes are to be kept clear of tapestry panels or floor seated textile students or merchandise sales. And since our allocated location was just such an exit route, and a magnificent example of the same, more than a day's negotiations preceded the formal opening! [And this was notwithstanding breakdown on the M4 of the Prestonpans Ales van that carries the tapestry cargoes hither and thither!] However, goodwill won the day all round and the construction of boards and their velcro-ing was accomplished JIT for our hangings to be ready as the portals opened.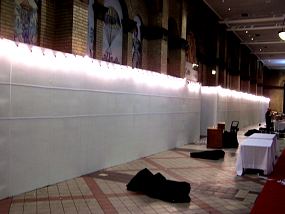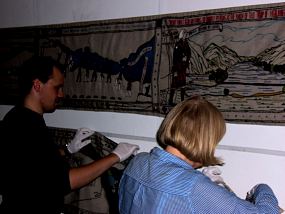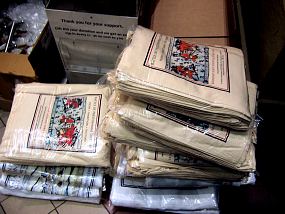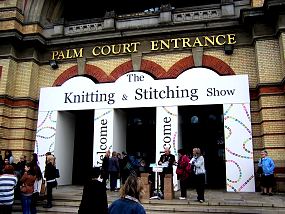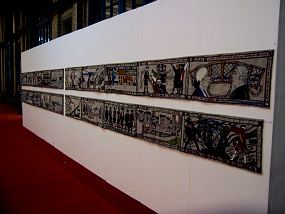 It was a tidal wave each morning at 10 am that lasted till 12 noon ...

... and the ebb tide to the Cafes and the flood tide back again and the ebb tide towards 5.30 pm and closing time! Back and forth they came, fascinated and full of questions. How long did it take? How many stitchers? What stitches were used? How much discretion to each embroiderer? Where will its eventual home be? Where is Prestonpans .. who was Bonnie Prince Charlie .... remember this is England ..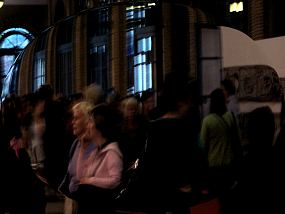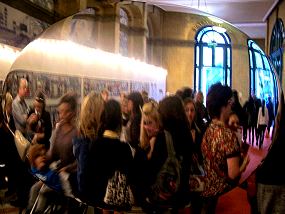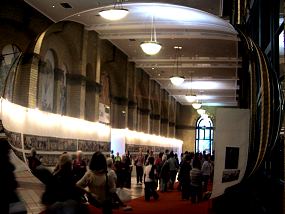 But there was many a red headed freckled face, proudly Scottish, and many with their Scottish clans and ancestors or just a mixed current parentage with a Scottish father or a mother! Where that Scottish blood was grandparent's or absent siblings, card jigsaw tea towel or the Official Guide - all were snapped ...

And of course there were those from Devon and Shropshire and Wiltshire and further afield probably, even Haddington, who'd already had a Tapestry Guide & DVD & CD as a gift last Christmas or for a birthday who simply knew they had to come and 'see' the texture but not of course to touch it!

And there was someone in particular who caught the eye ...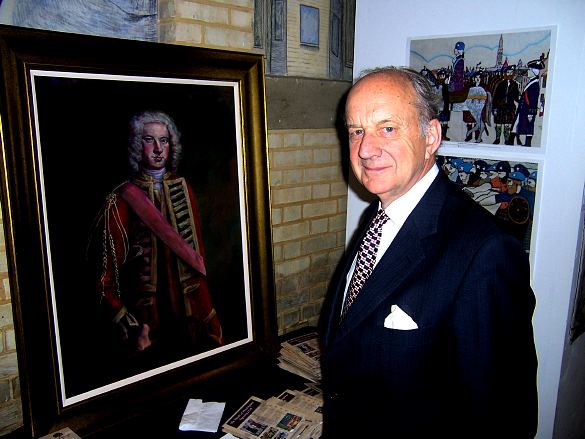 ... indeed he'd been formally invited and was gladly welcomed. Today's eponymous Sir John Cope, indeed also Lord Cope, came to see Kate Hunter's portrait of the man not believed to be an ancestor from 1745. And he dwelt for a moment or two on the cartoon panel [taken from 1745] in which Cope confirmed his defeat to Lord Ker in Berwick on Tweed - which cartoon inspired Andrew Crummy's entire design!




And our own stitchers and artists and administrators were there. Sylvia Robertson from Blair Castle and more helped setting up; Susan Meadows came to see her Belle Isle panel turned jigsaw; Avril Wills manned the sales bench with Sylvia Burgess; Marietta di Ciaccia and Dorie and Tom Wilkie talked and talked to enquirers with the authority only 36 months of experiential learning can afford. Andrew Crummy greeted and regaled textile artists and friends from his earlier life in Bromley-by-Bow ... Your webmaster here stood guard as well. Arran Johnston, aka The Prince but not attired as such, had made all the arrangements and he too talked and talked and talked telling the tale and explaining the Tapestry to one and all. And it was Arran and his helpers who had to break up the exhibition and load it onto the waiting Prestonpans Ales van [now restored for action in a friendly Tottenham garage] for the journey back to Scotland and some well deserved care and maintenance.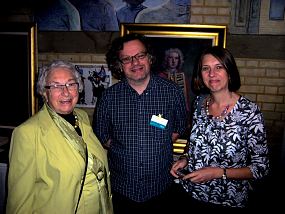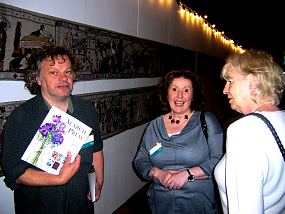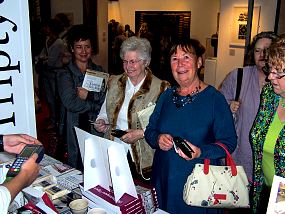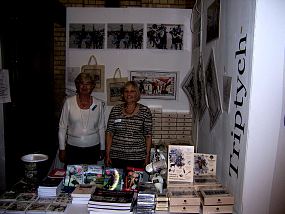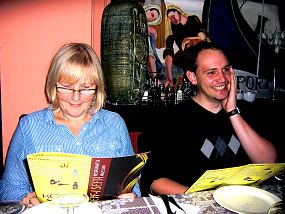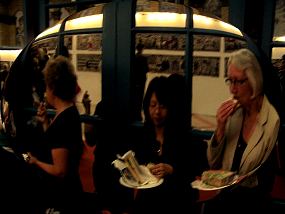 Everyone was wearied yet elated by the four whole days ... and that had included a closer look at the hundreds of displays and artworks, and stained glass, around the magnificent Fair in the Palm Court and the Great Hall.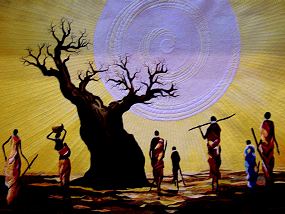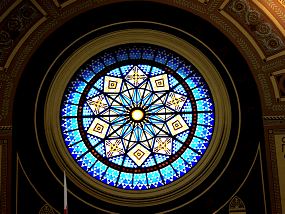 And there's more to come of course as the Fair moves to Harrogate in Yorkshire from November 24th/ 27th at the International Exhibition Centre. Quite a way to cross the Border and round off the first full year's touring that now promises to reach over 100,000 visitors!


Published Date: October 10th 2011