Plen-an-Gwary: Place of the Play to showcase Cornwall's History
Panel #58 was Embroidered by Rita Tregellas Pope - Bard of Cornwall ...

Many will have heard of, and some will have seen, the determination abroad in Cornwall to honour its Celtic traditions and preserve its language and culture. Since 1928 the county's College of Bards has received into membership individuals of great learning and one such was the late Rita Tregellas Pope. And it was she in particular that strikes a chord with our own arts dynamics in Prestonpans. She sought not least through embroidery to record with great beauty some of the most significant moments in Cornish history. She dreamt of creating a Cornish forum, just as we are striving at Morrison's Haven .... where Cornwall's historic sense of place could meet with the Cornwall of today.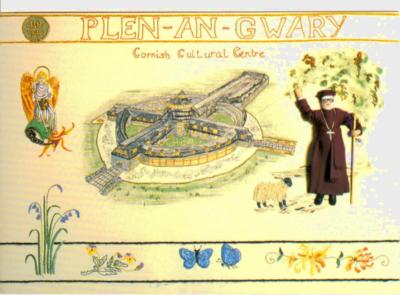 She inspired the creation of all 58 individually framed panels of the eponymous Tregellas Tapestry now to be seen at the Cornwall Centre in Redruth. It is an absolutely stunning 40+ metre artwork and your webmaster made haste to Redruth to see it for himself as plans get under way to embroider the 'Great History of Scotland'. If the Bayeux Tapestry was the inspiration and analogue for the Prestonpans Tapestry, it could well be that Cornwall's Tregellas Tapestry might be that for what Alexander MacCall-Smith/ Andrew Crummy et al have in mind for Scotland's story!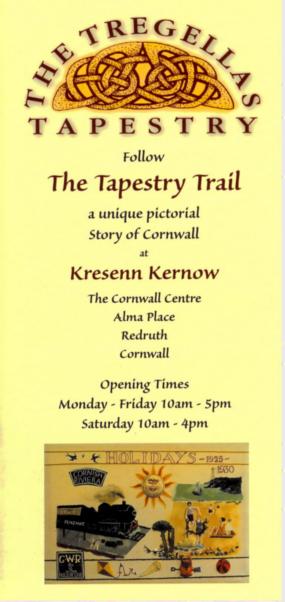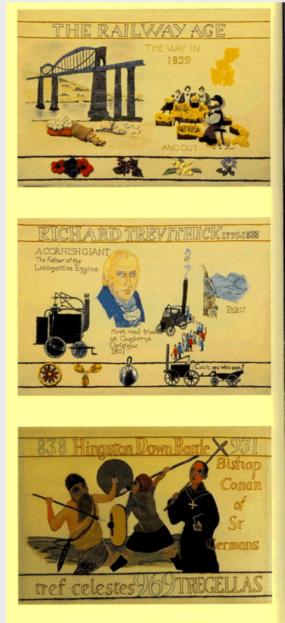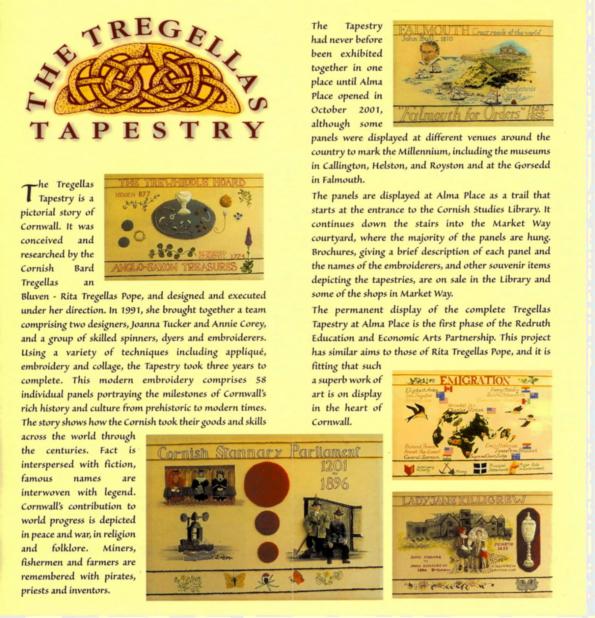 Brief historical notes illuminate the art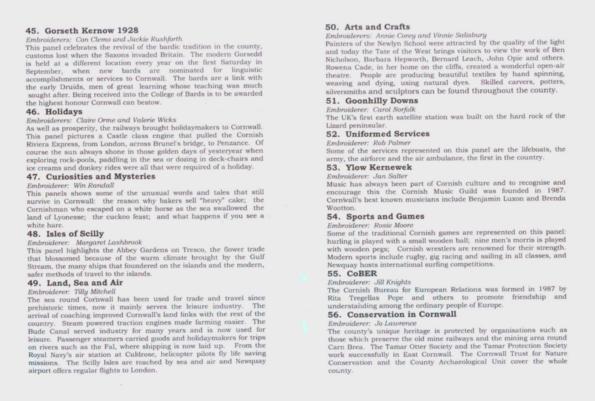 Thus far the Tregellas Trust has only published short historical notes to each panel, but much more is possible. What is most inspirational is the way the Tapestry uses applique and light painting as well as the most exquisite embroidery to tell the stories. And there are many to tell: of Cornwall's extraordinary industrial wealth, its pioneering of steam power for its lead, copper and tin mines, the Cornish Diaspora as its engineering expertise was sought across South America, Australia and Africa, of Marconi and Goonhilly Downs, its Stannary Parliament from, 1201 - 1896, the Rebellion of 1497, the Spanish Raid of 1595, of Falmouth's Role as the Empire's Postal Centre, of the Wesley brothers and Richard Trevithick, of Nine Lessons & Carols conceived at Truro Cathedral, of the Cornish Riviera ....

All this discovery and excitement at the same time as BBC's One Show was retelling on April 13th the story captured on the Fishguard Tapestry - of the Last Invasion in 1797! .........

And our own Beam Engine @ Prestongrange Heritage Museum ...?

... well, as is to be expected it was made just a few miles from Redruth at Hayle, close on the Celtic Sea. Prestongrange acquired it third hand after many years use in Cornish industry, but its arrival in The Pans made possible the coal mining which so dominated the town for nearly 100 years. At long last a way was to hand, a Cornish way, to pump the water away as work went forward beneath the ground.

N.B. It was of course Cornish ironmonger Newcomen who first gave the world the steam engine to pump water from that nation's tin and copper mines a century and more earlier - a story also told on BBC1's One Show on April 20th.]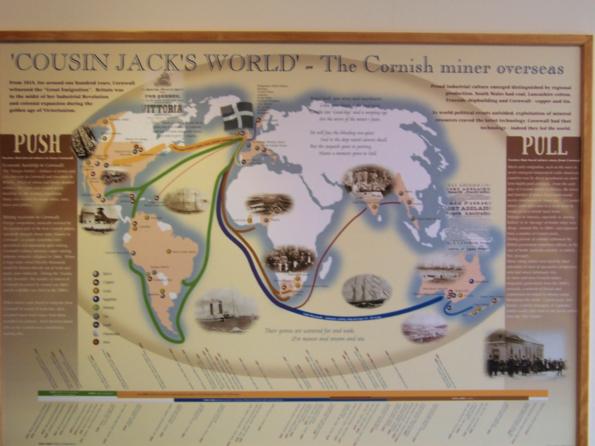 Published Date: April 14th 2011