Feudal Barons To Banquet and Let Off Fireworks
Baronial Banquet Set for November 28th

Invitations have just now been posted to the entire Baronage of Scotland to invite them to a Banquet at 6.00 pm on November 28th at the Prestoungrange Gothenburg. The Baron Sergeand and Chef Andrew Laurie have all matters in hand and there will be a major fireworks display over the Firth of Forth at 10.30 pm.. Craig Allan at Fowler's Ales microbrewery has been charged with ensuring real Prestonpans ales do proper justice to this landmark occasion.

Click on image to enlarge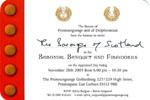 Earlier in the day Burke's Peerage Editorial Director Anne Christie has invited all Barons to Afternoon Tea to discuss the 20th Edition of Burke's Landed Gentry: The Kingdom in Scotland, which of course lists all title holders who care to provide their family trees. The 19th Edition in 1999 was dedicated to the then Lord Lyon Sir Malcolm Innes of Edingight at a Banquet held at Wintoun House; and was formally launched at the Prestongrange Heritage Museum.

Why Chose November 28th?

November 28th was the Appointed Day in 2004 when Barons in Scotland lost their feudal Land Rights and their Judicial powers to place miscreants in the stocks and levy fines of up to 40/-. The Barons Courts of Prestoungrange and Dolphinstoun were the last to meet in Scotland and to use the stocks. One of their last Orders was that the Appointed Day each year should be so celebrated, in recognition of what was and still can be of enduring benefit from feudal values and ways of living.

The Invitation to All Scottish Barons

Invitations to as many Barons as Burke's Peerage can locate are in the post already. If perchance any entitled reader here has not received one please phone at once to +44 [0]1875 819922 for a warm welcome. Or email the Baron Sergeand at the address on the Invitation above.
Published Date: June 21st 2005