Our Tapestry goes to Holyrood Parliament
Arran Johnston [quoted below] as Tour Manager took the tapestry to Holyrood last week ... in a partial and 'private' exhibition sponsored by Iain Gray MSP

"I'll be the only person that's security cleared for going in and out of the Garden Lobby where the Tapestry's set up ...... We're not permitted to staff the stall, although I can go for a couple of hours each day at the busiest times to explain what we're about. The objective is to get onto all MSPs radar as the Petition at Holyrood goes forward in the New Year."





"The small exhibition and display seems to be going down very well at the Parliament. The Prospectus for the Nation has simultaneously been delivered directly to all 129 MSPs with a covering letter from our sponsor at Holyrood, Iain Gray - East Lothian's MSP of course.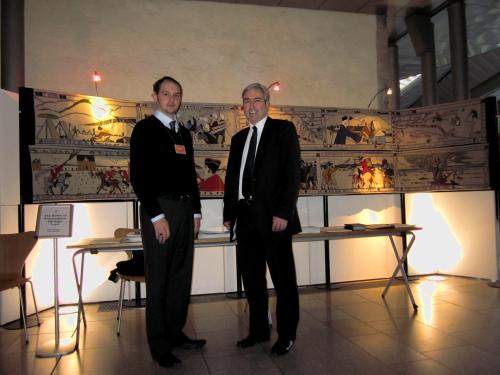 "Today I spoke with Annabel Goldie who yesterday read the information I'd put out and was very impressed with what we've been doing ....

"A sample of other comments left during the exhibition read:

'This is an excellent project which will let young and not so young engage with their history'
Bill Kidd, MSP

'Fascinating tapestry to match a fascinating story'
Linda Fabiani, MSP [who visited the Pans when Minister of Culture]

'Lovely & very interesting'
Sandra White MSP

'So vibrant and enlightening. Well done'
Maureen Watt MSP

'Fantastic piece of work: so much skill and detail. Thank you for bringing it to Parliament'
Claire Baker MSP

Bayeux eat your heart out!

Last week, most of the Battle of Prestonpans Tapestry left the capital after the successful Dovecot exhibition. But two cohorts, ten metres, remained and moved down the Royal Mile to Holyrood. This 'sample' of the Tapestry formed the centrepiece of an exhibition in the Scottish Parliamentís Garden Lobby detailing all the work of the Battle of Prestonpans 1745 Heritage Trust.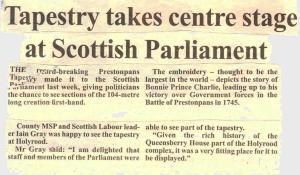 The two cohorts of Tapestry chosen were intended to show the various moods and styles of the work: peaceful landscapes scenes, gory battle sequences, the beautiful Jenkinson sisters, and the heroic death of Colonel Gardiner - all were on display. Alongside was information on the Tapestry and its creation, the Trustís 2010 touring details and explanations of the Trustís purposes and plans.
Hot off the press was the Prospectus to the Nation, seeking £5 million from government, which was delivered to all those who sit in the Parliament.

The response to the display was extremely positive, with members, researchers, and party leaders all showing a great deal of interest. Our thanks go to Iain Gray who, as MSP for East Lothian, sponsored the exhibition. [Iain is pictured above with Arran Johnston in the Garden Lobby.]



Published Date: December 21st 2010