It's all a matter of interpretation ....
Whilst the Tapestry tells the tale beautifully, X marks the spot

The Battle Trust received a grant in support from the Heritage Lottery Fund more than two years ago to erect Interpretation Boards close by the battlefield in Prestonpans. The challenge was to be quite clear where the battlefield was and that has had to await the work of Dr Tony Pollard and his team from Glasgow University's Battlefield Archaeology Centre.

But when the verdict arrived in late summer it was possible to put the finishing touches to the illustrations and to place them correctly in the countryside. The unavoidable delay also meant that Andrew Hillhouse's recent fine painting of the Riggonhead Defile March by the Highlanders could be included at Seton Collegiate.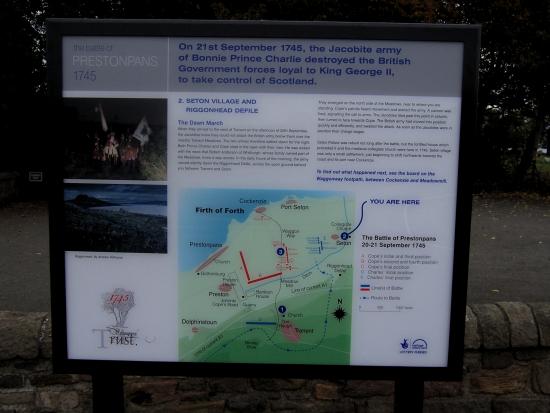 There are three - the first at Tranent at the southern end of the Waggonway telling of the skirmish there involving the Camerons [below]; the second [above] at Seton Collegiate detailing the night march along the Riggonhead Defile; and the third at the northern end of the Waggonway with a description of the Highland charge and the flight of the recoats [also below.]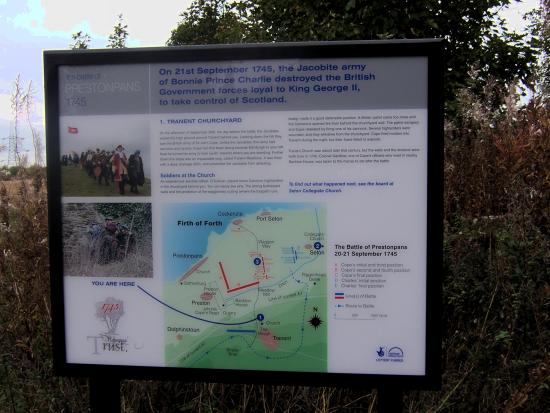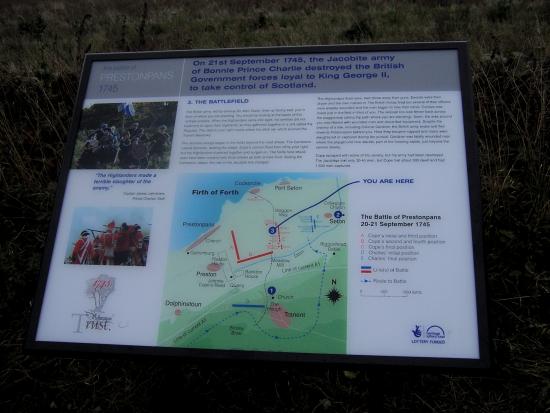 A fitting day for their unveiling too ...

The night/ dawn of September 21st 1745 is famed for its sunrise as the Highlanders charged.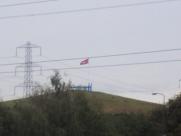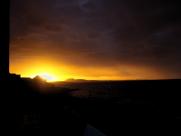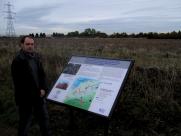 On the occasion of the unveiling of the three Interpretation Boards it was the turn of one more glorious sunset over the Forth - with the Totem Pole telling out its tale of Pans history and the sunlight particularly catching the carved 81 - the number of so called witches put to death hereabouts in the century before the '45. Later this month at Hallowe'en the Prestoungrange Players will once again present the third in Roy Pugh's acclaimed cycle of Witch plays at The Gothenburg.

The BattleBing can be mistily seen through the criss-crossing of overhead wires, where the Trust flies the Prince's battle flag all year round. At the summit of the BattleBing the interpretation plates placed by the old Regional Council twenty years ago still await their promised restoration by East Lothian Council following the Trust's successful Petition there in January this year.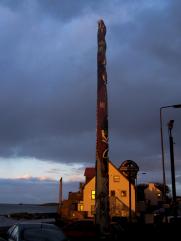 Published Date: October 17th 2010