Tapestry Private View - Just Looking, Thank You! - July 26th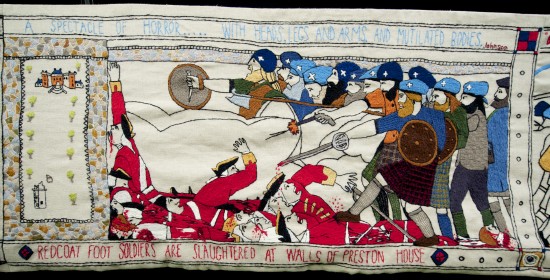 Heritage Museum or the Green Hills?

Everyone had been invited to the Heritage Museum where two marquees were to be erected at the site of the proposed future Tapestry Pavilion. But that was not to be. The Travellers had already visited the venue in April this year and returned two weeks before our Tapestry Gala day. Although in fact they had been moved on before July 26th the Trust resolved not to take the chance they might not be gone and relocated to Green Hills - a great location already used this year by the 3Harbours Seafood Festival.

No matter where, the Tapestry Gala on July 26th was a deliberate aspect of the Trust's BIG Thank You to the Stitchers

How can the Trust ever say a big enough Thank You to 200+ stitchers who donated 25,000 hours of their skilled craft to creating this extraordinary work of art known as The Prestonpans Tapestry? It never can really, but it can and will honour each one by name and stitcher's tag in perpetuity, and the story of how this gigantic project was accomplished has also now been recorded in the media and in the official 272pp full colour Guidebook published by Burke's Peerage.

But there was something immediate that the Trustees knew they could and should do, which responded to a repeated wish stitchers expressed - everyone wanted to see the entire 104 panels sewn together when it was all complete. And the Trustees believed this should be up front, at a pre-launch 'private viewing' just for them and their immediate family members and friends, who had watched and waited and shared in the embroidery time, those 25,000 hours, those 10 million stitches, across the nation and around the world. And Yes, it had to be in Prestonpans!

The photographs throughout are from Tony Marsh - be sure to CLICK TO ENLARGE EACH OF THEM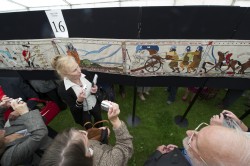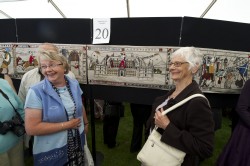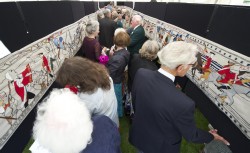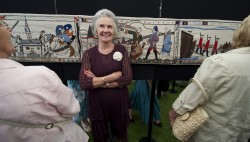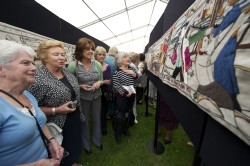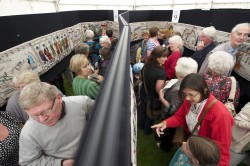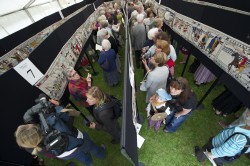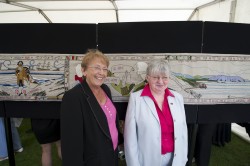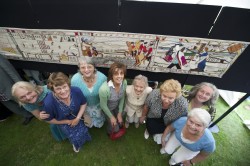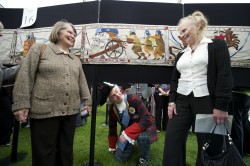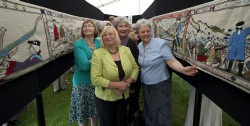 Thus far there is nowhere in Prestonpans big enough to accommodate the artwork let alone the 350 guests that came on July 26th. So it had to be marquees which could scarcely do proper justice to the art but which could and did afford the opportunity to 'see it all'.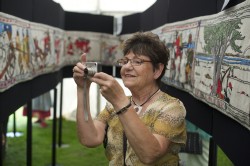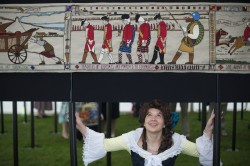 Then there was the Signature Moment - all the stitchers autographing their image in the archival book destined for the National Museums of Scotland

Not only did stitchers sign their own image however, they received from The Prince, Andrew Crummy and Dorie Wilkie their signed Presentation Label to place inside their own cloth bound edition of the Guidebook.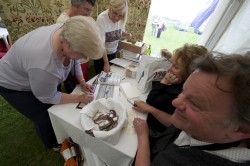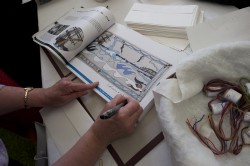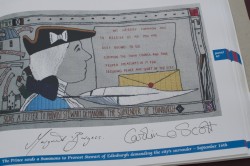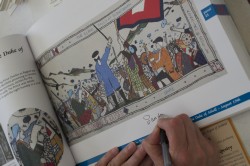 .... And what goes up must come down ... the evening air was damp by 7 p.m. so down it came, white glove treatment of course ...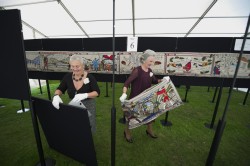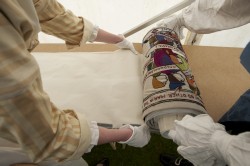 However, as the Prince and his followers learnt in 1745, it's no short distance from Eriskay, Arisaig or Moidart to Prestonpans and so sustenance would be needed and entertainment too. A Gala Day was accordingly promised and as the Viewing Frenzy subsided the sustenance and entertainment came to the fore.

Your correspondent reports on these 'celebrations' on another page - JUST CLICK HERE



Published Date: August 4th 2010