Swindon's Murals 25 Years Ago
Thamesdown's Ken White was 'Years Ahead' in Swindon England

The belief that the Prestoungrange Arts Festival launched the first major murals initiative in the UK in 2001 has been officially exploded. That contemporary prize properly belongs to Swindon in Wiltshire where from the late 1970s Ken White led out a parade of no less than 41 outdoor works of art under the aegis of Terry Court at Thamesdown Borough Council's Public Arts Division - The Arts Trail. The leaflet produced at the time is shown below.

Click on all images to enlarge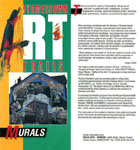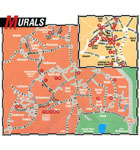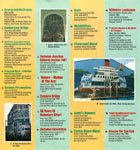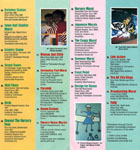 Terry Court was still in action in 1986 as Arts Officer

By 1986, 12 years after Thamesdown Community Arts was formally established, Terry Court wrote "The Story Of ..." captured below which was published in the Southern Arts Bulletin # 35 February/ March Issue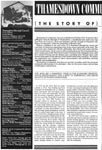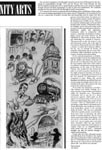 At that time he brought together a collection of his own images of the murals in situ as also shown here: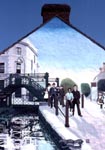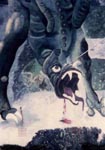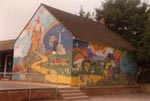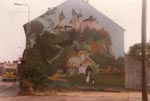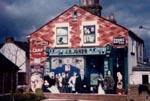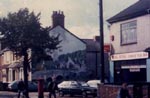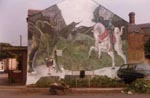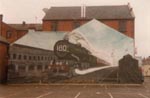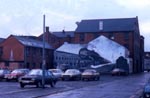 ...but the saddest thing of all...

... is that the murals have either been destroyed by redevelopment or allowed if they still survive to go to wrack and ruin. Numbers 2 and 30 from the original Trail are shown as they are today, with apologies for the intrusion of green hued barbed wire in the foreground of the magnificent Ocean Cruiser at Highworth Recreation Centre's swimming pool.

As created... As today 2005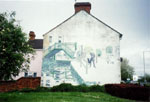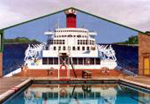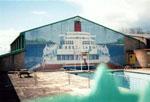 Ken White's Outstanding Career was Launched by # 2

The sadness all serious mural lovers can readily feel is immeasurably heightened when the true story of Ken White's earlier and subsequent career is recounted.

Ken [and his brother pictured below centre retreating with brown knapsack on his last day at work] both worked, as had their grandfather, at the Great Western Railway's Worksops in Swindon. Ken took redundancy from his job as a Rivet Hotter and with the support of a Job Creation scheme got his first break as an artist, painting his first ever mural # 2 The Golden Lion Bridge. So significant was his work that Bayer Pharmaceuticals used it as advertising copy and one now very famous entreprenneur [Sir] Richard Branson saw and greatly liked it. He commissioned Ken White to create indoor and outdoor murals over a 20 year relationship which included many Virgin stores across Europe and Virgin Atlantic's iconic Scarlet Lady on all its fuselages.

The three historical images by Ken White below hang in the old Railway Workshops which are now a combination of shopping mall and Railway Steam Museum. They are a trio from a total of 9 on similar themes. A wide selection of Ken White's work can be seen in his web Gallery Portfolio @ http://www.kenwhitemurals.co.uk/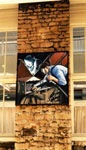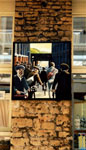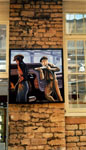 More News about Ken White - and this time its very good news!

Ken White's brushes have not been hung out to dry just yet either. He is delightfully at work in Ivergordon, Scotland, creating murals for a town seeking economic regeneration that has been independently inspired by their learning from Chemainus in Canada.

2005 been quite a year thus far for discovering murals communities around the UK - all arising from a tip off received from Beth in Kati Kati New Zealand that Callington in Cornwall was an active centre! After Callington Swindon; next Invergordon. And all well in time for their potential contributions to the 2006 Global Conference convened by the Prestoungrange Arts Festival team.

And Talking of Cornwall and the Great Western Railway [GWR]

The GWR as it was affectionately known was famous for creating the Cornish Riviera as a holiday resort for millions of English families and foreign visitors. As was the custom in the Railway Age much of the marketing excitement was created using poster art, as illustrated below at Swindon's Steam Museum that is now resident at the old workshops. And of course fine looking engines!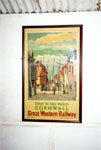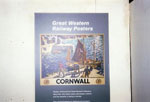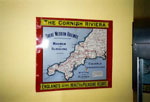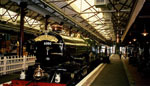 Published Date: May 8th 2005