Rob McConnell's finds a 1.5 pounder cannon with Prieston Pans inscribed!
"Good day", writes Rob McConnell, "I collect cannons....."

Sounds like a great hobby, but he continues to our astonishment ....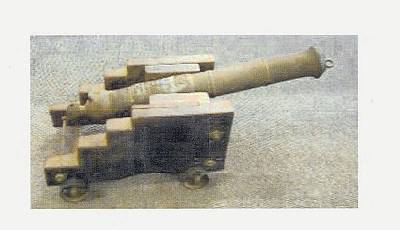 "....a week or so ago I acquired quite an interesting item. It's probably bronze. It says on it PRIESTON PANS and has the detailing and engraved inscriptions as follows:"

Combined cascable and gun length is 710 mm [27.9"]
Smooth bore, no rifling
Bore @ muzzle face is 53 mm [2.0"] but the piece features a muzzle swell.
No mechanism to adjust elevation.
Best estimate of mass of shot fired is 1.5 pounds.
Mounted on oak carriage with some aesthetic borer damage. It's unlikely this is original - might be a 'galloper'.

The engraved details are

Line 1: SPUMA
Line 2: PRIESTON PANS

Below these are 5 more lines of text in an engraved shield cartouche with some wording lost, reading as follows:

Line 3: QUANTUM MOMENT
Line 4: ST-
Line 5: IN LEVIBUSTRUMENTIS
Line 6: MGM-QCUE
Line 7: EDINBURGH

So, what have we here? Is it the philosopher's stone?

We know where Gardiner's thorntree stump is. Is this one of Cope's cannons? Is it the one that failed to fire or one of the 5 cannons that were successfully fired by Colonel Whitefoord and Master Gunner Griffiths as the sun rose in their eyes and the Highlanders charged across the stubble of the freshly cut corn with fearsome cries ....

P.S. .... and what with 'Good Day' and 'borers' it sounded like Rob McConnell's might be an Australian .... but no, he's a Scot living many a year in Cape Colony, South Africa. So how did such a cannon get there? Britain didn't take permanent control until the Napoleonic Wars and the British only arrived in large numbers in the 1820s - Rob reports!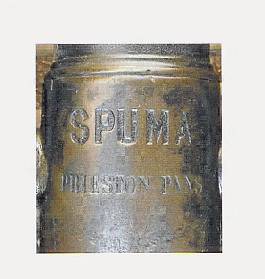 Published Date: March 16th 2010