Pinkie Remembered: 462 years on ...
East Lothian's other two great battles must not be overlooked ...

With all the excitement generated by Bonnie Prince Charlie's Victory in 1745 at Prestonpans, it's sometimes forgotten that East Lothian has been a regular battleground across the centuries - not least at Athelstaneford when the saltire was first espied!

But the other two major battles [which unfortunately were lost by the Scots] were at Pinkie on September 10th 1547, when the English Protector Somerset sought to force Mary Queen of Scots to marry Edward VI; and at Dunbar on 3rd September 1650 when Cromwell had one of his greatest victories. Seems September is 'the' month for battles hereabouts!

The Battle Trust in the Pans has from its inception always sought to assist in the telling of the whole county's battle history, so we are pleased here to report the annual remembrance of Pinkie by the Old Musselburgh Club.

click to enlarge the press cutting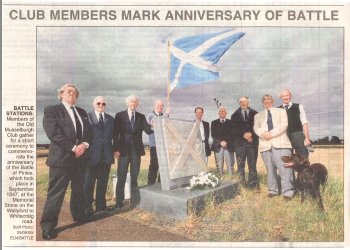 The Trust is particularly hopeful that as the fullscale development of Wallyford proceeds in the coming decade Pinkie's interpretation will be further enhanced, and is in discussions with the main developers.




Published Date: September 10th 2009