Tapestry Storyboards Nearing Completion as 'Sign Offs' Continue
60/ 80 Illustrations near 'sign off' and stitchers meet in Prestonpans

Some twenty stitchers, including several new hands, came to The Gothenburg on the precise anniversary of the battle, September 21st, for the latest update from Andrew Crummy, the Tapestry's illustrator.

On the table they found laid out in sequence some 60/ 80 story boards, being black line drawings of the panels. It is these drawings which are being 'signed off' immediately prior to Andrew creating full colour artwork.

Andrew gave his best estimate that the first six or more full colour maquettes will be ready by end September and in stitchers hands + wools and outline-marked linen.

Spoken-for panels now listed at the website

Sylvia Burgess has now formally handed over all administrative co-ordination to a new volunteer post of Tapestry Convenor, Gillian Hart, based in Prestonpans. Andrew Crummy is of course continuing to lead the art and embroidery team.

N.B. The Spoken-for-Panels, and by exception the Panels-still-Available, are linked HERE on the web.

Clearly although a great many panels are taken now, considerable scope remains for further volunteers and all such kind folk are asked to get in touch with Gillian Hart on 01875 819922 [excluding Mondays].

click on images to enlarge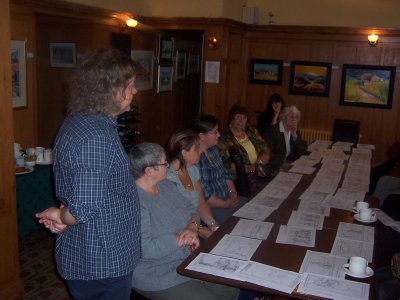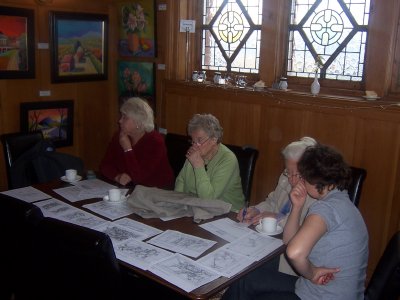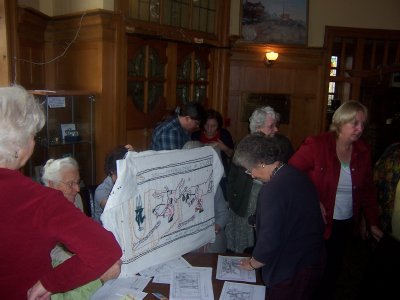 Itching to Get Stitching ...

We do all understand that everyone is itching to get stitching, yet Andrew and all the rest of us know just how vital it is to get the story boards as 'authentic' as may be. Every time we all dig a little deeper in the actual localities depicted, something truly significant seems to come to light .... how many boats did the Prince us to arrive at Glenfinnan; where was the Standard placed precisely; when did Lochiel arrive at Borrodale in response to the Prince's letter; what truth lies behind the white rose of Fassfern and the eventual cockade - nobody should wear one before that moment of course; how significant was the Treaty of Fontainebleau on October 24th 1745 .....

But by October 1st it is confidently predicted the stitching will begin in earnest with June 30th 2010 as the final final deadline, 8000+ stitching hours later, for joining all the panels together.

How to display the Tapestry from 2010 ...?

Ideas, some wild, are emerging on how and where the finished Tapestry can be displayed, both during its journey across the Highlands in July/ August/ September 2010, and afterwards ...

The Bayeux Tapestry is now on the web and animated with accompanying music and narrative. That's clearly a task for ourselves in due course. Plus the book on 'The Making of our National Tapestry' seems inevitable, with the full story lines for each panel and reminisences and credits to their stitchers.

All further suggestion are most welcome. Please pass them to Gillian Hart.
Published Date: September 27th 2009