Ruthven Barracks Skirmish en route to Perth
A brief and unsuccessful diversion as the Prince marched to Perth

As the Highlanders completed their crossing of the Corrieyairack Pass they were briefly tempted to attack the redcoats' rearguard as Cope made his way north to Inverness. The focus was just outside Dalwhinnie in the Ruthven Barracks. It was an inapproprate diversion for some 200 Highlanders, and a notably unsuccessful one. Just as Donald MacConnell of Keppoch had savoured a sweet success with eleven men and a piper at High Bridge, now it was the turn of redcoat Sergeant Molloy with but twelve men to repulse the attackers. It can be seen from the pictures below how relatively impregnable the barracks were, although by then promoted Lieutenant Molloy did succumb in February 1746 when a larger Highland force attacked with artillery.

click to enlarge all pictures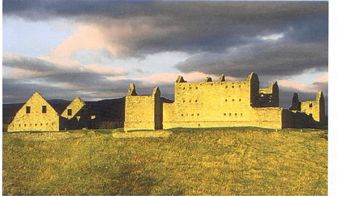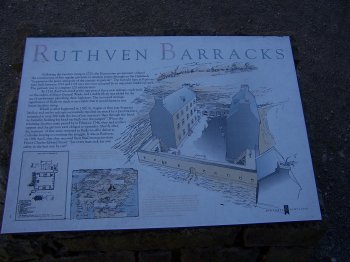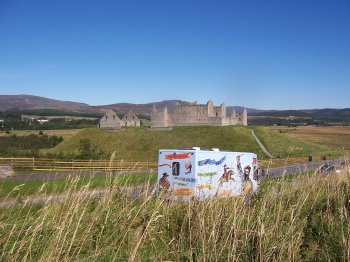 The skirmish at the barracks is to be recorded on a panel of the Prestonpans Tapestry.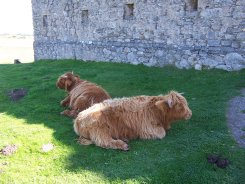 ___________________________________________________________

Footnote: The barracks were finally burnt out by the Jacobites on April 17th 1746 as they dispersed from this post Culloden gathering point when Prince Charles Edward sent word his campaign was at an end.

The ruined remains of the Ruthven Barracks are situated a half-mile south southeast of Kingussie and to the south of the River Spey. They stand on a motte which was the site of the ancient Ruthven Castle and were built following the Jacobite Rebellion of 1715 as a military stronghold. The old castle was levelled and the new buildings were completed in 1724 with an additional guardhouse and stable-block added in 1734. They could house a garrison of up to 120 troops in two barrack blocks and stable 28 horses. The strategic importance of the site was assured when General Wade's military roads were built and three converged here.


Published Date: September 24th 2009