Prestonpans Tapestry Goes to Eriskay ... and Borrodale ... with The Prince in mind
Signing Off the Prestonpans Tapestry Panels Begins in Eriskay July 20th

On Monday July 20th the Prestonpans Tapestry will seek its first 'sign off' from a local community through which the Prince passed on his way to Prestonpans in 1745. And there could scarcely be a more appropriate spot to begin than where he came ashore at Eriskay [admittedly three days later some 264 years ago] with his small band of followers dubbed the Seven Men of Moidart. Gordon and Avril Prestoungrange are driving the BattleBus across, taking the ferry from Uig for the occasion, and Hamish Moore who has long standing links with the Uists will certainly be piping.

The Prince didn't get as warm a welcome as seems guaranteed for the Heritage Trust in Eriskay Village Hall at 7.30pm. The advice given was: "Go home" to which it will be recalled he made the memorable response: "I am come home!"

Eriskay community members have been gathered together with the support of editorial coverage from Archie MacKay in Am Paipear. Also very much on hand will be Martin Margulies, Colonel-in-Chief of the Alan Breck Volunteers and better known still as author of the excellent Battle of Prestonpans 1745 published in 2007 - he divides his family life between New England and South Uist.

click cuttings to enlarge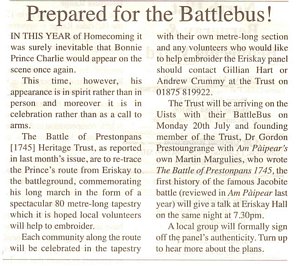 What does 'Signing Off' imply?

Each of the 78 panels of the Prestonpans Tapestry tells of a particular phase on the Prince's journey and the Trust is determined to ask each community represented to give its opinions on and support for the way the Trust's artist Andrew Crummy has chosen to represent it. The communities can of course disagree and make suggestions to improve what is depicted! Such support when eventually achieved is known as 'Signing Off'.

It has to be said that it's not always going to be obvious 'who to ask' to sign off for all the panels, but the Trust is doing the best it can.

Beyond Signing Off Lies Stitching!

Once signed off, the second ambition of the Trust is, if at all possible, to find one or more stitchers in the community depicted who are ready and able to embroider the local images. All the imagery, wools and linen are provided by the Trust so that the whole will eventually looks like a fine single work of art.

Already some 25% of panels have been adopted/ bagged within local communities so the enormity of the task as perceived at the outset now looks likely to be more of logistics than of stitching!

Completion deadline is the end of July 2010 when the whole will be parade all along the route the Prince took, and brought back to Prestonpans with as many panels as may be re-enacted along that route.

A Word about Sir John Cope too!

The government forces attempted to head off the Prince as soon as they heard he had landed. Accordingly to give the comprehensive story the Tapestry will also depict the march of Sir John Cope's redcoat army from Edinburgh to Inverness and thence to Aberdeen from where he took barges to Dunbar to place himself between the Prince and England - with the eventual battle at Prestonpans.

... and of Borrodale? .. and the Salutation Inn?

As good Jacobite historians will know, after leaving Eriskay the Prince stayed at Borrodale House in August 1745 until the Clans led by the Camerons were ready to come to Glenfinnan and he could raise his standard. To add further to the historical authenticity of the Tapestry project, Trust members will base themselves at Borrodale from September 12th/ 17th and visit further local communities not least Glenfinnan and Corrieyairack with the same agenda, then travelling back j-i-t for the 2009 battle re-enactments in Prestonpans on September 18th/ 19th.

P.S. And for those wondering about the Salutation Inn in Perth where the Prince stayed for four days, yes, there are plans to be based there to get sign off and stitching achieved for more panels of the Tapestry north of the Forth.


Published Date: July 13th 2009