Greg Allen Wins Story Telling Fellowship for The Pans
Telling Stories for a Whole Year!

Communities in and around Prestonpans will be able to take part in a host of storytelling events over the next twelve months – thanks to the Battle of Prestonpans Heritage Trust which has just received two new grants worth nearly £15,000.

Greg Dawson Allen, a professional storyteller and writer of many years standing, has just been awarded a one-year Storytelling Fellowship based in Prestonpans. He's unmistakable and has already been spotted wandering the High Street!

click to enlarge press cuttings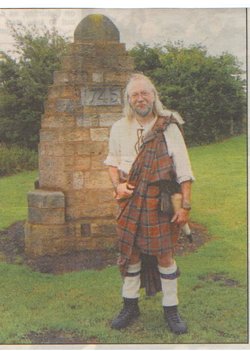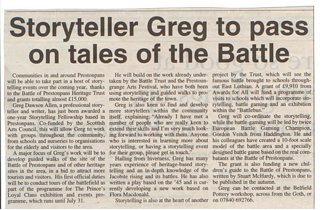 Co-funded by the Scottish Arts Council a Fellowship allows Greg to work with groups throughout the community, from schools and nurseries to organisations for the elderly and visitors to the area.

A major focus of Greg's work will be to develop guided walks of the site of the Battle of Prestonpans and of other heritage sites in Prestonpnans – to attract more tourists and visitors and give them good value when they are with us.

He will build on the work already undertaken by the Battle Trust and the Prestoungrange Arts Festival, known as The Prestonpans Experience which already attracts several hundred visitors each year.

"It's vital in my role as Fellow during the year to find and develop as many story tellers as possible within the community itself" said Greg. "Already I have met a number of people who've been making key contributions who are keen to extend their skills. I'm very much looking forward to learning from them and working with them during the next twelve months and of course new recruits as well.

"Anyone who is interested in learning more about storytelling, or having a storytelling event organised for their group, please get in touch with me [07840 692766] or at the Belfield Pottery workshop across from the Goth, or at The Goth itself - phone there is 01875 819922."

Hailing from Inverness, Greg has many years experience of heritage-based storytelling and an in-depth knowledge of the Jacobite rising and its battles. He has also written a play based on the '45 and is currently developing a new work based on Flora Macdonald.

Storytelling is also at the heart of another project by the Battle Trust which will see the famous battle brought to schools throughout East Lothian.

A grant of £9,910 from Awards for All will fund a programme of visits to schools which will incorporate storytelling, battle gaming and an exhibition within the now well familiar 'Battlebus'.

Greg will also co-ordinate this second strand of storytelling, while the battle-gaming will be led by twice European Battle Gaming Champion, Gordon Veitch from Haddington. Gordon and his colleagues have created a 10 ft scale model of the battle area and a specially designed battle game based on the real combatants at the Battle of Prestonpans.

Gordon Veitch commented: "Battle gaming can really help bring history to life for youngsters and adults alike. But it also teaches lots of other skills as well, such as maths, strategic thinking and creativity, as participants create their own armies and scenery. Any groups who wish to play, including joining the annual competition running from September this year, should get in touch."

The grant is also funding a new youngster's guide to the Battle of Prestonpans, written by Stuart McHardy, which is due to be published in the autumn.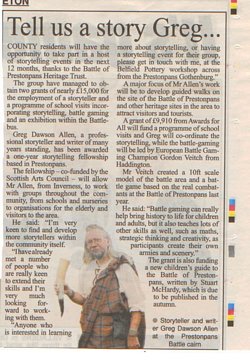 Published Date: July 28th 2009