The Prince's Loyal Clans - Homecoming Exhibition Plus: July 18th/ 31st
Celebrating the Clans who were with The Prince at Prestonpans on September 21st 1745

To coincide with The Clan Gathering in King's Park on July 25th/ 26th, the Battle Trust with support from the Homecoming Programme has arranged a significant Exhibition with a range of allied activities at The Prestoungrange Gothenburg. Excepting Mondays, it runs from July 18th to 31st from 10.30am - 4pm.

click to enlarge press cutting


The Exhibition itself

The Clans who were with The Prince on September 21st 1745 are especially celebrated - the Camerons, Stewarts, MacGregors, MacDonalds, MacDonells, Atholls, Robertsons and MacLachlans. Storytellers will be on hand throughout to bring the battle to life, and the Trust's dvd of the 2007/2008 re-enactments will be presented.

LINK TO THE EXHIBITION STORY BOARDS HERE

On public view for the first time will be the thorntree stump, which was lately donated to the Trust, being part of the tree beneath which Colonel Gardiner was mortally wounded. And Andrew Crummy's designs for the 79 metre Prestonpans Tapestry will also be displayed. Volunteer stitchers are still being sought along the route The Prince and Cope followed before they met at Prestonpans.

BattleGaming and Battlefield Walking on offer

Gordon Veitch, who has developed the Trust's BattleGame will be in attendance and the battle can be refought under his guidance. Peter MacKenzie will also be taking groups on the traditional Walk around the battlefield.

Theatre and The Dig

Andrerw Dallmeyer's new play from Colonel Gardiner's deathbed - Colonel Gardiner: Vice and Virtue - will have its premiere and an additional performance. Dr Tony Pollard, whose team is nearing completion of its battlefield archaeological study for the Trust, will be reporting back on progress so far.

Re-enactment of Tranent Churchyard skirmish with the Cameerons

By popular request from Clan Cameron in New Zealand, where a member's ancestor was amongst those injured on September 20th 1745, Colonel O'Sullivan, Cameron of Lochiel and his clansmen will re-enact the skirmish that took place when Cope sent a redcoat cannon to bombard their forward placement. The re-enactment is hosted by the Glenbuckets with the Alan Breck Regiment and takes place at 11.30 on Friday July 24th at Tranent Church.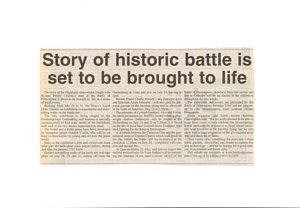 Full details of the Exhibition and all the activities are in the leaflet below. Click to enlarge and print out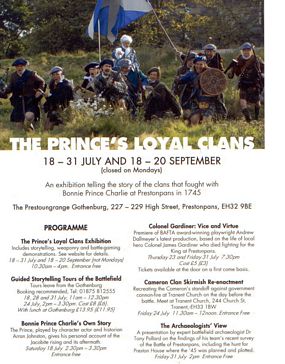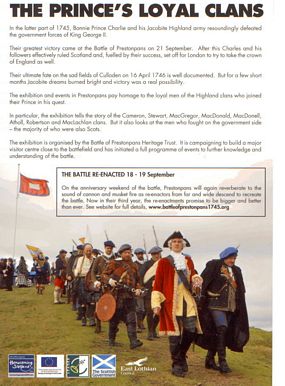 Published Date: July 7th 2009