Can you tell a good story well? We're looking for volunteers at the Battle of Prestonpans Trust!
LEARN TO TELL THE BATTLE STORY
November 22nd or 26th at The Prestoungrange Gothenburg

The Battle of Prestonpans Heritage Trust is offering free storytelling workshops for local people interested in telling the story of the Battle of Prestonpans.

Funded by the Heritage Lottery Fund, the sessions will be suitable for everyone, whether they are new to storytelling or have some experience already. They will be run by professional storytellers from the Scottish Storytelling Centre and aim to provide participants with the confidence to develop their own styles of presentation – not just follow a set script.

There are two workshops planned - on Saturday 22 November and on Wednesday 26 November. Both will take place between 10.30am and 1pm at the Prestoungrange Gothenburg in Prestonpans.

Places are limited and will be allocated on a first-come basis. To take part in either workshop contact Kristine Cunningham by e-mail: kcunningham@blueyonder.co.uk or by phone on 07904 520640 – stating which day you would prefer.

click to enlarge press cutting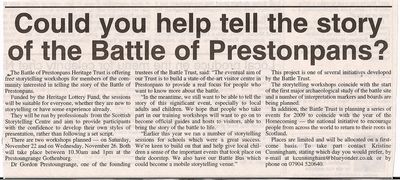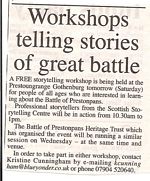 Dr Gordon Prestoungrange, one of the founding Trustees of the Battle Trust, said: "The eventual aim of our Trust is to build a state-of-the-art living history centre in Prestonpans to provide a real focus for people who want to know more about the battle and what Victory and Defeat there implied for the two sides.

"But in the meantime we still want to be able to tell the story of this significant event, especially to local adults and children. We hope that people who take part in our training workshops will want to go on to become official guides and hosts to visitors, able to bring the story of the battle to life.

"Earlier this year we ran a number of storytelling sessions for schools which were a great success. We're keen to build on that and help give local children a sense of the important events that took place on their doorstep. We also have our Battle Bus which can readily become a mobile storytelling venue."

This project is one of several initiatives developed by the Battle Trust. The storytelling workshops coincide with the start of the first major archaeological study of the battle site and a number of interpretation markers and boards are being planned.

In addition, the Battle Trust is planning a series of events for 2009 to coincide with the year of the Homecoming – the national initiative to encourage people from across the world to return to their roots in Scotland.

Further information on all aspects of the Trust's work from: Kristine Cunningham Tel: 07904 520640 or email directly @ kcunningham@blueyonder.co.uk

P.S. Never too young to start ...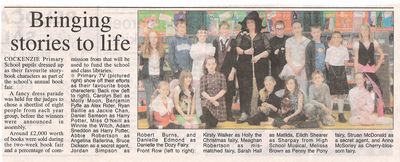 Published Date: November 15th 2008