Digging the Battlefield at Prestonpans: Your Chance to Join In!
CHANCE TO JOIN THE ARCHAEOLOGISTS IN PRESTONPANS DIG
Open Day on November 22nd @ 10.30 - 15.00 @ The Gothenburg

To mark the start of the first major archaeological investigation into the Battle of Prestonpans local people are being invited to an Open Day on 22nd November, 10.30am – 3pm at the Gothenburg in Prestonpans.

The archaeologists leading the dig for the Battle Trust are the internationally acclaimed Centre for Battlefield Archaeology at the University of Glasgow. They are of course keen to involve our Prestonnpans community in the project. At the Open Day we can all find out exactly what will be happening and how they can get involved.

click to enlarge the press cutting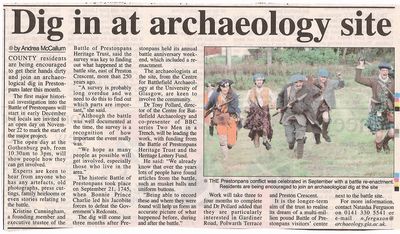 The experts are especially keen to hear from anyone who has found any artefacts relating to the battle. They also want to find out about any family heir-looms, old photographs, press cuttings or even stories relating to the battle. Do you believe any of your ancestors were involved in any way?

Dr Tony Pollard, director of the Centre for Battlefield Archaeology and co-presenter of the BBC series Two Men in a Trench, will be leading the work, with funding from the both Battle of Prestonpans Heritage Trust itself and the Heritage Lottery Fund. He said: "We already know that over the years lots of people have found articles from the battle – such as musket balls and uniform buttons. Being able to record these and plot where they were found will really help us form an accurate picture of what happened before, during and after the battle.

"Although the Battle of Prestonpans was well documented at the time, we know from our work at Culloden that in the heat of battle witnesses can often make mistakes. With the equipment we now have at our disposal it is quite possible we will come up with new information or, at the very least, unearth significant artefacts or burials.

"Some of the battle site has since been built on and we are hoping that many of the residents will want to get involved in the project and allow us access to their gardens. We are particularly interested in Gardiner Road, Polwarth Terrace and Preston Crescent."

Field work on the project is due to start in early December and will take 3 – 4 months to complete. It will include a programme of schools' visits and field trips and opportunities for enthusiast to get involved in investigating and recording artefacts.

Anyone not able to attend the Open Day can find out more by contacting Natasha Ferguson by e-mail n.ferguson@archaeology.gla.ac or Tel: 0141 330 5541.

Further information from:
Kristine Cunningham, Tel: 07904 520640
Natasha Ferguson, Tel: 0141 330 5541

click to enlarge poster and print out for your finest Notice Board please!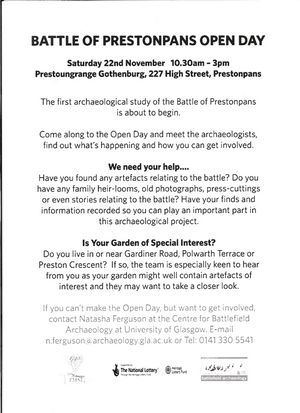 Published Date: November 3rd 2008