Scottish Ministers Get a Taste for Auld Fowlers
Community Right To Buy Auld Fowlers HQ Now Formally Registered with Scottish Ministers

For those with the necessary stamina, which we are delighted to report numbers some 800 Panners and Friends at least, the news is that the 'next' step in what has to be a long running saga that Aldhammer himself would have relished recounting, has now been taken! the Office for Community Right to Buy in the Scottish Ministry for Rural Development has 'accepted' as valid our community's [defined as EH32 9 Postal District] petition that the Auld Fowlers' HQ should be subject to such a right.

It's an early step that took a long time a'comin since we had to get the Arts Festival's Mem&Arts into 'proper' shape and the community 'definition' too, and then collect all the signatures. But that's all now done and Lidl has been asked for comments since they are its present owners. The East Lothian Courier carried the news as set down below.

click to enlarge press cutting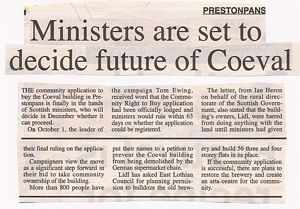 If anyone has the patience for a review of the entire saga, it is conveniently linked HERE

When successful, as and when Lidl resolve to sell, our EH32 9 community gets first refusal to buy at a fair price!

The next steps for the Arts Festival include sketching out the dreams of how it can become a vibrant centre for the community in the years ahead, honouring Fowlers Ales of course, but also acting as a focus and fillip for the arts as they continue to blossom across all Three Harbours and more. The future beckons. We will carry forward all The Prestoungrange Gothenburg's restoration has achieved since 2004 ... and much much more besides.

... and what of the Request for Listing then?

Well, that's another, discrete saga. As things stand three strands are in progress: [i] The Scottish Information Commissioner has been petitioned to enforce the release of the balance of documentation that Historic Scotland has thus far declined to release under Scotland's Freedom of Information Act; [ii] Parliament is currently considering our Petition that Scottish Ministers should take local historical and/ or architectural significance into account when considering Listing as well as national historical and/ or architectural significance; and [iii] a case to the Public Services Ombudsman is in preparation once the Scottish Information Commissioner has determined matters at [i] above, complaining of mal-administration by Historic Scotland in the manner in which the Auld Fowler's Application for Listing was considered by them all along.

....to be continued....


Published Date: October 13th 2008